Advanced Micro Devices, Inc. (NYSE:AMD) announced in its official blog that it's ARM "Seattle" CPU for the data center server market will be available next year. This development is in line with Advanced Micro Devices' aggressive new plan to regain its lost server market.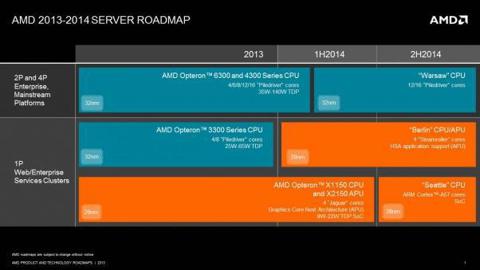 Click to enlarge
Not too long ago, Advanced Micro Devices had a healthy market share of the server market with its affordable but brawny and dependable Opteron x86 server processor. However, Intel (NASDAQ:INTC) has steadily increased its server market dominance since 2007, reducing AMD's share to just around 4.5% in December 2012. Advanced Micro Devices had a peak of 24% market share in the Third Quarter of 2006 but has since rapidly decreased as more of its former customers shifted to using Intel Xeon.
This year, AMD has made several inroads to re-capturing its lost footing in the lucrative server market. Verizon (NYSE:VZ) picked Advanced Micro Devices as its provider for Verizon Cloud Compute and Verizon Cloud Storage. This deal was a great validation on AMD's decision to purchase Cloud-Computing pioneer SeaMicro for $334 million in March 2012.
SeaMicro's expertise is in creating and providing low-power and high-bandwidth microservers using Intel-branded server processors. The Verizon deal will use SeaMicro SM15000 servers that link hundreds of processors cores together in a single unit to power Verizon's cloud storage service.
Unfortunately, the AMD and Verizon deal allegedly also benefits Intel because SeaMicro servers will not be purely equipped with Opteron CPU, some of them will be powered by Intel Xeon. While nobody can really prove this allegation, Advanced Micro Devices still wins because they earn the bigger money from selling the servers to Verizon.
Seattle CPU Complements SeaMicro Technology
The upcoming commercial launch of the Seattle CPU will give Advanced Micro Devices the perfect processor to maximize SeaMicro's Freedom Fabric technology. SeaMicro uses Freedom Fabric as an Application-Specific Integrated Circuit to scale down server computers to a size of playing cards. These compact servers are then stacked together to create super high density server machines that are just 10U in size. A micro server machine can contain as much as 768 processors, load balancer, and four gigabit Ethernet switches. See the illustration below to get a better idea.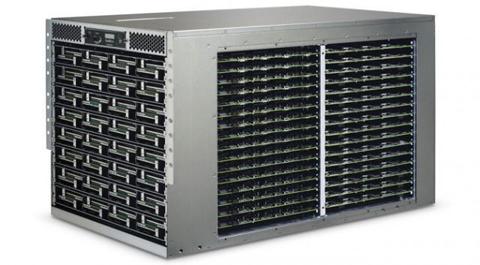 Click to enlarge
SeaMicro's superior ASIC miniaturization IP lets it build smaller, more portable server machines. One SeaMicro 10U server can equal the processing power of two full racks (82U) of traditional rackmount servers of quad-core processors and network gears. Furthermore, a SeaMicro server uses only ¼ or 1/3 of energy requirements to operate because it is built without extraneous hardware that leeches electricity.
Instead of using Intel Atom or Xeon products, Advanced Micro Devices can use the energy-efficient 64-bit Arm-based Seattle processor to build all of its SeaMicro server machines. Not only will AMD save money from using its own processors but customers will also appreciate the energy savings they get when they use Seattle-powered data center servers.
Seattle is a 64-Bit Server Champion Build
Since it is based on the new 64-bit ARMv8 architecture, Seattle is definitely going to be a powerhouse processor that's fit for heavy server duty. AMD's blog revealed that Seattle will use the Opteron branding and it will be a System-on-a-Chip (SoC) solution for small and big enterprises that need cost-effective cloud computing machines.
Seattle promises to offer high-density processing power with low power requirements. The new design is built from the ground-up to ensure that Seattle produce the best performance while minimizing electricity-consumption. It will be available in quad core or eight core models with server-grade support for up to high-bandwidth 128 GB of RAM and built-in 10Gb/sec Ethernet. This CPU will also have integrated support for SeaMicro's Freedom Fabric Technology that's intended for high-density compute solutions.
The ARMv8 architecture is already supported by Linux Kernel 3.7. I am not sure if it's already implemented but two years ago, Microsoft committed itself to developing a Windows kernel with ARMv8 support for its Windows 8, Windows RT and Windows Server operating systems.
Conclusion
Advanced Micro Devices is doing all the right moves in its objective of regaining its lost market share from Intel. The release of its low-power Seattle Arm-based server CPU will help it maximize its revenue from selling SeaMicro data center servers. The lower energy requirements of ARMv8 server CPU is a great marketing idea to sell servers to budget-constrained companies.
Go long on AMD. This company used to have a 24% market share of the enterprise server market in 2006. Judging by its recent actions, it is already on its way up to its former glory. AMD executives should offer its Seattle CPU to the management of Google so they won't have a need to create their own custom ARM-based server processor.
Disclosure: I have no positions in any stocks mentioned, and no plans to initiate any positions within the next 72 hours. I wrote this article myself, and it expresses my own opinions. I am not receiving compensation for it (other than from Seeking Alpha). I have no business relationship with any company whose stock is mentioned in this article.