The pot is coming to a boil at the border of Eastern Ukraine and Russia. Do not make the mistake made by many detached western investors who might ignore the sensitivity of gold to this matter. The importance of Russian-Western relations should not be underestimated with regard to their impact upon fiat currencies or gold. Gold and the SPDR Gold Trust ETF (NYSE: GLD) gain meaningful support as a result of Tuesday's news that the EU is levying sanctions upon Russia. The action marks a key change in policy and the start of meaningful deterioration in Western relations with Russia. Fiat currency globally is threatened, though the dollar is less so to this point, and so gold gains. I again offer you the GLD security as an option for metals relative investment in this environment.
The downing of Malaysian Airlines flight MH17 fueled popular uproar globally and forced the European Union into action it had previously avoided. Russia's support of civil unrest in Ukraine and its campaign of misinformation have pitted Ukrainians against one another and led to the annexation of Crimea. But under the threat of intensified military confrontation from Kiev, the separatists in the Donetsk region are being overrun. Russia has had to intensify its support of the separatists via weapons the rebels are incapable of operating safely, putting the lives of commercial flyers on a popular route in danger. In other words, this has gone too far, finally.
But it threatens to go further. While under the sanctions already imposed on Russia by the United States, Russia backed troops off its border with Ukraine and presented a more passive façade. However, with Kiev gaining ground on separatists, Russia lent Ukraine heavy weaponry, including reportedly artillery and anti-aircraft batteries. Also, note that Russia had been rebuilding its presence on the border into the commercial aircraft catastrophe, and after a lull, is at it again now. It appears to me that Russia will defend the separatists when the rebels are pushed up against the border. Enough is enough, says Europe today.
The EU joined the United States, employing a series of its own sanctions against Russia on Tuesday. The sanctions are not of the hand-slap sort either. They are meaningful, broad-reaching measures intended to curb the Russian economy and potentially drive it into recession, if not into compliance. For a good summary of the EU's sanctions, which target Russian state bank fundraising efforts, technology sales to the energy industry and also dual use and military goods exports into Russia, see this Businessweek article.
Later on Tuesday, the United States stepped up its own sanctioning of Russia, employing the same set of penalties the EU issued. The west has come a long way since its first response to Russia's abnormal behavior around Ukraine. At this point, the stakes have been raised so high that we can say it's on!
It's On!
Russia's response to these measures could come by any means, but I think we can expect it will respond in a fashion detrimental to the EU and U.S. economies. Russia's response may not be overt, like the West, but covert in nature. Though now that "it's on", I suppose anything is possible. This becomes increasingly so as Ukraine national forces push the rebels back to the Russian border.
I indicated in a recent article my view that Russia would wage a war on the dollar if pushed into a corner, and that such an effort would support gold prices, and thereby, the SPDR Gold Trust ETF and other metals ETFs. It's my opinion that the latest round of sanctions will only spur more devious response from Russia. Vladimir Putin recently visited Cuba on a tour of our neighborhood. He also formed a new energy trade deal with China, through which trade would occur in local currencies, excluding the dollar. Russia is seeking dollar independence, with heavy purchases of gold this spring likely only the beginning of a plan to back the ruble with more gold, silver and other precious metals in place of U.S. Treasuries. All this information can be found in my linked to article above.
| | | | |
| --- | --- | --- | --- |
| Security | 7-29-14 | YTD | TTM |
| SPDR S&P 500 Trust ETF (NYSE: SPY) | -0.4% | +6.7% | +16.9% |
| SPDR Gold Trust | -0.3% | +7.8% | -2.5% |
| Sprott Physical Gold Trust (NYSE: PHYS) | -0.1% | +8.3% | -2.6% |
| Market Vectors Gold Miners ETF (NYSE: GDX) | -0.9% | +26.5% | -1.8% |
| iShares Silver Trust ETF (NYSE: SLV) | -0.2% | +5.7% | +3.4% |
The GLD has outperformed the SPY this year, as each security has had to deal with altering Fed policy and the specter of a rising Fed Funds Rate in 2015. That factor weighs against both stocks and gold. Still, gold has the benefit of the latest geopolitical hazard presented by Russia, and that is especially so because of what I see developing. An economic cold war is being waged, and the target of each participant is the economy and the currency of the other. I believe Russia's leadership is capable of more than market participants can fathom at this point, but as the situation plays out, investors will adapt and gold will be supported, in my view. I prefer not to give any enemy of the state any ideas as per strategic possibilities and the steps Russia might engage in, but I think the extent Russia is capable of reaching is clear via its past actions and what has been discussed in this article and the other article I referenced.
Detractors of gold and the GLD fail to incorporate the war against the dollar factor I weigh heavily. They point to the fact that gold has benefited from the Fed free money policy and that the policy is changing. Some discuss the fact that many central banks around the world are turning to gold more often now than in pre-financial crisis history, and that Russia bought gold earlier this year and might back the ruble with it. But I see gold's importance gaining also on attacks against fiat currencies, namely the euro and the dollar.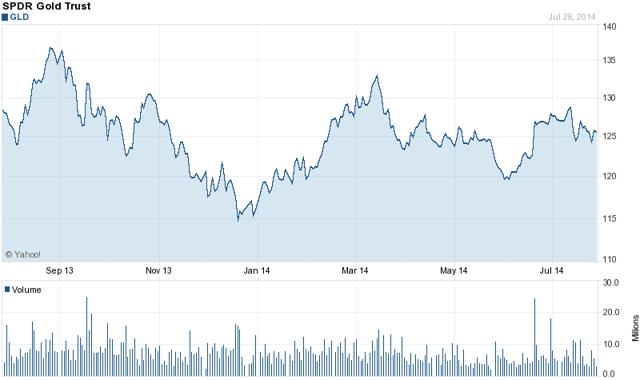 1-Year Chart of SPDR Gold Trust at Yahoo
You can see in the chart here that the GLD has been supported by something, where it should have suffered on recent Fed revelations. That same support should paradoxically lift the GLD higher in the weeks and months ahead. It became evident toward the close on Tuesday, as the paths of the SPY and the GLD crossed.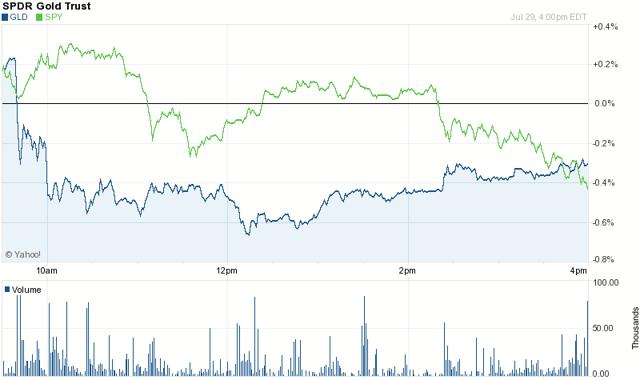 1-Day Performance Chart of GLD & SPY
Whatever Russia does covertly, it will begin to overtly flex its economic muscle through fuel supply to Europe during the winter months; sooner, if everything goes to pot. I believe you can find some evidence of potential devious and little discussed possibilities in the veiled threat Russia recently issued Europe; that's my opinion about the statement. The Russian Foreign Ministry said cooperation against international terrorism would be hampered by the West's sanctions of Russia. I found the statement quite revealing, but not surprising. Investors should hold gold and relative ETFs like the SPDR Gold Trust now because of this Russian factor, which has been given more weight after the EU shift in position. It's on!
Disclosure: The author has no positions in any stocks mentioned, and no plans to initiate any positions within the next 72 hours. The author wrote this article themselves, and it expresses their own opinions. The author is not receiving compensation for it (other than from Seeking Alpha). The author has no business relationship with any company whose stock is mentioned in this article.