By Mark Bern, CPA CFA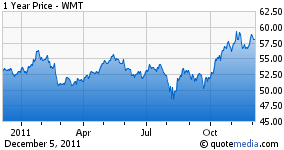 Wal-Mart (NYSE:WMT) is the world's largest retailer. Everything about this company is measured in staggering numbers, except one: Same-store sales. But after nine consecutive months of declines, finally, in July, August and September same-store sales were positive. Same-store sales are sales in stores open more than a year compared year-over-year. Unfortunately, we can't tell just how good the news really is because management declines to reveal the number.
The company seems to have learned a lesson because it is returning 10,000 items to its shelves that were removed previously in order to concentrate sales with fewer suppliers with the expectation of further reducing costs. Customers spoke with their wallets and shopped for their preferred brands elsewhere. The results were unexpected by management, but I have to give them credit for recognizing the mistake and taking corrective action.
Management also plans to reduce prices by $2 billion per year to widen the cost advantage for customers over competitors even further. This is likely to reduce gross margins by about 50 basis points, but management also has plans to decrease sales, general and administrative (SG&A) expenses by 100 basis points over the next five years.
Another priority of management is profitability from international operations. WMT will apply the principles that have worked in its North American stores more closely to foreign operations - using more locally produced goods to drive down costs where possible.
The growth engine seems to have cooled down some over the past decade and that has led to a contraction of the Price/Earnings (P/E) ratio from the mid-30s to the low teens. The P/E currently stands at 12.3 while the price (as of the close on Friday, December 2, 2011) lingers at $58.09.
The price a decade ago (the week of December 3, 2001) was $55.34 and the last stock split was in April 2009. That doesn't amount to a very good decade. However, results for the S&P 500 weren't much different. Then again, WMT shares fell by about 23% from their high in 2008 to the March 2009 low while the S&P 500 dropped by over 50%. The dividend did increase in every year and now yields 2.5%, which is also better than the S&P 500 average yield.
The company has a great credit rating and a balance sheet with no apparent problems lurking in the future. As growth in earnings has slowed the payout ratio has increased. That is a trend that will probably continue, albeit at a slow pace. But still, when we consider the earnings per share (EPS) growth rate over the last five years was about 9.5%, with the improvements and constant focus on the bottom line and every aspect that affects it, I expect that EPS should rise annually by about 8% on average in the next five years.
Now, couple the EPS growth of 8% with the increase in the payout ratio along with the company's continuing share repurchase program. I really think the company could raise dividend by about 12% a year on average over at least the next five years.
It is also a defensive stock, likely to drop less in a recession than most stocks, as evidenced in the last recession. And I can't help that many folks who made the change to shopping at WMT opposed to more costly alternatives out of financial necessity will continue to shop at WMT out of fear or habit. I also believe that when the economy hits another bump in the road (recession) WMT will probably gain market share once again.
Improving sales in the U.S. market, improving profitability overseas, continued expansion in fast growing foreign markets, a very strong balance sheet, and a steadily rising dividend, what am I missing? Where is the reason to not own this stock? I know there must be one because the price remains stagnant. Help me out here!
Disclosure: I have no positions in any stocks mentioned, and no plans to initiate any positions within the next 72 hours.