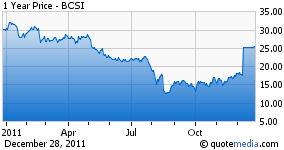 Judging by growing list of law firms "investigating" the proposed buyout of web security and wide-area network solution provider Blue Coat Systems, Inc. (NASDAQ:BCSI), the company's management team is guilty of the worst disloyalty to shareholders. On December 9, 2011, an investor group led by private equity firm Thomas Bravo, LLC announced its intention to acquire Blue Coat for $25.81 per share for a net purchase price of $1.3 billion. Since then at least one shareholder has filed suit, alleging misconduct by Blue Coat management and directors, and numerous other law firms have pledged similar suits. Apparently the 48% premium over the prevailing price the day before the deal was announced is considered inadequate.
Several of the law firms that have attempted to jump on the class action bandwagon have cited analyst reports and price targets above the offer price. Most analysts would probably agree that it is educated guess-work at best. No matter how painstakingly detailed the analysis it is still subject to error.
To value Blue Coat myself, I decided to pull an oldie but goodie off the shelf - enterprise value. It is partially an accounting based valuation method, less dependent upon shaky predictions of future revenue and earnings. Enterprise value is calculated using the market value of the company's common stock plus debt and minus cash. The result is considered valid as a take-over offer as it encompasses the effect of leverage and the acquirer's control over liquid assets. The enterprise value of Blue Coat the day prior to the takeover announcement was $465.4 million ($748.2 million market cap plus $78.6 million debt minus $361.4 million cash). Thomas Bravo offered 2.8 times that value.
A strong argument can be made that Enterprise Value deals a company a bad hand since it makes no allowance for strategic growth plans that could accelerate growth and ultimately value. It is highly susceptible to mispricing since the foundation of market value is subject to possible investor misinformation and faulty reasoning.
Sustainable Growth is another accounting-based tool that avoids future projections. It can be calculated using return on equity times a company's retention ratio. In the case of Blue Coat Systems, which pays no dividend, sustainable growth is the company's return on equity. Blue Coat has managed a 7.5% return on equity over the past five years.
Sustainable Growth can be used as a proxy for a Price/Earnings ratio, offering a gut check on public market multiples. Using the growth rate as a PE ratio yields a so-called PEG Ratio (Price/Earnings to Growth Rate) of 1.0. If the Sustainable Growth Rate is 7.5%, then Blue Coat's baseline market value is around $4.00 based on trailing earnings. This is well below the prevailing price of $17.48 per BCSI share the day before Thomas Bravo went public with its $25.81 per share offer.
Unfortunately, Sustainable Growth is mired in the past and gives a company little credit for innovations that can cause a dramatic shift in fortunes. The Thomas Bravo offer of $25.81 implies a growth rate near 48%, suggesting that they see a very bright future for Blue Coat - much brighter even than the rosiest pictures painted by analysts. Consensus estimates suggest a five-year annual growth rate for Blue Coat is near 11%.
Rather than "red coated" traitors, it seems Blue Coat is wearing gold.
Disclosure: I have no positions in any stocks mentioned, and no plans to initiate any positions within the next 72 hours. Neither the author of the Small Cap Strategist web log, Crystal Equity Research nor its affiliates have a beneficial interest in the companies mentioned herein.