The selling of calls is a difficult matter,
It isn't just one of your holiday games;
You may think at first I'm as mad as a hatter
When I say, shorting stock can hedge more of your gains.
Okay, so I totally butchered T.S. Eliot's poem, The Naming of Cats, but it's true - the selling of calls is a difficult matter. What do you do when implied volatility is really low? Is it worth selling calls in that kind of environment? Probably not.
But you could hedge your gains in a different manner, get a lot more downside protection, and have more control over the rate at which your position rises and falls. And that's by shorting stock, not calls, against a long call option.
***
Let's use Apple (AAPL) as an example. Roll the tape back to February 3. The stock opened at $457.30, peaked at $460, then closed at $459.68.
You're tempted to sell a covered call against your stock, perhaps a March 460 call? You'd only get $11.55. You sell a call partly for its so-called "downside protection," but what kind of protection is that? If volatility spikes and the stock falls $15, that short call might still actually go up!
Besides, on Friday, February 10, your stock is up $33.74. Unfortunately, buying back the call you sold for $11.55 would set you back $38.80. So you've given up a lot of upside as things stand. At least, so far.
Just to review, here's a chart showing how a covered call position works - selling one call against 100 shares of stock - assuming volatility at around 27%.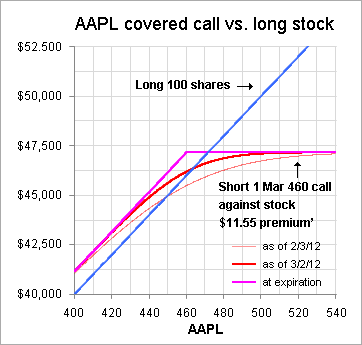 You get to keep the $11.55 premium for the call, which helps a little on the downside, but your upside gains are capped.
Selling calls is complicated…
When you sell one at-the-money call against 100 shares of stock, the delta of the call is usually around -50 (negative because you're selling it). Combining that with the 100 delta of the stock you own, you're essentially 50% long. But that can easily change.
When the stock goes up by a lot, your position is like being 100% long and 100% short at the strike price plus the premium you collected. No real movement in net gain or loss at these levels. That's why the covered call chart above resembles what option traders call the "hockey stick" diagram - bent in a way that shows maximum upside potential as a horizontal line.
If the stock goes down a lot, you get to collect the premium you sold, but there's little to no short position either. So you'd be essentially 100% long and 0% short at the strike price minus the premium. That's the part of the hockey stick that can be little comfort if the price plummets rapidly. And that can happen to AAPL just like it can with any other stock.
You take on this risk/reward profile whenever you sell a covered call, but if you're not collecting enough premium, it may be worth looking at another risk/reward profile.
…So buy the call instead
So what if you bought the call instead of selling it? On February 3, you could have sold your 100 shares of stock for $45,968 stock and purchased that March 460 call for $1,175 - for a net credit of $44,793.
Now your downside is limited to the price you paid for the call, but you still had to pay $1,175. You're used to collecting a credit. Sell another call against your long call? No. Think about shorting 15 shares of Apple at $459.68 for $6,895. How's that for a credit? And all you're giving up is 15 deltas - fixed for the life of the option.
If you think shorting stock is risky, you might be in good company. But others might view it differently, that not being short a few shares of AAPL against a long call is more risky. You can see why on this chart that shows this position along with the traditional covered call at expiration and a few weeks prior.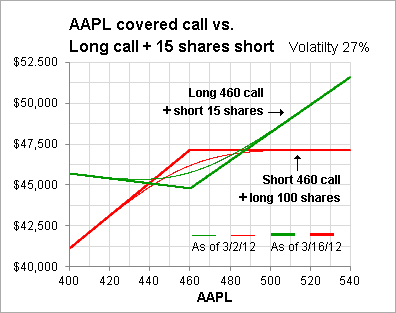 The money you collected isn't a real "premium," but the upside is that your short stock position gives you -15 deltas regardless of where the stock trades.
If the stock goes up, you'd basically cap your gains to 85% of the stock's entire move up. If the stock goes down, the call you own may be worthless, but your short stock position provides an excellent downside cushion that, unlike a short call, never runs out of steam no matter how far the stock goes down.
And look at that green line. Seen a "hockey stick" chart like that before? Does the notion that bending it into various angles intrigue you? I kind of like it. And if volatility goes up, I'd like it even more. For example, here's that same position again if volatility rises to 36%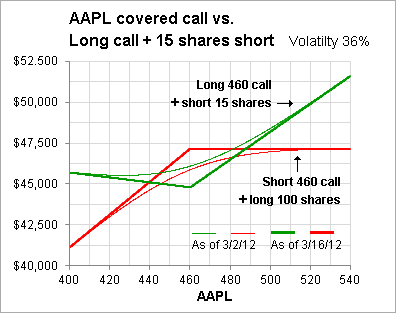 Look how the thin green lines and red lines shifted from the chart above. That shows the benefit of owning the call instead of shorting it if volatility rises. On March 2, for example, you could close your position and collect more than the short call seller at any price for AAPL, in theory anyway.
Do you have margin requirements to be short? Of course, but you sold your 100 shares of AAPL, That cash should be more than enough to handle a small short stock position of 15 shares.
***
Re-hedge anytime
If the stock rises, you can collect even more money by selling more shares. Let's say on February 9 and February 10, you shorted another 20 shares of AAPL at $480, and then 30 shares more at $495. Now you're short 65 shares of stock, so you're effectively only 35% long. Here's how that looks: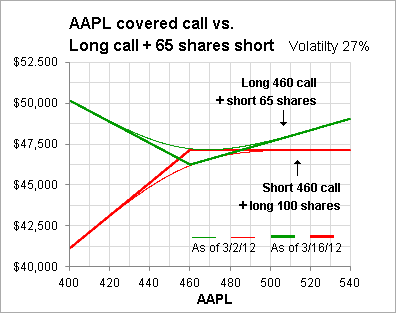 You get less upside, of course, but you have a more effective hedge if the stock goes down. It's your choice, of course. Think of that green hockey stick and how you want to shape it. What if the stock does go down again? Maybe you could buy back those last 50 shares you shorted for an average of $20 less - or around $469.
I know, with a Monday close over $500 it seems unlikely, but it could happen. That would net you $1,000. That almost covers the cost of the call you bought, but once again, reshapes the hockey stick once again for more upside potential and less downside protection.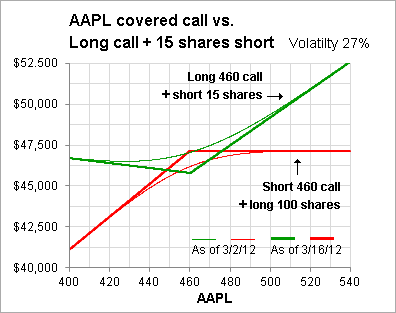 Take advantage of low volatility: Bend the hockey stick
You might not like this strategy, and prefer to simply sell options when volatility is high. Fair enough, but keep in mind how others might manage and fine-tune positions. In low volatility environments, buying options can work great, especially when you're using a hockey stick that has some give to it.
If you own 100 shares of Apple (or any other stock), your covered call choices are binary - you sell one call or you sell zero calls. This approach gives you a more nuanced way to adjust your position, and in many ways is a whole lot less complicated than managing vertical options spreads, or other positions that involve both puts and calls, which may be short or long.
***
In the old days, before standardized options were introduced in the 1970s, they called puts and calls "privileges". Why? Because a call gives you the "privilege" of being short a stock without getting totally obliterated in the process.
And when options get cheap, those privileges come cheap, too.
Disclosure: I am long AAPL.