Click to enlarge
Dr. Pepper Snapple (NYSE:DPS) has been one of the best performing stocks in the entire market for the past couple of years. The chart is beautiful as shares have moved from bottom left to upper right with very little downward action. And while DPS has shown more growth potential than KO, for instance, is it enough? DPS' Q2 report was fine but didn't exactly provide torrid growth so what is going to make this stock continue to go up?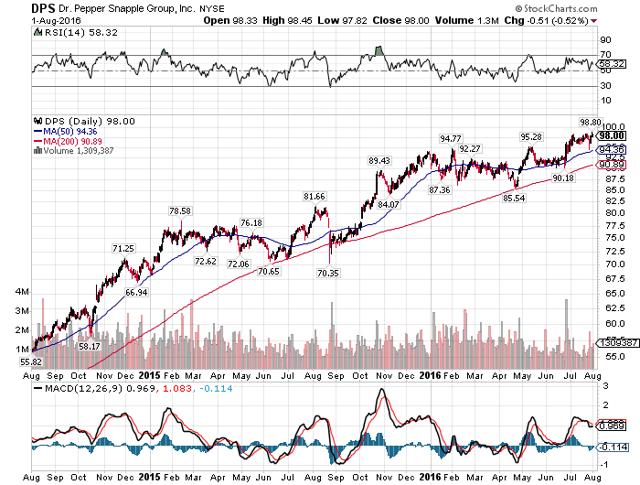 Click to enlarge
DPS saw total sales up 2% during the quarter as price and mix contributed as well as a 1% gain in volume. This has been a problem for DPS for some time as it and others in the carbonated beverages space face declining demand over time for traditional soft drinks. DPS has the Snapple business that provides some much needed diversification but still, volume is always going to be an issue. And a 1% gain in volume is nothing to get excited about and it certainly changes the valuation picture because you know there will always be a lid on sales growth.
In addition, the global nature of DPS' business saw two percent of sales removed by forex translation. This is a problem for virtually any multinational as the dollar has been mostly holding up against some rapidly depreciating major currencies around the globe. The dollar is always going to be a problem for DPS and with the Fed being the only major central bank in the world that is even talking about tightening, I suspect this will get worse before it gets better. DPS' dollar exposure is by no means unmanageable but every little bit counts when you're talking about volume being up 1%.
To its credit, DPS continues to find ways to boost margins as its segment operating profit rose 5% in Q2. That number was even better in Q1 and DPS' SOP is up 8% so far this year despite only hitting 2% sales growth in that same time period. DPS continues to benefit from cost saving initiatives and lower commodity costs and the results are terrific. This is a huge win for DPS and as long as it can keep those efficiencies going, it will see rising EPS over time. DPS has really done a very nice job of squeezing every little bit of profit it can from its sales base and credit should be given where it is due.
That being said, as good as DPS is in a tough industry, its valuation is off the charts at this point. If we take a look at its EPS trajectory, we see a stock that is nothing less than very expensive.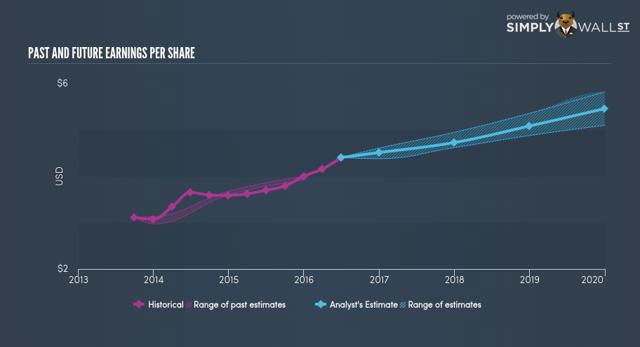 Click to enlarge
Source: Simply Wall St.
Analysts have DPS earning $5.46 in 2019 right now and while that is a very long way off, DPS is already trading for 18 times earnings that won't be collected for three more years. It is also trading for 22.4 times this year's earnings and the list goes on; DPS has a premium multiple and while I agree it is the best pure beverage stock around with the best prospects, what is that worth? Is it worth paying 22 times earnings? DPS is making strides on its operating profitability but even so, we are talking about gains in the mid- to high single digits, not mid-teens or something of that nature.
What about the dividend? Certainly some investors own DPS for the income stream it provides, which grows on an annual basis. But on that measure as well, we see some level of overvaluation.

Click to enlarge
Source: Simply Wall St.
DPS is currently sporting the lowest yield it has seen since its dividend ramped up after the IPO. We can see the value of DPS' dividend has continued to fall as increases haven't kept up with the torrid pace of gains in the stock and while that's been great for those that were long, the yield is no longer a reason for new money to come in. At just over 2%, DPS is an also-ran in the income space and over time, that will likely dampen demand for the stock as it takes away a reason for folks to buy it.
DPS is certainly superior in terms of growth potential to Coca-Cola (NYSE:KO) but to be fair, that company's yield is roughly 50% higher than DPS'. That gives investors a reason to buy KO even though it is also very expensive and while DPS has a lot going for it, I can't help but wonder just how high the valuation can go. We are already at more than 22 times earnings and just a 2.1% yield; how long will investors continue to bid the stock up?
DPS does have the aforementioned chart on its side as it has continued to stay on the right side of its 200DMA for almost the entirety of the past two years. And as that line continues to rise, so has the stock. At some point the two will meet and what happens after that will determine if the rally continues or if DPS does something really crazy like sell-off a bit. The stock is still more than $7 in excess of its 200DMA so that day likely isn't close but at some point it will happen. Until it does, DPS' bias is to the upside but I wonder just how long that can last given its valuation and yield. At some point people will stop overpaying for this stock; I'm just not sure when that will be. No one can deny DPS is expensive; it is just a matter of how long it can stay so expensive. Place your bets, ladies and gentlemen.
Disclosure: I/we have no positions in any stocks mentioned, and no plans to initiate any positions within the next 72 hours.
I wrote this article myself, and it expresses my own opinions. I am not receiving compensation for it (other than from Seeking Alpha). I have no business relationship with any company whose stock is mentioned in this article.