Long a Barron's favorite, Monster Worldwide is once again in the magazine's spotlight. Despite the fact that some Internet companies such as Google and Amazon.com are valued at record prices, Barron's notes that Monster has fallen some 24% this year to $35 as domestic revenue growth has slowed and amid fears it will continue to languish with the anticipated U.S. economic slowdown. But, Barron's says, that verdict may be too harsh. According to one analyst, the market is assuming Monster's North American revenue will drop 20% with a U.S. jobs recession; he calls that assessment too dire and believes the company isn't getting credit for a shift in help-wanted advertising revenue to the Internet and the strength of its international franchise as some 35% of domestic hiring advertising spending is done online. Meanwhile, though the takeover buzz has diminished, the magazine says potential bidders could include Google, News Corp., IAC/Interactive and Gannett, while noting that Monster has "a digestible market value of $4.7B. Many bulls believe Monster shares could surpass $50 over the next year and go even higher should takeover talk reignite.
Sources:
Barron's
Commentary:
UBS Issues Sector-Wide Warning on Staffing Companies
•
Monster Worldwide Misses On All Counts, Will Lay Off 15% of Workforce
•
Monster Worldwide: Likely Takeover Target
Stocks to watch:
MNST
. Competitors:
KFRC
. ETFs:
HHH
,
FDN
Earnings call transcript:
Monster Worldwide Q2 2007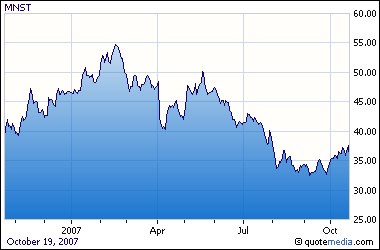 Seeking Alpha's news briefs are combined into a pre-market summary called Wall Street Breakfast.
Get Wall Street Breakfast by email
-- it's free and takes only seconds to sign up.