You've probably heard of the BRIC countries, but how about the "Next Eleven"? Bangladesh, Egypt, Indonesia, Iran, Mexico, Nigeria, Pakistan, the Philippines, South Korea, Turkey, and Vietnam are speculated to bring on the next wave of growth in emerging markets.
One of my favorites of these developing economies is the Philippines. Perhaps the best way to play this growth trend is through the Philippines' largest and most actively traded stock, Philippines Long Distance Telephone [PLDT] (NYSE:PHI).
Philippine Telecom Market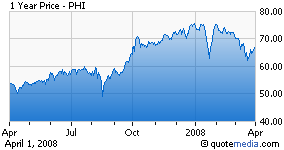 The Philippine telecom market is an oligopoly between PLDT and its smaller rival, Globe Telecom. PLDT has aligned itself into three operating segments:
Wireless: main subsidiary of this mobile phone and satellite division is Smart Communications. Smart also holds a 90% stake in its subsidiary brand, Piltel.
In wireless, prepaid phone plans are the norm, greatly outselling postpaid calling plans. Because most Filipinos are heavy users of text messaging, PLDT makes more revenue from data transmission than voice. A new trend is developing in mobile banking, where it is becoming common for Filipinos to transfer money via accounts linked to their cell phones.
Fixed Line: land line service. This segment is in decline and inbound international calls have been hurt by a strong Peso, as most of those payments are made in US Dollars.
Internet and Communications Technology [ICT]: Internet infrastructure, business process outsourcing and call center services through its ePLDT subsidiary.
To compensate for the declining fixed line business and maturing mobile phone penetration (57% of the population has a cell phone), PLDT has been trying to strategically position itself for growth in the wireless broadband and business process outsourcing.
Philippines ripe to become outsourcing center
After many years of political turbulence, the Philippines has now entered a time of stability. Driven by exports, the country's GDP is at its highest in decades with a 2007 growth rate of 7.3%. A recent controversial sales tax hike is now being used to build infrastructure, and the benefits are paying off.
The Philippines has a young population; over half is below the age of 24. Most of them are educated, and will be entering the workforce in upcoming years. Best of all, English is the second most dominant language behind Tagalog.
The factors of political stability, workforce, and the prevalence of English put together the perfect formula for an outsourcing-based economy. Many companies are quick to realize this and have rushed to establish various back-office business process outsourcing centers [BPO]. Some names include Wipro (NYSE:WIT), Siemens (SI), and Accenture (NYSE:ACN).
Industry forecasts are for a 9.2% CAGR of BPO in the Philippines over the next several years. Aside from traditional call centers, a Goldman Sachs report points out that the Philippines' BPO boom is also fueled by more skilled creative design services such as legal, Web design, medical transcription, and software development.
PLDT is joining the outsourcing action and in May of 2006 they made a cash purchase of SPi, one of the largest worldwide BPO service providers.
Looking at the books, I am so far disappointed with PLDT's performance to date in BPO. The ICT segment contributes only a little over 7% of total revenue and is barely profitable as a whole. For several quarters in 2007 it operated at a loss. In order for this strategy to work, PLDT must improve margins.
Peso has been beneficial
The extraordinary run in stock price over the last 3 years seems attributable to a combination of improved operational efficiencies, cleaning up of the balance sheet, and currency-related appreciation.
As the Peso appreciated about 25% since 2003 from about 55 Php/$ to its current 41 Php/$, the company seems to have used its amplified cash flow in Pesos to pay down debt and lower interest payments. Like Warren Buffett, management used its strong cash flow to reinvest in the business to build a better balance sheet and fund acquisitions.
Pro-shareholder policies
Current management seems very shareholder aligned. In addition to a 70% dividend payout ratio, management retrospectively adds a special dividend with excess cash flow.
On January 29th, a buyback program was announced for 2 million shares, or 1.1% of shares outstanding. Despite the small size, it demonstrates management's commitment to return shareholder value.
Valuation
To do a valuation analysis for this company, I wanted to build a full Discounted Cash Flow model, but found it difficult because its income is so dependent on unpredictable long term exchange rates. Most of the debt is denominated in US Dollars, which could cause significant changes in interest payments, affecting Free Cash Flow to Equity.
In lieu of a full DCF, I looked at valuation based on EBITDA multiples. Using my own projections, I came up with EBITDA multiples of ~6.2X for 2008 and ~5.9X for 2009. This appears to be in line with other telecoms and emerging market telecoms, if not slightly undervalued.
Improved margins in the ICT segment would definitely be helpful for PLDT.
Risks
Currently PLDT stock is trading off its highs. Fundamental reasons appear to be a March 2nd Fitch rating report, comments made by the chairman on March 5, and an inflationary report on March 15.
The Fitch report notes that with 50 million mobile phone subscribers in the Philippines, the mobile market is approaching maturity. This is the driver pushing PLDT to seek growth in BPO and broadband.
On March 5th management expressed concern that the strong Peso is hurting revenue by curbing consumption, since inbound calls are charged by US Dollars. Although this will hurt certain revenue segments, I contend that a weaker Peso may be worse for PLDT over the long term because most of PLDT's debt and interest payments are denominated in US Dollars.
As of the end of 2007, PLDT had $1.26 billion in US denominated debt (Php54,540 million) versus only Php7,620 million in Peso denominated debt. With 88% of the debt in US dollars, I believe that a depreciation of the Peso could be just as bad for PLDT because of higher interest payments.
An inflation forecast above the 3-5% target of the Philippine central bank may have also hurt the stock. High inflation typically devalues fixed income securities and high-dividend yielding stocks because investors seek a higher yield to outpace inflation.
The ADRs (NYSE:PHI) have been recently testing its resistance lows near 61. On March 17th it opened below the 200 moving average, but climbed back. I believe that if it falls through the resistance point at 61 and establishes a new base in the mid 50s, it will be a terrific value. Although PLDT is defensive, this is still a volatile market and I would not buy more than half of your intended share allocation above 61.
PLDT is a defensive play, it's a value play, and a growth play on globalization in a flat world. I like the strong cash flow and prospects for a well-executed strategy in the BPO arena. However, I recommend caution and keeping a watchful eye on exchange rate impacts on this stock.
Disclosure: None