Capstead Mortgage Corp. (NYSE:CMO)
We believe Capstead Mortgage will be a major beneficiary, as compared to its competitors, in the event of an economic recovery in the U.S. We believe the company has sufficient financial muscle to continue its shareholder distributions; the primary factor that one takes into account before investing in a mortgage REIT. However, if the yield curve flattens any further, investors should see no price appreciation. We believe the stock's dividend yield of 11.7%, along with its cash flow yield of 18%, is sufficiently attractive for yield-hungry investors, which is why we recommend buying Capstead.
Company Description
Capstead Mortgage is a diversified Mortgage REIT and invests in leverage portfolios of real estate-related securities, including government sponsored and guaranteed securities. The Texas-based company invests exclusively in adjustable rate mortgage (ARM) loans, which differentiates it from its peers.
Drivers
The general economic environment and activity in the U.S. housing markets will drive future growth for the company.
The U.S. economy is showing no signs of improvement, with deterioration witnessed in most indicators, including the U.S. jobs and retail sales data, which are being released by the authorities. The Fed has been busy trying to improve the situation through its maturity extension program and commitment to do more if the situation doesn't improve. As a result of the Fed's efforts, the yield curve, as depicted by the figure below, is flattening. Since most of Capstead's adjustable rate residential mortgage investments are long term in nature, with weighted average maturity of 291 months or 24.25 years, the company will experience a squeeze in the interest rate spread that it earns over what it pays for its short term borrowing. However, since most of the adjustable rate residential mortgages have annual reset dates (77%, 13% and 10% of the adjustable rate residential mortgages have annual, semi-annual and monthly reset periods respectively), the effect of compression in spread will be witnessed by the end of the year. Typically, the flattening of the yield curve, besides affecting the interest rate spread of the mortgage REIT, has a positive impact on the market value of the investment portfolio. However, in the case of Capstead, since the company invests exclusively in adjustable rate residential mortgages, the effect will be minimum, and last only until the next reset date.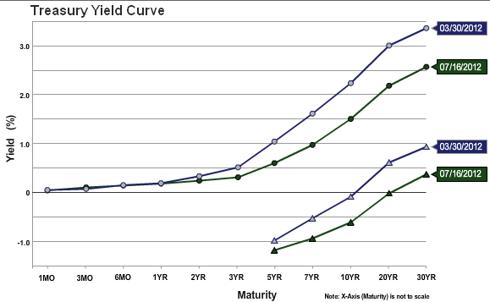 Click to enlarge
Click to enlarge images
Source: Treasury.gov
Unlike its major competitors, Capstead will not experience a significant decrease in the market value of its investment portfolio, and will benefit from expanding interest rate spreads in the event of an economic recovery. So we believe that Capstead will be an ideal investment if the economy begins to show signs of improvement.
Favorable activity in the U.S. housing markets, driven by attractive mortgage rates and home prices, higher refinancing and rising rents, present an opportunity for mortgage REITs in general. 30-year mortgage rates have fallen to record lows of 3.56%. The average rate for the first quarter remained at 4.16%. The second quarter rates are still below the 6% or 7% that borrowers paid at the peak of the U.S. housing market. Refinancing has accelerated through the government-sponsored HARP.

Click to enlarge
Source: Ycharts
Underwater mortgages that were refinanced during May increased to 21,605 from 15,371 in April. The figure below shows U.S. home prices, represented by the Case-Shiller home price index, have risen moderately over the current quarter, reflecting consumer confidence.

Click to enlarge
Source: YCharts
1Q2012 Financial Review
Earnings
The company reported strong earnings for its first quarter this year. Diluted earnings per share improved by 7% to reach $0.44 from $0.41 in the first quarter last year. The increase was largely attributed to an increase in the overall investment portfolio. However, the spread of 152bps that it earned during the first quarter this year was 100bps below what it earned during 1Q2011.
Balance Sheet Strength
The company's book value increased by 0.52 to reach 13.04 per common share at the end of the first quarter this year. The company is highly levered with leverage to the long term investment capital ratio of 8.05x, and most of the borrowings having a maturity of less than 30 days. Compared to CMO's 8.05x, Annaly Capital Management (NYSE:NLY) has a debt-to-equity of 5.8x.
Dividends
It offers an attractive dividend yield of 11.77%, combined with a cash flow yield of 18%. The stock has a low beta of 0.37. As of March 31, 2012, the company had $513mn of cash and cash equivalents at hand, and it generated $236mn of cash flows from operations and paid $43mn in dividends.
Valuations
The stock is trading at a discount of 28% with regards to its price-to-earnings multiple of 7.6x, compared to its industry peers. Its competitors, NLY and American Capital Agency's (NASDAQ:AGNC), are trading at 34x and 5.5x with regards to their price-to-earnings multiple. CMO's price-to-book value of 1.06x is trading at a discount of 12% when compared to AGNC, and in line with that of NLY. CMO's stock has appreciated 20% in value since the beginning of the year.
Disclosure: I have no positions in any stocks mentioned, and no plans to initiate any positions within the next 72 hours.