Chris DeMuth Jr.
x
Author Following Options:
See their articles on your Seeking Alpha homepage and in your feed.
Real-time alerts on this author
Get their new articles emailed to you as they are published.
Daily digest on all my authors
Get all your favorite authors' new articles emailed to you in one daily digest.
Send Message
Chris DeMuth Jr. is the founder of Rangeley Capital LLC. Rangeley is an investment firm that focuses on event driven, value-oriented investment opportunities. Prior to founding Rangeley Capital, Mr. DeMuth spent his career as a securities analyst for several hedge funds and proprietary trading desks with a specialty in corporate event risk and timing. Rangeley Capital and his value investing forum, Sifting the World (StW), search the world for misplaced bets. Rangeley exploits them for its investors and then Mr. DeMuth writes about them on StW.
Description: Hedge Fund Manager. Trading frequency: Daily
Interests: Alternative Investments, Options, Stocks - long, Stocks - short

Ph. Number:

(203) 801-9976
Location:

Ct; USA
Rangeley Capital Rangeley Capital invests in companies that trade for an attractive price with respect to their intrinsic value. We look to corporate events (i.e. mergers, spin-offs, restructurings, etc.) to unlock that value for shareholders regardless of the broader movement of the stock market.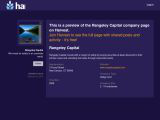 Rangeley Capital Best Investment Ideas
Rangeley Capital invests with a margin of safety by buying securities at deep discounts to their intrinsic value and unlocking that value through corporate events.
Latest comments on Chris DeMuth Jr.'s Articles
Latest Articles on Portfolio Strategy & Asset Allocation
Latest Articles on Conglomerates
Latest Articles on Financial
Latest Articles on Healthcare
Latest Articles on Retirement
Latest Articles on Services
Latest Articles on Technology
Latest Articles on Dividend Investing Strategy