Elliott Orsillo, CFA is a founding member of Season Investments and serves on the investment committee overseeing the management of client assets. He spent nearly ten years as a financial analyst and portfolio manager prior to co-founding Season Investments. Elliott earned a bachelor's degree in Engineering from Oral Roberts University and a Master's of Science from Stanford University with an emphasis in Finance. He also holds the CFA charter. Elliott and his wife Gigi have three children and like to spend their time outdoors enjoying everything the great state of Colorado has to offer.
Description: Registered Investment Advisor (RIA). Trading frequency: Monthly
Interests: Bonds, Commodities, Dividend stock ideas & income, ETFs, Forex, Gold

Season Investments
Season Investments was created to provide an accessible alternative to the classic buy-and-hold approach pushed by so many large financial institutions. The most sophisticated investors in the world utilize dynamic risk management and hedging techniques to protect their capital as they grow it. Likewise, our
...
More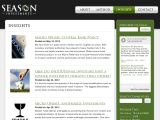 SI Blog
Updated views on macro economic factors affecting capital markets and our micro portfolio positioning.
Currently, you have no book details. Click edit to add book details.
Latest comments on Elliott Orsillo, CFA's Articles