With their decision to go public sometime in the spring/summer of 2012 Facebook (NASDAQ:FB) is soon to be the largest internet IPO in history. The announcement has bought with it a wave of media attention analyzing the company's fundamentals and speculating on the potential future value of the social media website. Bloomberg has published an average of 9 articles per day about the Facebook IPO in 2012 - second only to Greece as the most written about story of 2012 so far.

Like Groupon (NASDAQ:GRPN) and LinkedIn (NYSE:LNKD) the media attention around Facebook's IPO is in danger of inflating the value of the company to levels that simply do not reflect the fundamentals.

IG Index - a UK spread betting company - currently offers its clients the opportunity to trade a derivative based on Facebook's future market cap - settling based on the companies value at the end of the first day's trading - this is currently giving Facebook a value of $116bn.
Fairly Priced?
A market cap of $116bn gives Facebook a similar value to 3 Tesco's - or for foreign readers the same price as a McDonald's and $15bn in cash. Is this fair? Well let's look at the fundamentals of the company.
Company Fundamentals
Since 2007 Facebook's revenue has increased 2317% reaching $3.7 billion last year -85% of this is generated from advertising with the rest coming from companies such as Zynga (NASDAQ:ZNGA). With net income standing at $1 billion in 2011 this gives the company an EBIT: revenue ratio of over 25% - comparable to that of Apple. All promising news. Unfortunately this is where the similarities to Apple end.
Net income at $1 billion would give Facebook a P/E ratio of 116:1. This is 5.5 times more than the average P/E ratio in the S&P 500 and twice that during the peak of the tech bubble in 2001.
Advocates of the stock argue that the future growth in income justifies the $100bn plus price tag. This is impossible.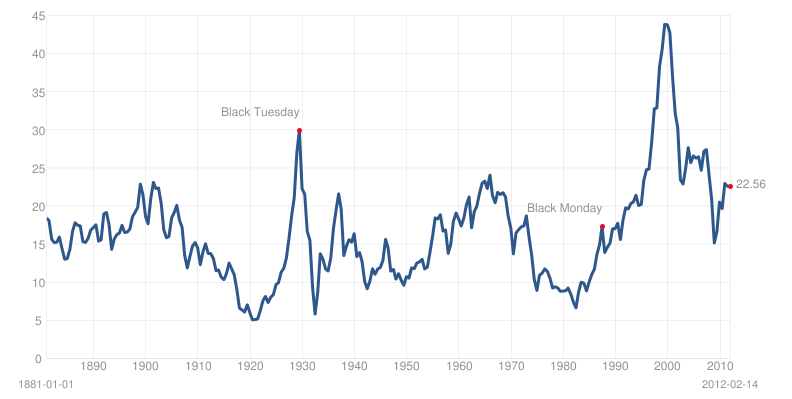 S&P 500 P/E Ratio History
Back of the Fag Packet Growth Prospects
Facebook has 800 million users, 483 million of which it considers "active". This means that 45% of the world's internet population have a Facebook account. Admittedly growth up to this point has been phenomenal; averaging 100 million new users per year since 2004 - or 280,000 new users per day every day for the last 8 years.


The worlds internet population stands at 2.1 billion leaving 1.3 billion people without a Facebook account. Taking these numbers at face value it could be said that the company has the opportunity to double in size again. This couldn't be farther from the truth.
Less than 1% of China's 500 million internet users have a Facebook account - the company was banned from operating there in 2008. Even if Facebook decided to try and enter China again in the future it would face tough competition from Chinese social networking sites RenRen and Q Zone who collectivley boast 300 million users between them.
The situation is similar in Japan and Russia who between them have 200 million internet users. Here domestic social networking sites Mixi and VKontakte are the dominant players in both markets - less than 6% of the online population in these countries actually has a Facebook account.
These figures show that if Facebook is to expand at the same rate it has done for the past 5 years it will have to compete against foreign social networking sites who are the dominant players in their respective markets.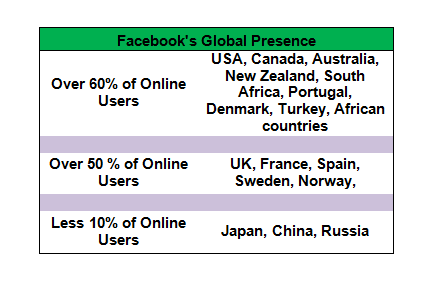 The not so 493 million "Active" Facebook User
Facebook defines an active user as:

This means that anyone visiting the Times or NBA.com and likes a news article is classed as an active Facebook user. This is important because Facebook's gets 85% of its revenue from advertising - much of which is on a pay per click basis. If a sizeable percentage of Facebook users are considered active because they connect via 3rd party website the amount of users that can potentially click on an advert is limited.
Could Facebook be worth it's $100bn price tag?
To increase net income to $5bn - levels similar to other $100bn companies - per year Facebook has to either:
1. Add 5 times as many users - Impossible. The worlds internet population currently stands at 1.8bn. Sure it is fast growing however the vast majority of new users will be living in emerging markets where Facebook's grip on the market is weak compared to Western European and North America.
2. Make 5 times as much money per "active user" as it is currently doing - This may be possible however would involve making adverts more expensive and/or increasing the amount of adverts on the site which could potentially push users away. Either way this is not something that would take years to do.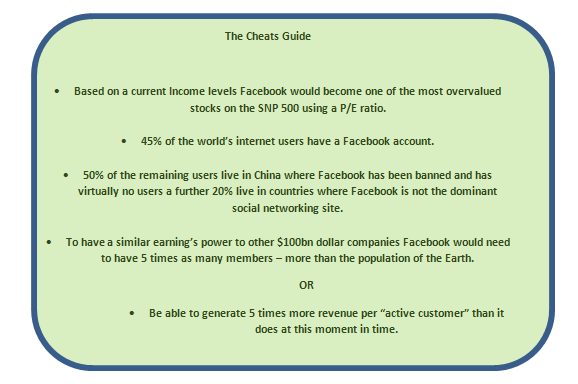 Based on current Income Levels and the limited growth potential the company faces Facebook would be priced fairly at around the $50bn mark. If Facebook's IPO values the company anywhere near $100bn the risk/reward of going short the stock is very favorable.