Updated: See below.
Approximately one month ago I discussed: How to Play the Summer Divergence?
The subject under discussion was the observation that the Russell 2000 Index had underperformed both the S&P 500 and the Nasdaq 100 over the preceding month. A similar kind of divergence had been seen only once since the market bottom in March 2009, and that was late August into September of 2011. From that juncture all three indexes rallied for the next seven months. The gains? From October 3, 2011 to the beginning of April 2012 The R2000 gained more than 21%, the S&P 500 29% and the Nasdaq 100 33.5%.
In the discussion a month ago, I discussed what to watch for if the three plus year bull market were about to roll over.
But that has not happened and the Russell 2000 has made a possible breakout that could extend back to the spring highs, as shown in the following graph from the 5 Min. Forecast: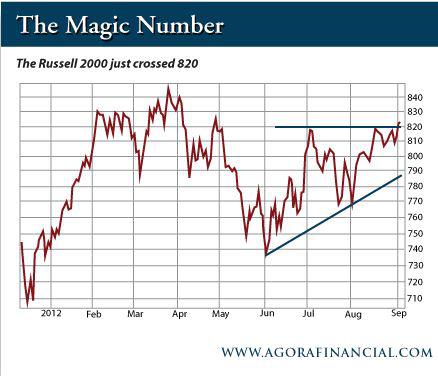 This is not necessarily something to get excited about - the spring highs are only about 2.4% higher than today's close (05 September 2012) of 821.23.
But this is an alert to watch for the breakout above the early April high. That could put the all-time high for the index (04 April 2011) - 865.29 - squarely in the cross hairs.
By the way, the Russell 2000 has done something that the large cap indexes have yet to do, having surpassed (in 2011) its pre-crash closing high from 09 October 2007 of 845.77.
So, will the breakout continue and lead the market higher?
Or will the signs of a market topping out yet transpire and will defensive action be what saves the day?
Update: After posting my friend Doug Short posted a nice discussion of the market history for the Russell 2000: http://advisorperspectives.com/dshort/commentaries/Russell-2000-Overview.php
Disclosure: I have no positions in any stocks mentioned, and no plans to initiate any positions within the next 72 hours.