Yum Brands (NYSE:YUM) has been applauded by analysts for its success in strategic diversification. YUM holds strong brands such as KFC, Pizza Hut and Taco Bell and has shown decent growth in its revenue base all over the world. However, last week YUM reported that its sales in China are set to go down in Q4. While the stock was trading near all-time highs, the news sent negative signals to the market, resulting in a 10% drop so far. This drop seems to be a fair reaction to the news, as half of YUM's profits come from its Chinese operations. The stock is also trading at a 33% premium to McDonald's (NYSE:MCD).
From an Operational Perspective:
With its 37,000 restaurants in 100 countries, YUM reported a net income of $1,260 million for the past nine months, a 31% increase compared to the same period of the prior year. When compared to Q22012, YUM saw an increase in revenue and gross margin of 13% and 24%, respectively, pointing towards better cost-control measures in Q32012. It also saw an increase in net and operating margins, as shown in the graph below.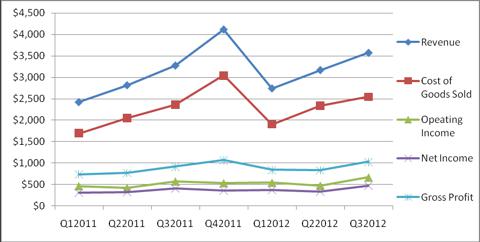 Click to enlarge
However, the company saw a decline in same-store sales growth in Q32012. We feel that the decline in SSS is a problem that is not specific to YUM brands rather it has been seen in most of the fast food restaurants. The reason for the declining SSS has been the competitive pressures. When compared to MCD, its key competitor, YUM is on a better footing as the rate of decline in its SSS growth is better. This is shown in the following graph.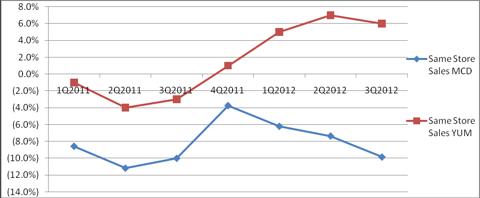 Click to enlarge
Our Valuation and Investment Case:
YUM is trading at a premium valuations vs MCD. However, YUM is trading in line with its competitors' average valuation. Its P/E of 19x and EV/EBITDA of 13x are in line with its competitors' averages of 19x and 12x, respectively. Valuing YUM from a relative perspective, we set a target price of $73. However, valuing it using its historical P/E, we set a target price of $82 for YUM, as shown in the following table.
A Relative Analysis Based on Multiples (NYSE:X)

Company

 

Trailing P/E

Forward P/E

PEG

P/S

EV/EBITDA

McDonald's

 

16.29

14.94

1.91

3.16

10.01

Yum! Brands

 

21.90

19.91

1.57

2.48

12.58

Burger King Worldwide INC (BKW)

 

62.60

23.72

1.30

2.75

13.57

Competitor Average

 

33.60

19.52

1.59

2.80

12.05

Forward EPS

$3.74

 
 
 
 
 

Historical P/E

21.9

 
 
 
 
 

Price Based on Historical P/E

$81.91

 
 
 
 
 

Price Based on Competitor P/E

$73.02

 
 
 
 
 
While the stock might not currently appear lucrative in terms of capital gains, we feel that dividend investors would be inclined towards buying YUM because of its 2% dividend yield. We do not see lower revenue from China being a potential threat to future prices. This is mainly because:
While the news depicts a bearish picture for the global strategies of YUM, we feel that the 10% drop in YUM's share price means this negative news has been priced in.
The company has reconfirmed its 2012 guidance of a 13% growth in EPS. It also guided towards the continuation of the growth trend in 2013, offsetting the negative impact of the news regarding a decline in sales in China.
"For the fourth quarter, stronger than expected operating performance from Yum Restaurants International and our U.S. division is offsetting softer sales in China, where we now expect same-store sales to be negative," said a company representative.
Moreover, the company plans to buy back shares of up to $1 billion by the end of this year; this is in addition to its buy back of common stocks worth $815 million at $66 per share this year. Shareholder value is expected to increase due to the buybacks.
Stance:
The company has reported both good and bad news in the past few days. While the expected decline in sales in China does not bode well for the company, its guidance towards growth this year, and the coming year, is a positive sign for the company. The company also plans to buy back $1 billion worth of shares by the end of this year.
YUM is a safer option when compared to MCD, as the company is not facing as many issues as its competitor is. However, a P/E of 20x vs MCD's 15x is on the high side and one should wait for the stock price to correct a bit before initiating a long position in YUM.
Disclosure: I have no positions in any stocks mentioned, and no plans to initiate any positions within the next 72 hours.
Business relationship disclosure: The article has been written by Qineqt's Retail Analyst. Qineqt is not receiving compensation for it (other than from Seeking Alpha). Qineqt has no business relationship with any company whose stock is mentioned in this article.