When the Commerce Department releases January retail sales numbers on Wednesday, economists expect to see a big drop from December, partly thanks to the impact of the new payroll tax hike heralded in by the new year's deal to avoid the fiscal cliff.
But if one index of weekly sales data is any indication, the headline retail sales number could be worse than expected. Take a look at this weekly index of retail sales, which is known as Redbook Weekly Retail sales data. It has shown a downward trend since the start of the year.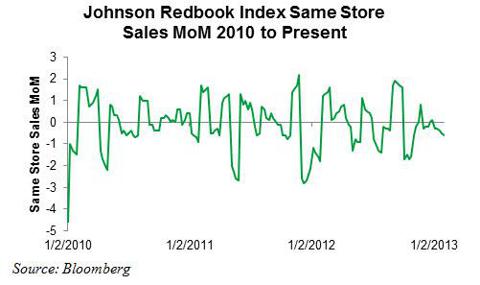 Based on this index, which is admittedly narrow, retail sales have been negative for five consecutive weeks. While the drop in sales has been modest, it has been consistent week after week. It leaves open the possibility that the new tax hike hitting consumers' paychecks -- remember that it has impacted most workers and is expected to subtract roughly 1.5% from personal income this year -- could send the headline retail sales number even lower than the consensus estimate of 0.1% growth from December.
If this trend is confirmed by Wednesday's retail sales report, it would mean that consumers are certainly starting to feel pressure from the payroll tax hike. As such, it would also mean that stocks may be vulnerable, while more perceived "safe haven" investments like Treasuries may be poised to benefit. On the other hand, if the data surprises to the upside, it would be a positive for risky assets, including stocks.
Source: Bloomberg.