By Paul Goodwin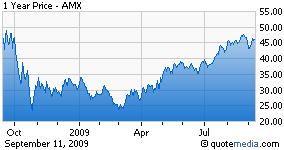 My investment idea today is a Mexican telecom company that's turning into a regionally dominant provider of voice and data network services. Founded in 2000, American Movil (NYSE:AMX) provides both wireless and fixed-line communications, but it's clearly the buildout of the wireless network that's stirring things up.
The company offers the whole spectrum of cellular services, such as short messaging, content downloading, video streaming, GPS and Internet access in addition to standard fixed-line services like Internet, cable TV and data transmission.
With more than 180 million wireless subscribers and nearly four million fixed-line subscribers, America Movil has a presence in Mexico, Guatamala, Nicaragua, Ecuador, El Salvador, Brazil, Argentina, Colombia, the U.S. Honduras, Chile, Peru, Paraguay, Uruguay, the Dominican Republic, Puerto Rico, Jamaica and Panama. That's a huge geographic base, which provides access to many emerging markets.
After a couple of quarters in which earnings dipped slightly, the company showed a 5% gain in earnings in Q2 with a 24.0% after-tax profit margin. The stock pays a small dividend (1.0%) and has 280 institutional investors on board, leaving lots of room for growth. The stock put in a double bottom at 23 last November and March, and has pulled back slightly after doubling off that bottom.
As the Latin American region begins to power back up after the global recession, America Movil will be leading the way.