Since Thursday, December 5, a number of big-name gaming stocks were on the rise as Japan (NYSEARCA:EWJ) moved one step closer to legalizing casino gaming. These stocks included Wynn Resorts, Limited (NASDAQ:WYNN) (+3.21%), Melco Crown (NASDAQ:MPEL) (+0.91%) and Las Vegas Sands (NYSE:LVS) (+1.69%).
In the wake of Thursday's news, I wanted to highlight several reasons behind my decision to remain bullish on shares of Las Vegas Sands which could end up being a key player if and when such legislation is approved by the Japanese government.
#1 Positive Performance & Trend Behavior
On Thursday shares of LVS, which currently possess a market cap of $62.12 billion, a P/E ratio of 28.91, a forward P/E ratio of 20.85, and a current dividend yield of 1.86% ($1.40), settled at a price of $75.46/share. Based on their closing price of $75.46/share, shares of LVS are trading 6.56% above their 20-day simple moving average, 8.33% above their 50-day simple moving average, and 27.90% above their 200-day simple moving average.
These numbers indicate a short-term, mid-term, and long-term uptrend for the stock which generally translates into a moderate buying mode for most near-term traders and longer-term investors.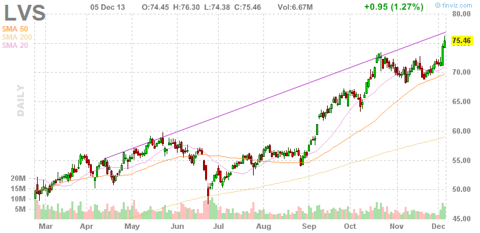 Click to enlarge
#2 Q3 Earnings Were Driven By Stronger Segment Performance From Macao
On October 17, Las Vegas Sands reported quarterly EPS of $0.82/share on revenue of $3.57 billion for the third quarter. These results had surpassed both analysts' EPS estimates by a margin of $0.06/share and their revenue estimates by a margin of $140 million.
Some of the more positive notes to come out of the company's earnings announcement included but were not limited to a 26% increase in the rolling volume and a 40% increase in its Retail Mall Revenues and a 60.8% increase in Adjusted Property EBIDTA at its Macao-based properties.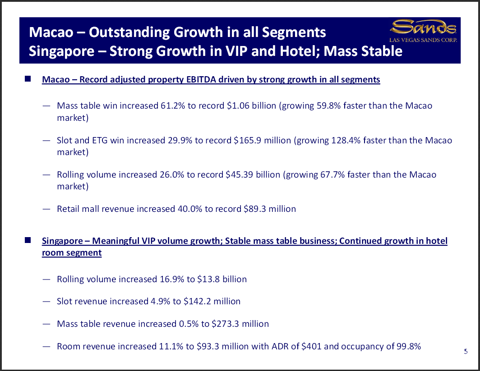 Click to enlarge
(Source: Q3 Earnings Presentation)
#3 Strong Table and Slot Revenue Performance in Macao Since 2009
When it comes to the company's growth potential in Japan, I think it's best we look at how successful the company has been in Macao and note the impressive Table and Slot Revenue growth that has occurred over the last four years.
Beginning in the third quarter of 2009, we'll notice that Las Vegas Sands was generating a mere $374 million in Table and Slot Revenue, however, that number has nearly tripled during the company's most recent quarter and if Japanese performance is anything like the company's performance in Macao (especially given the recent demand for gaming), I think Las Vegas Sands could be one of the more successful gaming brands within the Japanese marketplace.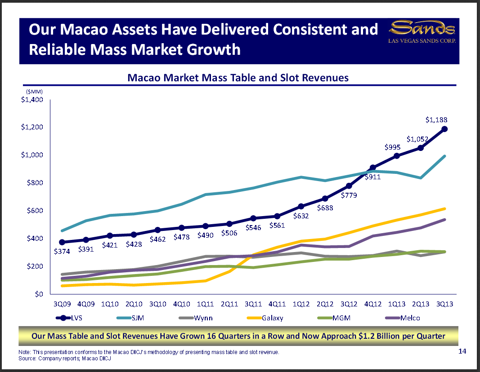 Click to enlarge
(Source: Q3 Earnings Presentation)
#4 A Very Promising Global Growth and Positioning Strategy
During the company's third quarter earnings presentation, management gave a sneak peak at a number of geographic areas that could be of future developmental interest for the company. Included in the list were a number of mainstay regions (that have contributed quite nicely to the company's global growth over the last several years) and a number of newer regions in both South America and Asia.
For example, names such as Macao (which is virtually a given considering the company's impressive track-record in the region), North America (which includes the company's Las Vegas and Bethlehem-based properties, as well as the potential for any new site the company may have its eye on in both the US and Canada), and Singapore (which saw a number of its segment-based revenues grow considerably over the last several quarters).
That being said, the list also included Japan as a potential region for future consideration (and given the fact the country's government is considering a proposal that would legalize gambling, this could fit right into the criteria Las Vegas Sands has set forth in its Global Positioning Strategy).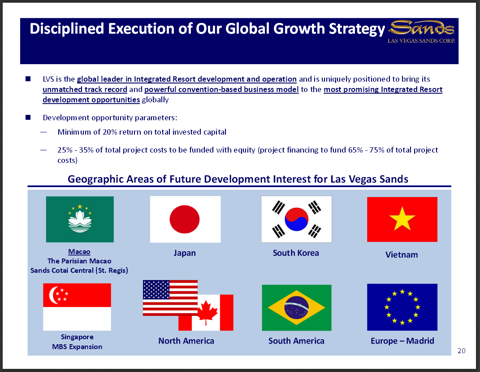 Click to enlarge
(Source: Q3 Earnings Presentation)
Risk Factors
Investors should ask themselves if there any risk factors they should consider before establishing a position in Las Vegas Sands? There are, in fact, a number of them and according to the company's most recent 10-K these risk factors include, but are limited to:
Reductions in Consumer & Corporate Spending
- Consumer demand for hotel/casino resorts, trade shows and conventions and for the type of luxury amenities the company's offers are particularly sensitive to downturns in the economy and the corresponding impact on discretionary spending on leisure activities.
- Changes in discretionary consumer spending or corporate spending on conventions and business travel could be driven by many factors, such as: perceived or actual general economic conditions; any further weaknesses in the housing market, additional credit market disruptions; high energy, fuel and food costs; the increased cost of travel; the potential for bank failures; the weakened job market; perceived or actual disposable consumer income and wealth; fears of recession and changes in consumer confidence in the economy; or fears of war and future acts of terrorism.
Extensive Regulatory & Compliance Related Costs Could Impact Performance
- The company is required to obtain and maintain licenses from various jurisdictions in order to operate certain aspects of its business, and is subject to extensive background investigations and suitability standards in its gaming business.
-It will become subject to regulation in any other jurisdiction where it chooses to operate in the future. There can be no assurance that the company will be able to obtain new licenses or renew any of our existing licenses, or that if such licenses are obtained, that such licenses will not be conditioned, suspended or revoked, and the loss, denial or non-renewal of any of its licenses could have a material adverse effect on its business, financial condition, results of operations or cash flows.
-Although the company is currently are registered with LVS,LLC and VCR, and currently hold gaming licenses issued by, the Nevada Gaming Authorities, these authorities may, among other things, revoke the gaming license of any corporate entity or the registration of a registered corporation or any entity registered as a holding company of a corporate licensee for violations of gaming regulations.
Conclusion
For those of you who may be considering a position in Las Vegas Sands I'd keep a watchful eye on a number of things over the next 12-24 months as each could play a role in the company's long-term growth.
For example, near-term investors should focus on the performance and trend behavior of the company while longer-term investors should focus on how well the company is able to maintain its global presence while simultaneously seeking out additional regions in an effort to further develop and enhance its brand as a leader in the global gaming marketplace.
Disclosure: I have no positions in any stocks mentioned, but may initiate a long position in LVS over the next 72 hours. I wrote this article myself, and it expresses my own opinions. I am not receiving compensation for it (other than from Seeking Alpha). I have no business relationship with any company whose stock is mentioned in this article.