Cheap, cheaper, Ford Motor (NYSE:F). That is how one could sum up the extraordinary mispricing that the market currently presents in the auto sector. Ford Motor is clearly my favorite in the large-cap car manufacturing sector, and its recent underperformance -- which I think is totally unwarranted -- only makes an investment in Ford Motor more attractive.
Car manufacturers are among the cheapest companies in the stock market right now (based on Price/Earnings valuations) with many firms trading at truly depressed multiples. Auto manufacturers are even cheaper than a lot of basic materials companies, which suffer from cyclically, low commodity demand and depressed valuations as well. As such, car manufacturers such as Ford Motor, General Motors (NYSE:GM) and Toyota Motor (NYSE:TM) offer compelling risk/reward ratios, strong upside potential and a great margin of safety.
Share performance
From a share performance perspective, Ford Motor has fallen behind lately. The company proved to be quite resilient throughout the financial crisis, and shareholders rewarded Ford Motor for a competitive product portfolio, solid US market share, emerging market success and strong financial performance. The table below shows Ford Motor's share price performance for different performance measurement periods compared to its peers:
(Source: Achilles Research, Yahoo Finance)

Most notably, Ford Motor hugely outperformed over a five-year period. Its return: 448%.
However, most recently, auto manufacturers including Ford Motor came a bit under pressure. Ford Motor has declined more than 16% since it marked a 52-week High at $18.02, offering long-term investors an attractive entry point.
(Source: Yahoo Finance)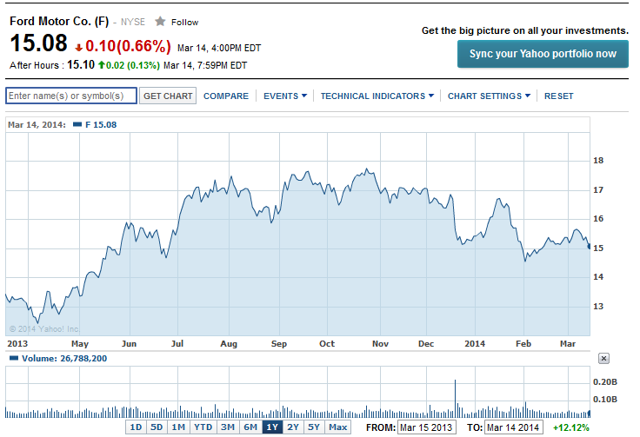 Auto manufacturers started to consolidate at the beginning of the year as increased volatility and uncertainty prompted investors to take profits. I think that declining valuations in the car sector offer opportunistic investors the chance to snatch up a leading car manufacturer such as Ford Motor at a distressed valuation.
(Source: Yahoo Finance)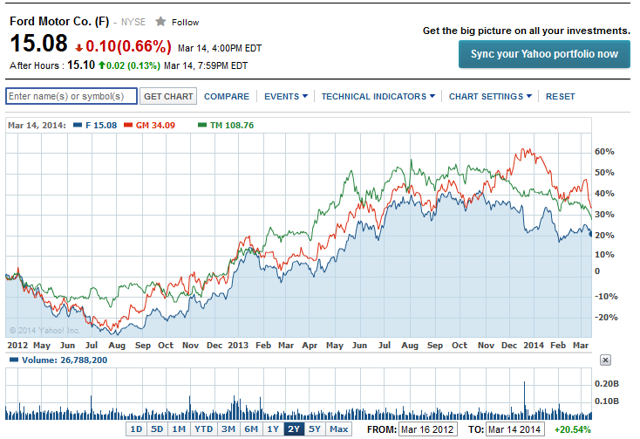 European operations are rebounding strongly
Just a few weeks ago, I pointed out that Ford Motor's challenges in the European auto market were not as bad as the market made them out to be. I wrote:
Europe has been somewhat of a persistent earnings drag for Ford Motor but the company seems to be on a good path to tackle low profitability. Ford's operating margin for its European operations stood at minus 8.0% in the fourth quarter of 2013 which compares against a margin of minus 11.4% in the fourth quarter of 2012. Fourth quarter pre-tax losses stood at 571 million vs. $732 million in Q4 2012. Since Ford Motor has no home advantage in Europe, its market share stood at only 7.8% in 2013 compared to 15.7% in the United States. While Europe poses some short-term profitability challenges, Ford's fourth quarter results also show meaningful y-o-y improvements.
On March 14, 2014 Ford Motor released European sales figures which only highlight that the company is experiencing a strong recovery in its most challenging market [emphasis added]:
COLOGNE, Germany, March 14, 2014 - Ford vehicle sales volume and all key market shares - total vehicle, retail, and commercial vehicle - improved again in February compared to a year ago.

"Our sales and share performance in February marked another step forward for Ford as we progress in our plan to return to profitability in Europe in 2015," said Roelant de Waard, vice president, Marketing, Sales and Service, Ford of Europe.

"We recently just started selling our all-new Transit two-tonne van and we just unveiled the new Focus, which goes on sale later this year. These are just two of the 10 new vehicles we will launch in Europe in 2014. It's this constant new vehicle momentum that is driving our business in a positive direction."

In a total industry that saw sales grow by 8 percent, Ford outpaced the overall market with an 11.6 percent increase in sales*. February marked the ninth successive month of Ford sales volume growth in Europe, while Ford total vehicle share also was up by 0.2 of a percentage point to 7.0 percent.

Ford's focus on improving its sales and share in the key retail segment of the market continued to reap benefits in February with retail sales volume growing by 9.7 percent, and retail share up 0.1 of a percentage point to 7.2 percent**. February was the 13th successive month of retail share growth for Ford in Europe.

Ford CV sales volume rose by 15.8 percent, and CV share at 9.7 percent for the first two months of the year was the company's highest for the period since 1998. Year-to-date, Ford is Europe's No.4 best-selling CV brand, compared with No. 7 in the same period last year.
Conclusion
Ford Motor's share price has been weak over the last six months, mainly because the company faces short-term operational challenges in Europe which led to continued negative performance results. In addition, increased volatility in the stock market has caused profit-taking, driving equity valuations of car manufacturers even lower.
I believe Ford Motor is on a good way to overcome challenges in the European market, and its most recent outperformance of industry sales growth is encouraging. Also, it could be a major catalyst for Ford Motor's stock price if the company indeed returns to profitability in 2015 (or even sooner), since worries about the European auto market have been hanging over the car sector for way too long.
Ford Motor currently trades at only 7.90 times forward earnings, even though the company has a strong cash position ($9.1 billion net cash held in the Automotive unit) and has presented a series of positive results over the last quarters. In addition, investors benefit from a dividend yield of 3.32% while they retain all the upside stemming from a change in investor sentiment when Ford's European division returns to profitability. I still think that Ford Motor's intrinsic value is in the region of $30 per share (if not higher), and the current market price extremely undervalues Ford's earnings potential. Ford is a strong, long-term BUY on ridiculously low valuation, strong car portfolio, solid net cash position, high dividend yield and ongoing European recovery.
Disclosure: I am long F. I wrote this article myself, and it expresses my own opinions. I am not receiving compensation for it (other than from Seeking Alpha). I have no business relationship with any company whose stock is mentioned in this article.