Frenemy Faceoff
The future direction of BlackBerry (NASDAQ:BBRY) and Apple (NASDAQ:AAPL) will be determined in the fall of 2014. Their fortunes are intricately intertwined and they copy each other's best ideas, tweaking things to up the challenge to the next level. Both are now in the health care market to cash in on the aging Baby Boomer, the largest demographic with the biggest disposable income in history. Apple, with a nod of acquiescence to BlackBerry's dominance and unrivaled superiority in car software, works with BB on CarPlay. And then recently, revealed at the WWDC, that it has gone out on a limb to copy Google and BlackBerry's features to make its OS much more appealing to a power user. It is quite apparent that Apple wants enterprise buy-in for the much larger iPhone 6 which is expected later in the year. Further, the name "OS X 10.10" and the mention of enterprise is a solid indicator Apple is targeting BlackBerry's core with its next flagships. But one has to wonder if Apple is not in grave danger with such a move: Apple's mobile devices do not have a keyboard and as their device increases in complexity, they stand to negate their consumer core. What actually happens is still to be seen. Apparently, BlackBerry will be stepping up their game too. The Classic is now due out in October, instead of November. Investors and journalists will be closely watching as the drama unfolds.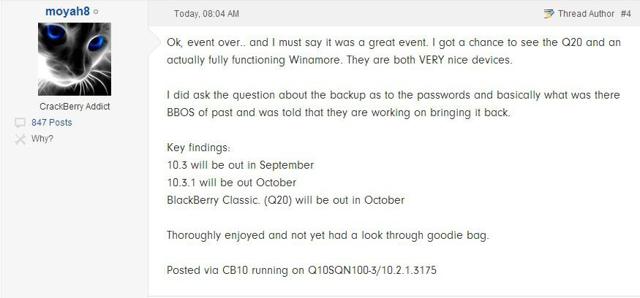 Source: CrackBerry
Deja Vu All Over Again?
While the market is often bearish on BlackBerry, it forgets that Apple has gone through some very dark days too. What really changed things for Apple and put it on the right track was OS X, the Intel chip, and the FreeBSD/NetBSD code base. The game changer for BlackBerry is BB10 with a QNX code base and an Android runtime. In a nutshell, both companies scrapped their aging operating systems and adopted a foreign OS and infused their system with foreign parts. The result for Apple is OS X which is quite different from its predecessor, OS 9. This then led to iOS, an extension of an already successful story. In a similar vein, BlackBerry 10 is quite different from its next-of-kin, BB 7.
Are we witnessing another software revolution in the works? Apple's iOS 7 sports a new design and iOS 8 brings new features which may or may not appeal to Android and BlackBerry users. Certainly, it would seem that the motivation to switch is slim when Apple is bringing about features that some have used since 2011. Also, increasing features increases complexity and risk for Apple. In 2012, Time Magazine released an article called 6 Reasons Apple is So Successful and in it, Time gave Apple high scores for keeping things simple and easy to use. Of the 6 items mentioned, I noticed that by the end of this year, Apple will only continue to live up to one of them (#1 - The creators create what they want for themselves). The rest are either in doubt or definitely being thrown out the window. Here is the complete list:
For any product that Apple creates, the people who create it have to want it themselves
The products have to be easy to use
Keep things simple
Offer great customer service and in-store experiences
Apple only makes a product if Apple can do it better
Apple stays at least two years ahead of its competitors
By copying the work of others, Apple seems to admit it has fallen behind competitors. By this fall, their product will have more features and the new features may cause confusion. The new features bring with them design languages originally from Meego, Android, and BlackBerry. Apple users not familiar with how Android and BlackBerry operating systems work may be confused by how their iDevices no longer respond the same way. Disorientation is what plagued BlackBerry when it tried to introduce the Z10, Q10, and Q5 with no toolbelt in sight. Long-time users suffer a downgrade in their experience when there are too many changes. Furthermore, the recent lack of resolution to the Oleg Pliss hack and the iMessage woes have caused grief to iDevice owners. Loyalty is now questionable and Apple is on shaky grounds. Introducing features from other devices can also get users to consider how easy it will be to transition away from Apple. It can be akin to moving away from AOL and venturing out into the World Wide Web without holding onto big brother's hand. Might Apple's walled garden be developing a few chinks?
Checkmate
While developers at BlackBerry Experience London gushed about the upcoming 6 devices, we are not privileged to see any pictures - only find comments about the experience on CrackBerry.
Source: CrackBerry
What is good to note is that Chen is stepping up the game and BlackBerry is moving the release date up from November to September and October. This is a tremendous relief to investors who may have come under the impression that Apple will be the first to bring iOS 8 and iPhone 6 to market and will leave BlackBerry behind. As things stand, the two will be competing for our attention in the months ahead.
Feel the Rumble
Apple is on shaky grounds and actually, BlackBerry is too. While things are looking up for the Canadian firm, and adoption of BES10 has increased tremendously after the introduction of EZ-Pass, the marketing of BB10 devices has not seen an uptick in North America. Throughout history, there are countless cases of investors purchasing a product and also buying the stock. In my particular case, I bought the stock, and then later went after the product. After my experience in trying to find a white BlackBerry Z30, I am convinced that not enough has been done to improve the supply chain. While you will have to pry my Z30 out of my fingers (because it is indeed impressive and worth keeping), I would like to share my experiences for your further consideration. I am of the opinion that BlackBerry has a lot to do now that the launch is 5 months away, and not 6.
While I have a history of purchasing my devices through Rogers, I decided to try ShopBlackBerry.com as the appeal of getting an unlocked device priced lower than the going rate at Rogers was undeniably good. On the May 18th long weekend, I placed my order. While I was excited at the prospect of receiving a phone that has undergone so many software updates and improvements since its first release, with the passing of each day, my annoyance increased. I kept replaying how BlackBerry sent me to the US site for ordering and I was told that the unit would be shipped via International Express. This odd dissonance became more pronounce when considering that at the time of my ordering, there was no Canadian flag to indicate that I am ordering from the right site. There was no way a Canadian shopper like myself could easily understand why I am ordering from BlackBerry US when the company is Canadian. The shop is not the most aesthetically pleasing and as it turns out, it was also the least informative of all the places I have ever shopped. After my order went through, I was told more details will be available within 48 hours. No details ever came, and by the 21st, I sent an email to Digital River (the third party which runs ShopBlackBerry.com) after bumbling around and not finding out how to contact BlackBerry (which was my original intention). Digital River comes back to me with instructions for how to login to their order page to track shipping information. That was extremely unhelpful. I already knew all that. The page they sent me to never displayed anything beyond an invoice. For an item not backordered, service was very poor and frustrating. I ended up spending time on Google trying to find out if others have had a similar experience. My research indeed yielded similar complaints from people trying to order the Z10 way back in December. Given the passage of 6 months, you would think that the experience would have changed.
The next time I heard from Digital River, it was May 27th. Needless to say, I was no longer certain I had a device coming at all. The day before, my credit card company informed me that money held by Digital River was no longer held, and there was no charge. It seemed like my order had simply been cancelled without explanation. Did I order from the wrong geographical site after all? The credit card company did not tell me what I want to hear. I was not even certain what my next step would be given Digital River seems unhelpful and BlackBerry did not offer an easy method to reach out to them. Short of going to Twitter and sending out a blast, I was not sure what to do. Hence, I waited another day, just grateful I was not one of those people who paid via PayPal and had their payment withdrawn immediately, and also had no device or update on their order for over 2 weeks. Of course, once I was provided with FedEx information on the 27th, the ball really started rolling. My device came the next day. It was all a surprise. BlackBerry could have spared me the roller coaster.
On the ground research is a fascinating experience at times, I will have to admit. I found out that the device had parts made in China, Indonesia, India, and Mexico. I also found out that my device did not have the latest software with the latest updates (I would have to update it myself). I suppose Dell has spoiled me in this particular regard, and I had expected too much. But given the long wait time, one does end up wondering if the device was being manufactured and the OS installed after the order was placed. The packaging was a disappointment as there were air bubbles on the black packaging box, and air bubbles on the security sticker (which was also crooked). While I doubt the product was tampered with, the long wait and time in limbo coupled with a poorly boxed device dampened my enthusiasm. Also, the instruction guides that came with the product were plenty but the print quality was poor. The colors were washed out. Marketing and presentation are Apple's strengths. BlackBerry still has a lot to learn from Apple in this regard. It also has a lot to learn from Amazon (NASDAQ:AMZN), Dell, and Chapters Indigo for managing customer expectations. If it wants to steal customers away from Apple, it needs to do a better job at marketing and presentation. Even Samsung's presentation (packaging) is far more superior and elegant. I would have liked to share my thoughts with BlackBerry but it seems they do not really want feedback. I had the option of emailing Digital River at ShopBlackBerry.com or going to BlackBerry's I Can Make It Better page from its main site. I signed up on the feedback site quite a while ago and found it frustrating. It tries to channel my feedback to devices when my feedback is of a different variety. I had no way to send open-ended feedback to cover ideas for improving the website or online shopping experiences. While I am writing this article, considering it's been a few months since I was there, I once again login to BlackBerry's I Can Make It Better. It is still only soliciting feedback about smartphones and apps. If the delivery channel has issues that are not fixed, an excellent product is not going to see that the product gets into the greatest number of hands. Many great products have failed as a result of poor marketing. BlackBerry needs to think like a Best Selling author, not a best writing author. I know there is pride in writing software that has a good code base, but to jumpstart the stock, this company has to think different and accept wider feedback. I can assure you, as things stand, I am not eager to "ShopBlackBerry.com" again. BlackBerry needs to make people become repeat customers, especially if they have the extra dough to purchase more than one device. It also needs to make people rave about their device. Present problems are hurdles to any of this happening. John Chen has more work to do and I hope he is reading all this.
The Sound of Success Needs to Get A Lot Louder
Criticisms for Apple and BlackBerry aside, I think there is a lot going for both companies. I am not interested in shorting Apple at this time, though I would caution new investors to watch their allocation and manage their risks accordingly. The BlackBerry Z30 is the current BB flagship. It has an exceptional set of speakers and the call quality is crystal clear. My family and friends are relieved to not have to deal with the static whenever I call from an Android device. Microsoft-Nokia's Lumia 1020 has a 41 MP camera with picture quality to die for. BlackBerry also has its strengths. It is just not doing a good job advertising it. When I play my music at maximum volume, I can feel how rich the music sounds on this phone. BlackBerry can challenge "Apple with Beats audio" any day. I also like the ability to control the volume of my music and also the Bloomberg or YouTube that may be playing on my browser. Pausing and playing are at the tips of my fingers using the buttons on the side. The future will be interesting. Apple made a lot of noise about Beats. Will BlackBerry be doing the same about their audio and sound quality any time soon? Apple is excellent at tooting their own horn. BlackBerry recently showed it can do so to keep the MDM market. Can it do the same with devices? I am long BlackBerry.
Disclosure: I am long BBRY. I wrote this article myself, and it expresses my own opinions. I am not receiving compensation for it (other than from Seeking Alpha). I have no business relationship with any company whose stock is mentioned in this article.