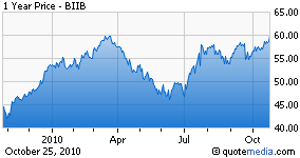 Biogen Idec Inc. (NASDAQ:BIIB) is slated to announce its third quarter results on October 26. The Zacks Consensus Estimate is $1.20, well above the year-earlier earnings of $1.09.
Second Quarter Highlights
Biogen Idec Inc. reported second-quarter earnings per share of $1.27, well above the Zacks Consensus Estimate of $1.08 and the year-earlier figure of $0.73. Performance was boosted by higher revenues. Revenues increased 11% to $1.2 billion, with Tysabri and Rituxan being the primary growth drivers.
Second quarter Tysabri revenues came in at $219 million, up 17% from the prior period. Global in-market net sales of Tysabri, which is partnered with Elan Corp. (NYSE:ELN), came in at $298 million (up 17%) in the second quarter of 2010. Despite carrying a black-box warning for the risk of progressive multifocal leukoencephalopathy (PML) and other cautionary language, Tysabri continued to see an increase in patients.
Meanwhile, Biogen's lead multiple sclerosis (MS) product Avonex posted second quarter sales of $628 million (up 6%). Rituxan revenues increased 11% to $306 million. Revenues were boosted by price increases.
Following the release of strong second quarter results, Biogen revised its earnings guidance for fiscal 2010. Although the company still expects revenues to grow in the mid single digits, Biogen now expects earnings to exceed $4.70 per share. This was well above Biogen's earlier expectations of delivering earnings above $4.55 per share. The Zacks Consensus Estimate for fiscal 2010 currently stands at $4.74.
Agreement of Estimate Revisions
For the third quarter of 2010, only 1 of the 7 analysts following Biogen has reduced his estimates over the last 7 days. Over the same period, 1 analyst has raised his estimates for the third quarter. Over the last 30 days, only 1 analyst increased his estimate, while 3 analysts moved in the opposite direction.
For fiscal 2010, a similar trend was observed with one of the 8 analysts covering the stock reducing his estimates over the past 7 days while 1 analyst raised his estimate over the same time-period. Over the past 30 days, 3 analysts have reduced their estimates with only 1 analyst moving in the opposite direction.
The downward revisions mainly reflect the impact of the entry of additional competition in the multiple sclerosis market in the form of Novartis' (NYSE:NVS) Gilenya. Being the first oral treatment to have gained US approval for the treatment of MS, Gilenya should see significant uptake.
Earnings Surprise
Biogen has usually delivered a positive earnings surprise over the past few quarters. While earnings in the third and fourth quarters of fiscal 2009 and second quarter of fiscal 2010 exceeded expectations, first quarter 2010 earnings came in below expectations. The average earnings surprise for the last four quarters was 7.41%. Third quarter 2010 earnings are expected to be in line with expectations at $1.20 per share.
Recommendation
We currently have a Neutral recommendation on Biogen, which is supported by a Zacks #3 Rank (short-term Hold rating). Key products, Avonex and Tysabri, should continue contributing significantly to sales. Meanwhile, Biogen is working on building its pipeline through acquisitions and in-licensing deals.
However, we remain concerned about an increase in the occurrence of PML in patients using Tysabri. Moreover, we are concerned about the recent approval of Novartis' Gilenya which will compete directly with Avonex and Tysabri.
Disclosure: No position