After a choppy trading day, crude oil nevertheless rose more than 3% just days after Goldman Sachs (NYSE:
GS
) raised its price forecasts for Brent crude. In notes published Monday, May 23, Goldman, reversing its commodity
bear call just six weeks ago
, boosted its year-end target for Brent by 20% to $120 per barrel from $105 and its 2012 forecast to $140 from $120. Goldman also raised its Brent price target to $115, $120 and $130 a barrel on a three-, six-, and 12-month horizon.
The inspiration for Goldman's new-found commodity bull? Ongoing supply disruptions in Libya and the belief that firm demand in emerging markets will eat into OPEC spare capacity. So everything all of a sudden changed 180-degrees in just six weeks. Really?
"Firm Demand" From Japan?

First of all, the global growth outlook, according to Goldman's own forecast, has gotten worse since the firm told clients on April 11 to sell a basket of commodities -- including oil, copper and cotton -- and stay "underweight" in raw materials.
Goldman just this month
downgraded
China's 2011 GDP growth forecast to 9.4% from 10.0%, cut its US growth forecast to 3% from 3.5%, and also shaved projection for the broader Asia region as well. So if the current, supposedly more robust growth from China could not take crude oil to $120, where would the "firm demand in emerging markets" come from on a reduced China growth outlook? I guess it must be from Japan, as it is about the only major economy Goldman actually upgraded. From Goldman's report (via
Zero Hedge
):
Contrary to popular opinion, we believe the disaster will accelerate -- rather than delay -- Japan's exit from deflation. We see reconstruction demand and exports driving gross domestic product growth to an above-trend pace of 2.5 per cent in 2012.
Of course, Goldman probably totally missed the news headlines that the Japanese economy contracted 3.7% in Q1 2011, which was cited by Moody's as "putting downward pressure on the country's sovereign credit rating," that the OECD slashed its forecast for Japan's GDP for a second time this year due to the devastating earthquake, and that "Deflationary pressures are likely to continue through 2012."
Fungible Oil Floats to America
As to ongoing supply disruptions in Libya, if there's an oil shortage as a result of that, there should not have been consecutive weekly build in crude inventories in the U.S. Stockpiles have been climbing steadily since the beginning of this year. Now is the time of year when inventories get worked off with the strong seasonal demand for crude and gasoline.
Instead, according to the latest data from the Energy Information Administration, U.S. crude supplies rose by 600,000 barrels to 370.9 million barrels the week ending May 20. That's 0.2% more than a week ago, 1.6% more than a year ago, and above the normal range (Fig. 1).
This is extremely bearish as the crude inventory build came on the back of increased U.S. refineries' run rate to 86.3% of total capacity, an increase of 3.1% from a week ago. Further debunking the "supply shortage by Libya" is that crude imports into the U.S. rose by 662,000 barrels a day week on week. In fact, crude imports have been rising steadily ever since the Libya civil war broke out in mid February (Fig 2).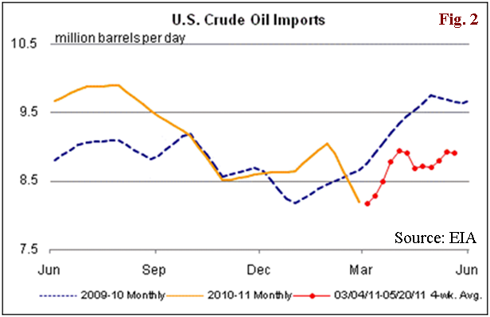 Click to enlarge
Oil is a fungible commodity and will go to the highest bidder. If there were a shortage or stronger demand elsewhere, crude oil would not have floated into the U.S. and ended up staying here. So how could a slower world growth, as projected by Goldman, feed into a 20% upside for crude in the next six months?
Soft Fuel Demand
On the product side, things don't look that much better. Gasoline supplies rose 3.8 million barrels, or 1.8% week-on-week, to 209.7 million barrels. Although the stockpile is about 5.4% less than year-ago levels, demand for gasoline was 2.1% less than it was in the year-ago, averaging nearly 9 million barrels a day (Fig. 3).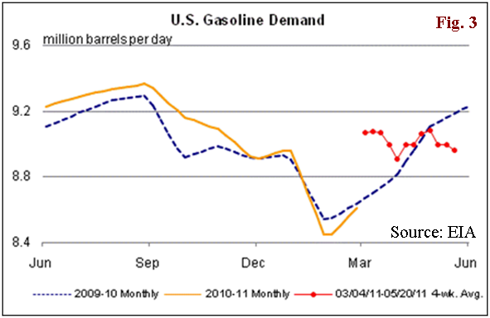 Click to enlarge
Domestic distillate supplies did decline 2.04 million barrels to 141.1 million last week, the lowest since April 2009, while fuel demand climbed 2.2%. The data is soft at best, and domestic distillate inventory level is still at the high end of the average range, so it's really nothing to be that
excited or bullish about
.
Despite price drops in the past few weeks, the AAA national average regular unleaded gasoline price is still about 38% higher year-over-year, while demand is 2.1% lower. WTI crude marker is also about 35% higher than a year ago level (Fig. 4).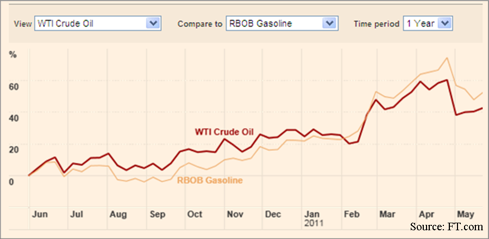 Click to enlarge
Big Banks Bull Horn Trio
Curiously enough, on the same day, both Morgan Stanley (NYSE:
MS
) and JP Morgan (NYSE:
JPM
) joined Goldman in a bull horn trio. Morgan Stanley raised its 2011 Brent crude price forecast to $120 per barrel from $100 a barrel, and its 2012 forecast to $130 from $105, while JP Morgan reiterated its forecast that Brent should reach $130 a barrel by the third quarter of 2011, citing "compelling evidence the global economy will bounce back from temporary setbacks."
Consumers Subsidizing Bankers' Profits
The problem is that RBOB gasoline futures price should be going down, given the current market supply and demand fundamentals. However, thanks to the synchronized long Brent oil call by the three big banks -- all things petroleum including gasoline, which is mimicking Brent's movement -- also got bid up as well (Fig. 4).
Commodity trading is a huge part of the Big Banks' overall profits, and the illogical flip-flop of Goldman could only lead to the same conclusion as Oppenheimer's Fadel Gheit when he said, in a
Bloomberg TV interview
, that Goldman and Morgan Stanley are basically manipulating the oil market direction to their own advantage.
Unfortunately, the bottom line is that American consumers and the economy usually
end up subsidizing
the fat bonuses and Ferraris of Goldman, et. al. -- which was exactly what happened in 2008.
$80 a Barrel By September
But this time around, there's not similar strong growth, and the labor market is too weak to sustain the high prices, as the trio preached. Demand destruction is evident in the U.S., while China and India are raising fuel prices; coupled with the end of
QE2
, WTI crude oil could be expected to drop to around $80 a barrel levels by September, after the peak driving season.
If you'd like to go long on crude, the better entry point would be around August/September, while people who followed Goldman's recommendation -- long December 2012 ICE Brent crude oil (initial value $105.16/bbl) — would most likely lose big on that advice.
When Fundamentals Smack Big Banks In The Face
On that note, the best way to play this is to buy puts in the ETF
USO
for July, August, and September around $38 strike. I'd also consider shorting stocks of big banks -- Goldman Sachs, Morgan Stanley and JP Morgan in particular -- for the following reasons:
They are obviously predominantly long on oil, and the eventual bubble burst would definitely hurt their second half earnings.
Since Goldman was called out by one of its peers (Gheit is a veteran in the financial and oil & gas industry), President Obama and the Commodity Futures Trading Commission, with their "bigger arsenal of weapons" granted by the Dodd-Frank act, most likely would take a keen interest in this allegation. Lengthy government scrutiny and potentially heavy fines and maybe lawsuits do not bode well for bank stocks and future earnings.
In the end, speculation can only ignore fundamentals until they get so pervasive and smack you in the face.
Disclosure: I have no positions in any stocks mentioned, and no plans to initiate any positions within the next 72 hours.