As we showed in our first article, we cannot justify a valuation for Opko Health (NYSEMKT:OPK) anywhere close to the puzzling $1.4 billion market cap that it currently trades at. If we assume Opko's pipeline is worth somewhere in the neighborhood of $300 million, then the company's shares have a built-in equity premium of close to $1 billion. We think that a large portion of Opko's valuation premium is driven by the presence of the company's CEO, billionaire Phillip Frost, and are confident that much of Opko's fervent bullish community agrees with us on that.
When we take a quick look through bullish research for Opko or the message boards for Opko stock, we find numerous claims that by investing in Opko, long holders are investing alongside a genius. For instance, see articles here, here, here and here, where long holders cite Frost's presence as a key reason for owning OPK. Holders refer to Frost's success in selling his two pharmaceutical companies Key Pharmaceuticals (1986) and Ivax Corporation (2006), as well as his current post as Chairman of Teva Pharmaceuticals (NYSE:TEVA). It is no secret that Dr. Frost owns a lot of Opko, and he continues to buy more shares of the company on a regular basis. The bullish argument says that since Dr. Frost owns tons of Opko and is buying more, we should follow his lead.
But our research into Dr. Frost's background shows that while he has had some successes over his forty years as a pharma executive, his investment acumen leaves much to be desired. In fact, looking over his recent investment record, we find that he invested heavily in a fraudulent Chinese company and in numerous other pharmaceutical companies whose shares have subsequently fallen dramatically. Given Dr. Frost's flawed investment record, we think it is rather odd that the market would assign a nearly billion dollar premium to Opko's valuation merely due to Dr. Frost's repeated share purchases. If anything, investors should apply a discount to Opko's shares, given Frost's questionable public investing track record.
Search Media Holdings: Dr. Frost's Excursion into Chinese Fraud
SearchMedia Holdings Ltd. (IDI) is one of the more blatant mishaps in which Dr. Frost has involved himself. SearchMedia began as a shell company named Ideation Acquisition Corp. Ideation was a SPAC (Special Purpose Acquisition Company) that IPO'd in 2007 and subsequently merged with SearchMedia International Ltd., a Chinese advertising firm. One of Dr. Frost's investing entities, The Frost Group, LLC, invested heavily in this deal. An 8k from October 2009 finds the following statement:
"As of October 23, 2009, The Frost Group, LLC, through itself and its affiliates, owns 877,900 shares of common stock issued in Ideation Acquisition Corp.'s ("Ideation") initial public offering ("IPO") consisting of (i) 250,000 shares of common stock acquired as part of 250,000 units purchased in Ideation's IPO, (ii) 206,800 shares of common stock purchased between the date of the IPO and March 31, 2009, and (NASDAQ:III) 421,100 shares of common stock purchased between April 1, 2009 and October 23, 2009 pursuant to the "sponsor purchase commitment amount," as defined in the definitive Proxy Statement/Prospectus filed by Ideation and ID Arizona Corp. on October 5, 2009. In addition, The Frost Group, LLC, through itself and its affiliates, holds warrants to acquire 1,291,200 shares of common stock of Ideation (including 250,000 warrants acquired as part of 250,000 units purchased in the IPO)."
Subsequent to the SPAC merger, Frost ended up owning more than 20% of SearchMedia, according to a 2010 SEC filing. Unfortunately, it appears that Dr. Frost did not conduct sufficient due diligence on SearchMedia before voting in favor of the deal. SearchMedia ended up being a blatant accounting fraud, and would become one of the first US-listed Chinese scams to be revealed as a fraud. KPMG resigned from its auditing role of SearchMedia's books on May 7, 2010, and the company was forced to restate its previous years' financial results.
Not surprisingly, SearchMedia's stock has delivered awful returns for investors. Ideation began trading at more than $7 a share and reached an apex of $9 on excitement surrounding the SearchMedia acquisition. Shares fell to less than $2 within months when the fraud was discovered. A lawsuit against the company summed it up, noting that:
"Then on August 20, 2010, SearchMedia Holdings Limited announced that the historical financial statements of SearchMedia International Limited for the 2007 and 2008 fiscal years would have to be restated and that the financial statements from these periods should no longer be relied upon. SearchMedia Holdings Limited also indicated that it estimated that revenue in 2007 and 2008 had been overstated by approximately $6 million and $25 million, respectively."
Shares have subsequently slumped to as low as 50 cents, destroying an overwhelming amount of Dr. Frost's investment and the investments of anyone foolish enough to invest alongside him. Frost owned, as of November 2010, more than 5,100,000 shares of SearchMedia, indicating that he had continued to hold his shares from IDI's IPO through the discovery of fraud.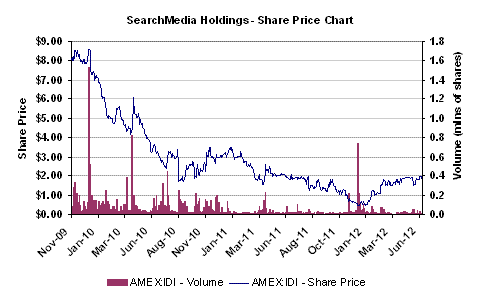 Dr. Frost's Various Biotech Failures
Perhaps we'd be less critical of Dr. Frost's investing skills if SearchMedia was his only disastrous investment; we realize that many investors have been suckered in by fraudulent Chinese opportunities. But evidence from Dr. Frost's other dealings indicate that his lack of discernment in the case of SearchMedia is far from an isolated occurrence. Rather, it is one in a long line of money-losing investment decisions.
Take the example of Winston Pharmaceuticals (OTCPK:WPHM). Dr. Frost and certain other investors purchased more than 51% of Getting Ready Corp.'s stock in March 2007. Getting Ready was a shell corporation that would subsequently acquire Winston Pharmaceuticals in November 2007. Winston's efforts were apparently quite unsuccessful. Winston's final SEC 10-Q filing stated that:
"Winston Labs does not currently market any products. In the past, Winston Labs marketed certain products revenues from which were used to help fund its research programs. Winston Labs is engaged in the development of innovative products for managing and alleviating pain. After discontinuing the Zostrix ® and Axsain ® product lines, Winston Labs has devoted most of its resources to research and development."
After that, the company stopped filing and its securities registration was terminated. In addition to Dr. Frost suffering personal losses from the failure, Opko appears to have also suffered losses from Winston. Winston and Opko engaged in transactions with each other, as evidenced by this disclosure from a Winston SEC filing: "On September 19, 2007, Winston Labs entered into an exclusive technology license agreement with OPKO Ophthalmologics, LLC ("OPKO"). Under the terms of the license agreement, Winston Labs granted OPKO an exclusive license to the proprietary rights of certain products (pharmaceutical compositions or preparations containing the active ingredient civamide in formulations suitable for use in the therapeutic or preventative treatment of ophthalmic conditions in humans). In exchange, OPKO paid Winston Labs a license fee of $100,000 and would have been required to pay a 10% royalty on sales of the products."
Winston amounted to nothing, and it appears that Dr. Frost lost nearly all his investment, as shares rapidly fell from inception onward and are now effectively worthless.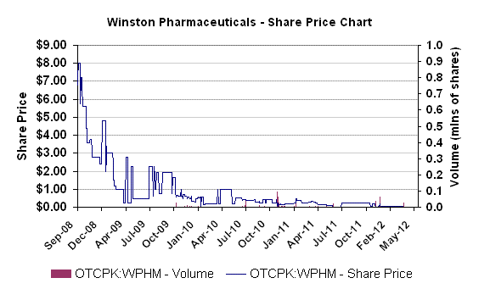 Or, for another example, take a look at Safestitch Medical (SFES.PK). Dr. Frost has been a heavy investor in this one as well. The company is attempting to commercialize the "AMID Stapler" to treat hernia. However, its efforts have been failing, resulting in the following going concern warning in the company's most recent 10-Q filing:
"The accompanying financial statements have been prepared assuming that the Company will continue as a going concern. For the period from September 15, 2005 (inception) through March 31, 2012, the Company has accumulated a deficit of $24.9 million and has not generated positive cash flows from operations. The Company has been dependent upon equity financing and loans from stockholders to meet its obligations and sustain operations. The Company's efforts have been principally devoted to developing its technologies and commercializing its products. Based upon its current cash position, availability under the extended term of its $4.0 million line of credit from The Frost Group LLC ("The Frost Group") and the Company's President and CEO, Jeffrey G. Spragens (the "Credit Facility"), and by monitoring its discretionary expenditures, management believes that the Company will be able to fund its existing operations through March 31, 2013."
The filing goes on to state that the company will require more financing if it is not able to generate enough revenues from its stapler. Frost has not only extended the company credit, he and his colleagues also participated in the company's 2010 PIPE offering, buying 1,300,000 shares. His groups also participated in the 2012 PIPE offering, subscribing for another 4,500,000 shares. His groups also participated in a preferred stock offering in 2010. All these purchases are documented in this SEC filing.
Based on our examination, Dr. Frost often does not cut his losses - his track record shows multiple times where he keeps investing fresh money into investments until the bitter end. Frost has been a longtime owner in Safestitch, owning the stock from as early as 2008, meaning that he has been able to enjoy the long and precipitous fall in Safestitch's shares over numerous years. And unless Frost continues to open his wallet and keep supporting Safestitch with new money, the company is likely to end up, like Winston, out of cash and delisted. With a going concern warning issued, this may be only a matter of time. Below is the historical price chat of SFES.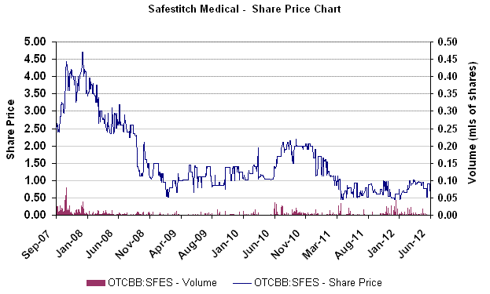 The list goes on.
Frost was a large holder in Aero Pharmaceuticals, a privately-held pharmaceutical distributor company that was dissolved in 2011.
Vodka and rum distributor Castle Brands (NYSEMKT:ROX), which Frost has repeatedly invested in, has fallen more than 95% over the past 5 years. Frost was a 6% holder of the stock in the company's IPO in 2005, and today his Frost group owns 31%, according to Castle Brand's most recent proxy. Below is the company's stock chart since the IPO.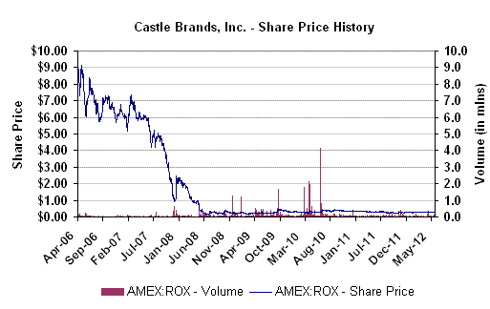 Frost was a large holder in Aero Pharmaceuticals, a privately-held pharmaceutical distributor company that was dissolved in 2011.
Frost and affiliated investors were the majority holder of the shell entity Clicknsettle.com, which ultimately did a reverse merger with Cardo Medical in 2008. Cardo Medical attempted to develop orthopedic knee devices. It evidently failed, and the stock collapsed. The company was renamed to Tiger X Medical (OTCPK:CDOM) and its shares have slumped to less than 7 cents. Again, Dr. Frost appears to have suffered a near total loss: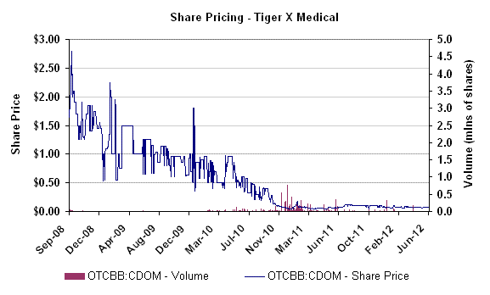 And then there's Non Invasive Monitoring Systems (OTCPK:NIMU). This company develops something called the Lifeshirt, which is "a wearable physiological computer that incorporates four inductive plethysmographic transducers, electrocardiographic electrodes, and a two posture sensor into a low turtle neck sleeveless garment." Frost has lent the company money and also owns more than 10% of the company's outstanding shares, according to this filing.
Despite all the high-tech gadgetry, the Lifeshirt appears to be a bust. In the most recent quarter, the company generated a pitiful $46,000 of revenue, down sharply from the same quarter the year before, and Non Invasive Monitoring's cash balance has declined to a mere $70,000. At 17 cents a share currently, Non Invasive has fallen more than 85% over the past five years: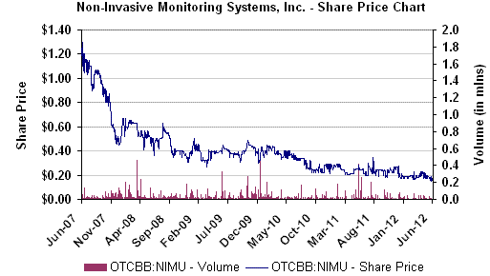 It appears likely that Non Invasive Monitoring will be joining Winston, Aero, Tiger X, et. al in the dustbin of history shortly.
Protalix's Shocking Collapse
We could spend all day discussing Dr. Frost's lengthy list of investing faux pas. However, we will focus on two more situations in which investors ascribed an undeserved valuation premium to Frost-backed companies. In particular, the biggest reduction in market capitalization that Frost has played a central role in yet is Protalix BioTherapeutics, Inc. (NYSEMKT:PLX), and Protalix's startling reduction in market valuation serves as a sharp warning of what is likely in the offing for Opko's shareholder base.
In just one fateful day late in 2007, Protalix would manage to destroy $1.8 billion of market capitalization through an exceptionally bizarre share offering. We quote a Reuters' article titled "Protalix shares slump 84 pct on offer pricing" that summarizes the carnage:
"Shares of Protalix BioTherapeutics Inc (PLX.A) fell as much as 84 percent to a lifetime low on Thursday, a day after the biopharmaceutical company offered to sell 10 million shares at a huge discount.

Protalix, which is developing a drug to treat a rare genetic disorder known as Gaucher disease, offered the shares at $5 each, representing a discount of 86 percent to the stock's Tuesday closing price of $36.36.

Trading in the Israeli company's shares on the American Stock Exchange was halted on Wednesday.

On Thursday, the company's shares fell as much as $30.45 to a low of $5.91. They were trading at $6.31 at the close.

The slump has reduced the company's market value to less than $500 million from about $2.39 billion before.

David Burke, a spokesman for the company, confirmed the pricing, but declined to talk about why the shares had been sold at such a discount." [emphasis added]
Dr. Frost was involved in bringing Protalix public, as he controlled the shell company, Orthodontix, which acquired Protalix. In addition to his role as the controller of the company's reverse merger shell, Dr. Frost also owned 15 percent of Protalix (see here). Here is a chart of Protalix's trading in 2007: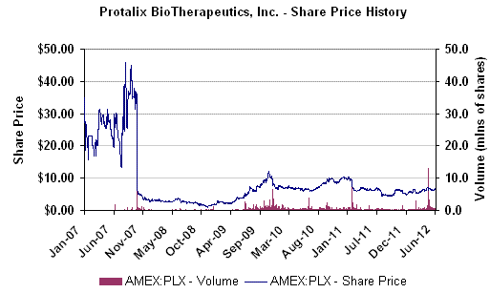 Protalix's shares would never again trade anywhere remotely close to where they were before this suicidal share offering, and they languish today at just above $6, representing an 80% loss from where they were prior to that fateful day in October of 2007.
Opko's Previous Fall
Finally, we would remind recent investors in Opko that Dr. Frost has already led Opko through one great decline, when the company's previous line of research proved to be ineffective and Opko's shares sank dramatically.
Before Opko took on its present form with the Claros diagnostics system, the Alzheimer's test, and its various other projects, it was focused specifically on ophthalmology. Opko came into being, like many of Dr. Frost's business ventures, by a reverse merger. Dr. Frost became the CEO and Chairman of the board of Opko after Opko's predecessor company, eXegenics Inc., reverse merged with two companies, Acuity Pharmaceuticals Inc. and Froptix Corporation, on March 27, 2007. Dr. Frost became involved with eXegenics on August 14, 2006, when he led a small group of investors that entered into an agreement to purchase 51% of eXegnics' stock for roughly $9 million.
Almost magically, the newly christened Opko managed to attain a $500 million market cap on the basis of little more than Dr. Frost's reputation. With more than 113 million shares outstanding at $4 each, the market priced in a tremendous amount of positive expectations for Opko's nascent business. At this point, Opko was marketed to investors as a company with the following business description: "[E]ngaged through its wholly-owned subsidiaries in the development of innovative therapies for the treatment and prevention of ophthalmic disease. Our lead pharmaceutical product candidate in clinical development is bevasiranib for the treatment of wet age-related macular degeneration ("Wet AMD")."
According to a 2008 interview with Opko's Executive VP Samuel J. Reich, Opko had three eye-related drugs in the testing process, including a drug named Bevasiranib that was in Phase III trials. Reich stated that "We are hopeful that the data from the Phase III will support an approval and that we will have a commercial product in [the area of wet macular degeneration]."
Unfortunately, Opko had badly misunderstood the science behind their own RNA-based drug, and their oversight was revealed by a study published in Nature. According to a New York Times report, Dr. Jayakrishna Ambati, an ophthalmology professor and lead author of the study, said: "[RNA interference based drugs] seem to be working by a completely different mechanism that's unrelated to the underlying premise."
The Times elaborated, saying:
"The Opko and Allergan drugs aim to inactivate a gene that contributes to the formation of leaky blood vessels in the back of the eye, the hallmark of the severe form of macular degeneration. But Dr. Ambati and his team found that virtually any sequence of RNA, not just the ones in the drugs, worked equally well in stopping blood vessel formation in the eyes of mice. They tried RNA sequences corresponding to other mouse genes, to a jellyfish gene, to a firefly gene. They also tested a completely random RNA sequence. All worked."
Opko, it turned out, had a worthless drug on its hands. Any sort of RNA sequence would have likely had the same effect as the drug Opko was developing. According to Dr. Ambati, the RNA snippets were in fact stimulating the immune system - an entirely different process than what Opko thought was occurring. Opko's drug was not even getting into the cells of the eye and thus Opko's drug could not possibly be working in the way the company claimed.
Opko's shares fell sharply. In due time, the company was forced to admit the drug was not going to hit its end point and the company terminated the study of its former lead drug. Dr. Frost and his company, Opko, had badly miscalculated. Shares fell to less than a dollar a share, representing a more than 75 percent loss from its 2007 peak. Here is a chart of Opko's performance between January 2007 and April 2009, which is approximately when OPK terminated its Bevasiranib trial: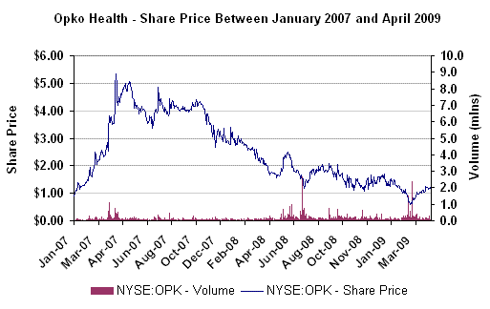 Many of Dr. Frost's bad investments have taken this path, wherein he organizes a reverse merger, the new company ends up being wildly overvalued because of his presence, and after initial enthusiasm dies off, the stock collapses. Unlike many of his other failed ventures, however, Dr. Frost was willing to continue supporting Opko and was able to successfully reflate the collapsed Opko shell. Remarkably, Dr. Frost was able to coax investors into forgetting about Bevasiranib and the ophthalmology research - which has disappeared into the background - and he has deftly refocused investors' attention on his equally unproven ambitions in the diagnostic platforms arena.
Dr. Frost coolly attempted to deflect his previous failure at Opko in a recent interview, discussing the failed Bevasiranib research, saying: "And as it turned out after spending about $30 million on the Phase three clinical trial, it was found it wasn't going to meet [our] endpoint, so we stopped the study, and by that time we had come across other technologies that were, in fact, more important to us." And, in one sense, we do have to agree with him. While the other technologies he speaks of have not been able to generate profits or even a seemingly viable business model, Opko's latest technologies have been amazingly effective in one area: leading a stock promotion.
Opko's market valuation has now swollen to $1.4 billion - nearly 3 times as large as it was when the first iteration of Opko peaked before its subsequent crash. With Opko still generating scant revenues and remaining far from profitability, the company's valuation appears more ridiculous than ever. Any sort of disappointment similar to what Dr. Frost's Opko gave investors back in 2008 should lead to similar results, with another 75% drop well within the realm of possibility.
Opko: Like Protalix, A Ticking Time Bomb
As we have demonstrated in our previous article, Opko Health's shares appear to be wildly overvalued. Like Dr. Frost's predecessor company, Protalix, Opko's underlying products are worth far less than the current market capitalization, in our opinion. Opko will also likely need to raise more money to execute its corporate strategy. As had happened with Protalix, Opko's share price has been highly inflated merely because of the presence of Dr. Frost as a backer of the company.
We believe history will repeat itself.
We would not be the least bit surprised if Opko shareholders wake up one day and find that the share price has suddenly declined 50% or more, as was the case with Protalix. Dramatic changes in valuation don't necessarily happen slowly, but can swiftly transpire in a matter of hours. In the case of Opko, we believe that the company's products are worth far less than the market valuation, and that the stock price will correct itself sooner or later. It may be because of a failed study for the Alzheimer's diagnostic test. It may be because of a dilutive capital raise. Or it may be because a weak overall stock market motivates investors to recognize that a stock's worth is not premised on who its largest shareholder is, but by the cash flow-generating power of the company's underlying operations.
Disclosure: I am short OPK.
Additional disclosure: Read our disclaimer at apsarabiotech.com/legal-disclaimer.