The McDonald's (NYSE:MCD) of the United States is much different than the McDonald's in Japan, China, and India. The company has committed to understanding the preferred foods in specific cultures. It has adapted the menu to include foods that are popular in specific countries. This has allowed McDonald's to be successful in international market growth.
According to the company's 10-Q report for Q2 2012, McDonald's derives 67.6% of its business from outside the U.S. The long-term effect of the falling value of the dollar is paramount for the company to ensure its success outside the United States.
In China, McDonald's features an all chicken burger using thigh meat as opposed to the standard breast meat. The thigh meat is preferred in China over breast meat. There is also a Chinese New Year meal which includes the Grilled Chicken Burger, curly fries, and a horoscope of the 12 animals of Chinese astrology. China also has walk-up express windows known as McExpress which sells drinks and ice cream. The company plans to add 225 to 250 new restaurants in China in 2012 with a goal of reaching 2,000 restaurants by the end of 2013.
Japan features a Teriyaki burger, shrimp nuggets, shrimp burgers, green tea flavored milk shakes, and more. The Japanese prefer to have their hot dogs served for breakfast with relish, ketchup, and mustard. McDonald's opened new multi-floored restaurants in 2011 in Japan where it features a café atmosphere on the first floor and the traditional fast-food experience on the second floor. The company plans to eventually expand this concept to over 300 restaurants.
McDonald's plans to open two vegetarian restaurants in India next year. The company currently keeps pork and beef products off the menu in existing restaurants in India. The McDonald's in India features the McCurry Pan, which is a mix of curried vegetables such as broccoli, baby corn, mushrooms, and red bell peppers baked in a rectangular crust. McDonald's has a dedicated supply chain in India, where it obtains 99% of its products from within the country. The company plans on doubling its restaurant count in India over the next three years.
These are just a few examples. There are many other examples of cultural adaptability in other countries. The important thing is that McDonald's takes the time to understand each individual culture and adapts its menu accordingly. This strategy should allow the company to continue to grow internationally, capitalizing on the falling value of the dollar.
McDonald's is currently fairly valued with a forward PE ratio of 15.3 and a PEG of 1.79. The stock has come off its 52-week high of $102, but has also bounced higher from the mid-80s, where it is now showing strength above $90. Although the stock looks temporarily overbought after hitting $91 and may take a breather, I think it is still a great long-term investment.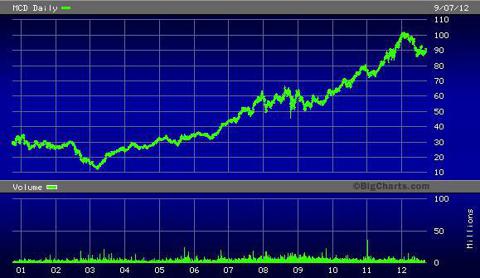 Click to enlarge
McDonald's has raised its dividend every year since 1976. It is now paying a dividend of 3.1%. The company is a great example of a long-term dividend investment that serves its dividends with a side order of capital appreciation.
The company is expected to grow earnings annually at 9.38% for the next five years. If dividends are reinvested, MCD can provide a total CAGR of 12.48%. This is enough to beat the market over the long-haul.
Disclosure: I am long MCD. I wrote this article myself, and it expresses my own opinions. I am not receiving compensation for it (other than from Seeking Alpha). I have no business relationship with any company whose stock is mentioned in this article.