Investors can often gain additional insight into the timing of their investments through the following of insider transactions. By following those who are more attuned to and in control of a company's everyday operations, one can come to understand their perspectives on the share price at a given moment. Yet, while there are often many reasons for insiders to sell their company's shares at a particular time, there are often very few reasons for them to buy. Insider purchases often suggest strong confidence in the ability to create greater shareholder value. For this reason, I would like to emphasize a large insider purchase and ongoing accumulation found in a company called AGCO Corporation (NYSE:AGCO).
On November 16, AGCO director Mallika Srinivasan added 304,066 shares of AGCO through her company, Tractors and Farm Equipment Limited (TAFE). As seen in the corresponding Form 4 found here, Ms. Srinivasan now indirectly owns 2,348,835 shares of AGCO, and directly owns another 2,139 shares. The latest transaction was priced at a weighted average price of $43.16. AGCO is a global manufacturer and distributor of agricultural equipment and replacement parts. The company primarily offers tractors of various sizes and power used for a variety of purposes. The recent purchase comes in a long series of increasing automatic purchases in recent weeks. Since the start of November alone, Ms Srinivasan has purchased over $57 million worth of shares in AGCO through an aggressive acquisition time period.
But why should investors care about an agricultural equipment manufacturer? For one, it's important to remember that the value of the underlying market that such equipment is used to develop is also growing, and that growth is accelerating. Farmland is set to become one of the most valuable assets in the world as population increases, the world develops, and the already finite supply of arable land possibly shrinks due to climate change. Additionally, as such value increases, the demand to develop such land grows. This means that underdeveloped regions such as those found in African and Asian companies are going to consequently result in a growing need for better equipment.
Perhaps Ms. Mallika Srinivasan knows this best. As CEO of TAFE, Ms. Srinivasan has successfully grown the family tractor business into a company that did over $1.3 billion in revenues last year. TAFE is partially owned by AGCO, as the company holds a 23% stake in TAFE. As a director on the board of AGCO, Ms. Srinivasan's latest purchases through TAFE likely either illustrate a growing tie between the two companies, or an attempt to gain more influence in the larger company's global operations. In either case, it's clear to see that AGCO remains a target of high interest for Ms. Srinivasan through these recent purchases.
A look at a quick comparison of the company's competitors might further illustrate why. The following data makes a comparison between several other agricultural machinery companies found in Kubota (KUB), Deere & Company (DE), CNH Global (CNH), and Caterpillar (CAT).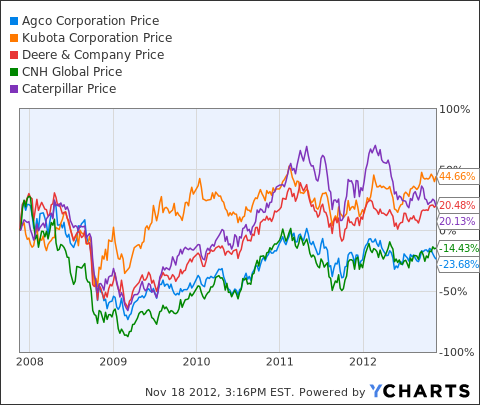 | Company Name | Market Cap. | Fwd P/E | Price/Book Ratio | Price/Sales Ratio | Fwd Div% |
| --- | --- | --- | --- | --- | --- |
| AGCO Corporation | $4.2 Billion | 7.8 | 1.25 | 0.43 | 0% |
| Kubota | $12.9 Billion | 13.8 | 1.51 | 0.94 | 1.7% |
| Deere & Co. | $33.4 Billion | 10.3 | 4.52 | 0.96 | 2.2% |
| CNH Global | $10.7 Billion | 9.4 | 1.15 | 0.51 | 0% |
| Caterpillar | $53.6 Billion | 9.3 | 2.97 | 0.79 | 2.5% |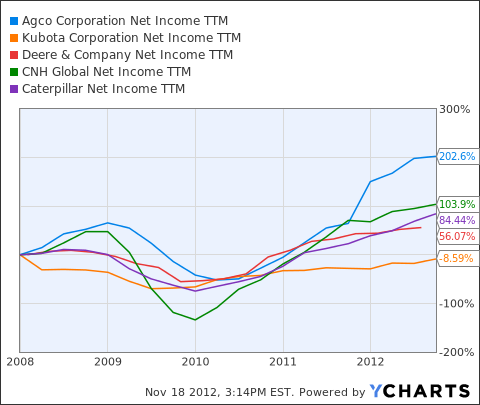 AGCO Net Income TTM data by YCharts
From the data seen above, several clear conclusions can be made. A quick comparison of the company's stock price shows that AGCO has had the least amount of market support in recent years, as its price has failed to keep up with its competitors. While not offering a dividend, it's interesting to note that the key financial metrics also suggest that the company is undervalued in relation to its peer group. AGCO trades with a price-to-sales ratio of 0.43, for instance, while Kubota and Deere both trade in a range more than double that. On the other hand, a glance at the five-year income charts show that AGCO has far outpaced its rivals in terms of income growth. Although it's the smallest of the compared companies, AGCO appears to show the most undervalued promise of them all.
Altogether, we see a compelling argument being made by tracking the insider transactions of farm equipment manufacturer AGCO. Ms. Srinivasan is a company director who's confidence in the business is being proven through an accelerating acquisition plan. As a CEO in a minority stake company in the same field, she not only has an intimate firsthand knowledge of the business, but has also proven her own ability to recognize corporate strength when it comes to the industry. Finally, a comparison between AGCO's competitors helps to confirm that the company appears undervalued when it comes to its peers. Overall, investors may wish to consider a long position in AGCO in light of the points made in this article. However, as in all cases, one should always perform their own due diligence to verify that the corresponding risks associated with the company fall within the limits of one's own tolerance level prior to committing any capital.
Disclosure: I have no positions in any stocks mentioned, and no plans to initiate any positions within the next 72 hours. I wrote this article myself, and it expresses my own opinions. I am not receiving compensation for it (other than from Seeking Alpha). I have no business relationship with any company whose stock is mentioned in this article.