After Hours Trading: How It Works & Who Offers It
After-hours trading is any trading that occurs outside of regular stock exchange hours. In the U.S., stock exchanges close at 4 p.m. Eastern Standard Time, and after-hours trading begins, continuing until 8 p.m. EST. Investors should understand the advantages and disadvantages of after-hours trading.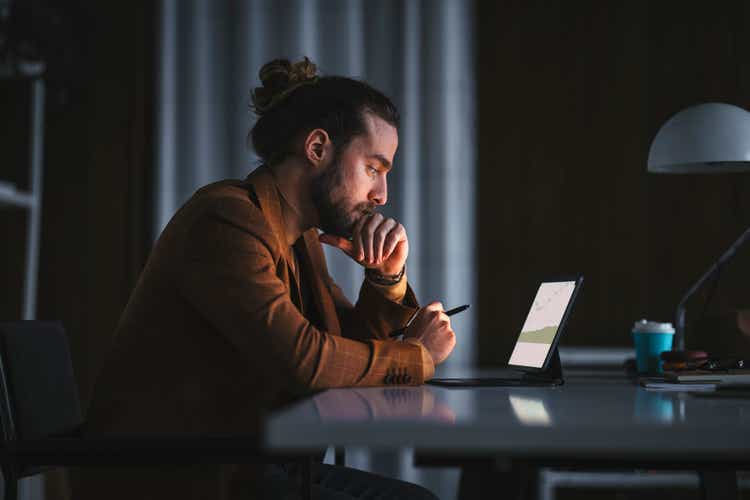 What Is After-Hours Trading?
After-hours trading is any trading that occurs outside of normal stock market opening and closing hours. Most after-hours trading volume occurs on market days between the hours of 4 p.m. EST and 8 p.m. EST, and between 8:30 am EST and 9:30 a.m. EST. Electronic communications networks handle after-hours trading, pairing sellers with buyers instead of through a stock exchange.
The trading that occurs prior to opening of a new session for the stock exchange can also be called pre-market trading.
After-hours trading is rarely used because most traders are active during the market's business hours. However, volumes can spike suddenly after hours when important news, such as earnings, is released after the closing bell.
Tip: After-hours trading usually takes place between 4 p.m. and 6 p.m. EST, although it can go as late as 8 p.m., depending on which brokerage is used. Pre-market trading can start as early as 4 a.m., although usually, it starts closer to 8 a.m.
How After-Hours Trading Works
After-hours trading occurs via electronic communications networks ((ECNs)) rather than stock exchanges. Volumes are usually low after the market closes unless there is some sort of catalyst that occurs after the closing bell, such as the release of an earnings report.
Institutional investors were the primary participants in after-hours trading until the middle of 1999. ECNs match sellers with buyers, enabling retail investors to interact with each other electronically. However, they also allow institutional investors to trade anonymously (like dark pool trading), preventing other investors from seeing who is buying and selling what.
After-hours trading is most important when news is released after the closing bell, causing investors to buy or sell a company's stock.
How Trading After-Hours Affects the Opening Price
After-hours trading often has an impact on the opening price for a stock at the beginning of the next regular market session. Especially if a stock moves by a material amount on high volume after-hours, that movement is likely to carry forward to the regular market session the next day. Occasionally, though, after-hours stock movements driven by an after-market earnings release will reverse themselves during that company's conference call the next morning.
Who Can Trade After Hours?
Individual retail investors and institutional investors alike can trade after hours, as long as their brokerage offers it. There aren't any restrictions on who can trade after hours, although retail investors generally weren't able to trade after hours until mid-1999.
Investors may choose to trade after hours because it enables them to trade anonymously. Another benefit to trading after hours is the possibility of transacting at an advantageous price before the stock market reopens to all investors. After-hours trading also allows Investors to take quick actions if something significant happens after the closing bell.
Some order types can be executed during after-hours trading, but not all of them. Only limit orders can be submitted for after-hours trading. Market orders do not work for after-hours trading because the market may not be active, and orders are managed through ECNs.
Important: Day limit orders that were placed in the regular trading session generally expire at market close, and thus do not usually carry over to the after-hours trading session. The same applies to stop loss orders - investors who have stops placed during the regular trading session should not be stopped-out overnight.
Brokerages That Offer After-Hours Trading
Different brokerages have different hours for after-hours trading. Those that allow investors to make trades around the clock only execute them during the after-hours allowed by the exchange.
Robinhood offers extended trading hours with an extra 30 minutes before the market opens, starting at 9 a.m. EST, and two hours after the market closes, lasting until 6 p.m. EST.
Fidelity offers after-hours trading until 8 p.m. and pre-market trading between 7 a.m. and 9:28 a.m.
TD Ameritrade is a bit unique because it offers trading 24 hours a day five days a week. Trading starts at 8 p.m. EST Sunday and extends to 8 p.m. Friday. Traders can enter orders that will stay active until 8 p.m. that night. Trading on TD Ameritrade is global, so investors can trade more than just U.S. securities.
E*Trade offers extended trading from 7 a.m. to 9:30 a.m. EST and from 4 p.m. to 8 p.m. EST. The brokerage also offers extended trading on certain exchange-traded funds Sunday through Thursday from 8 p.m. until 7 a.m.
WeBull also offers extended hours trading from 4 a.m. to 9:30 a.m. EST in the pre-market hours and from 4 p.m. until 8 p.m. EST after hours.
Schwab accepts orders placed between 4:05 p.m. and 8 p.m. EST for after-hours trading. Any orders placed after 8:05 p.m. may open between 7 a.m. and 9:25 a.m. EST the next day.
Schedule for After-Hours Trading
Pre-market: 4 a.m. - 9:30 a.m. EST
Post-market: 4 p.m. - 8 p.m. EST
Day of the week range: Monday through Friday
Various exchanges: New York Stock Exchange & NASDAQ
(Regular U.S. Stock Exchange hours are between 9:30 a.m. and 4:00 p.m. EST.)
Pros & Cons of Trading After Hours
Pros of Trading After Hours
It enables investors to react quickly to breaking news about a company.
More volatility means traders may find better prices in the pre-market or post-market hours.
Investors may work during the day, making it difficult to place orders during regular market hours.
Cons of Trading After Hours
It may be more difficult to transact after-hours because there are fewer investors trading during these periods. Typically there is lower volume and less liquidity.
The spread between the bid and ask prices are often wider in after-hours trading than during regular trading hours. Investors may pay more to buy or receive less when selling.
Large influential investors may not be active after-hours, meaning after-hours price movements may only be based on the sentiments of a small number of market participants.
Market orders are not possible after-hours.
Bottom Line
After-hours trading takes place between 4 p.m. and 8 p.m. EST after the market closes and between 4 a.m. and 9:30 a.m. EST before the market opens. However, every brokerage has different rules about trading outside regular market hours. Trading after hours enables investors the possibility of reacting to news quickly, but trade prices may not efficient.
This article was written by
Michelle Jones is editor-in-chief for ValueWalk.com and a daily contributor for ValueWalkPremium.com and has been with the sites since 2012. Previously, she was a television news producer for eight years. She produced the morning news programs for the NBC affiliates in Evansville, Indiana and Huntsville, Alabama and spent a short time at the CBS affiliate in Huntsville. She lives in the Chicago area with her son, dog and two cats.
Analyst's Disclosure: I/we have no stock, option or similar derivative position in any of the companies mentioned, and no plans to initiate any such positions within the next 72 hours. I wrote this article myself, and it expresses my own opinions. I am not receiving compensation for it. I have no business relationship with any company whose stock is mentioned in this article.
Seeking Alpha's Disclosure: Past performance is no guarantee of future results. No recommendation or advice is being given as to whether any investment is suitable for a particular investor. Any views or opinions expressed above may not reflect those of Seeking Alpha as a whole. Seeking Alpha is not a licensed securities dealer, broker or US investment adviser or investment bank. Our analysts are third party authors that include both professional investors and individual investors who may not be licensed or certified by any institute or regulatory body.