General Electric Company (NYSE:GE) is a diversified technology and financial services company and a leader in all markets in which it competes. GE is up 10.96% YTD and has been outperforming the market as of February 15, 2013. More positive developments continued to be seen for GE, which will be presented in this article.
NBCUniversal buyout deal: According to Reuters, "Stronger-than-expected growth in NBCUniversal's entertainment unit gave Comcast Corp (NASDAQ:CMCSA) the impetus to buy the rest of the company from GE two years earlier than expected." NBCUniversal's cable networks, which have become the main growth driver in the last few years for the industry, rose 3.3 percent to $8.77 billion last year. The numbers made an even stronger case for buying out GE's 49 percent stake for $16.7B, valuing NBCUniversal at $39B.
Refocusing: By selling NBCUniversal earlier, it allows Jeff Immelt to refocus GE back on its industrial roots. "This allows GE to focus completely on the industrial business," said Zahid Siddique from Gabelli Equity Trust.
Strong buyback: GE plans to buy back $10B of shares this year. GE currently has 10.49B shares outstanding. After this year's buyback, the company's share count will be below 10B, as said by CFO Keith Sherin. According to the report from FactSet Research Systems Inc., GE had repurchased $2,134M of shares and reduced its outstanding shares by 0.7% in the most recent quarter as of December 2012. GE was among Top 10 companies ranked by dollar-value buybacks in the most recent quarter. On February 13, 2013, GE's board voted to increase the size of a share repurchase plan to $35 billion, with $23 billion of room for further buybacks remaining, according to Bloomberg's report.
M&A: "Selling its stake in NBCUniversal will likely give GE $10 billion to $13 billion to spend on acquisitions, after subtracting cash committed to buybacks, dividends, capital expenditures and debt retirement," as said by Steven Winoker, an analyst at Sanford C. Bernstein & Co. GE will likely avoid huge acquisitions in favor of lower-risk "bolt-on" deals. Immelt emphasized that the company will call for buying back shares, raising its dividend and pursuing small acquisitions typically no larger than $3 billion. GE's takeover strategy has since turned to building a mining business within its transportation unit and consolidating its aviation supply chain by buying companies that make components used in its jet engines, according to Bloomberg's report.
GE Capital: GE Capital Retail Bank, a consumer lending unit of GE, renewed a multi-year private label credit card program with leading national retailer J.C. Penney Company, Inc. (NYSE:JCP), to provide credit to millions of consumers who shop at more than 1,100 J.C. Penney stores in communities across the United States and Puerto Rico, as well as online at jcp.com. On the other hand, GE could shrink its mortgage business and reduce commercial real estate holdings as it continues to scale back GE Capital, which it wants to generate no more than 30 to 40 percent of its profit.
Key Stats and Valuation
GE has an enterprise value of $531.71B with a market cap of $243.31B. GE has a total cash of $125.70B and a total debt of $414.10B. By using Morningstar's data, GE's key stats will be compared to its peers in the industry of diversified industrials, including Siemens AG (SI), 3M Co. (NYSE:MMM), and Emerson Electric Co. (NYSE:EMR). GE has lower revenue growth (3-year average) of -6.9, as compared to the industry average of -0.4. GE has a lower operating margin of 11.3%, ttm, comparing to the average of 16.3%, ttm. GE has a higher net margin of 9.2%, ttm, as compared to the average of 8.8%, ttm. GE generates a lower ROE of 10.8, as compared to the industry average of 15.4. GE's P/E of 17.4 is lower than the industry average of 20.0 but higher than GE's 5-year average of 14.0. GE's forward P/E of 12.0 is lower than S&P 500's average of 14.0.
Technical Analysis
GE closed at $23.29 with 0.51% loss on February 15, 2013. GE had been trading in the range of $18.02-$23.55 in the past 52 weeks. GE has a beta of 1.61. The MACD (12, 26, 9) indicator had been showing a bullish trend. The momentum indicator, RSI (14), is indicating a strong buying momentum at 71.02, where above 70 is considered as over-bought. GE is currently trading above its 50-day MA of $21.67 and 200-day MA of $20.70. The next resistance is $23.75, the R2 pivot point, as seen from the chart below.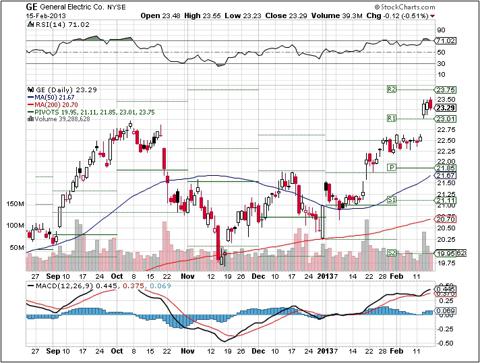 Source: StockCharts.com
Reviewing Options
With all the positive, solid developments for GE, any major pullback will be a good opportunity to add more positions for GE. Our options strategy remains the same for GE. For bullish investors, a new credit put spread of May 18, 2013, $20/$21 put can be reviewed if GE pulls back to $21.5 price range.
Note: All prices are quoted from the closing of February 15, 2013. Investors and traders are recommended to do their own due diligence and research before making any trading/investing decisions.
Disclosure: I have no positions in any stocks mentioned, but may initiate a long position in GE over the next 72 hours. I wrote this article myself, and it expresses my own opinions. I am not receiving compensation for it (other than from Seeking Alpha). I have no business relationship with any company whose stock is mentioned in this article.