On July 12th, Bill Ackman of Pershing Square Capital disclosed a new position in Procter & Gamble (PG) and this was a major factor in the rise of PG's share price since July. The good news for Bill Ackman is that his $1.86B investment generated a total return of 31.9% since it was announced that Pershing had a position in PG. The bad news is that he sold off his positions in Citigroup ((C) ($955M)), Family Dollar ((FDO) $165.5M), Fortune Brands Home & Security ((FBHS) $294M) and Kraft Foods Inc. (Mondelēz (MDLZ) $589M) in order to fund his position in PG. The worse news is that although PG's 31.9% beat the S&P 500's 24.5% in the 11 months Ackman has held his position, the total return on FBHS and Citigroup was 81.5% and 95%, respectively. We can conclude that although Ackman has earned over $600M in total return via share appreciation and dividends, he lost out on $1.2B in appreciation and dividends from Citigroup and FBHS and incurred an opportunity cost of $600M from his big, bold position in Procter & Gamble.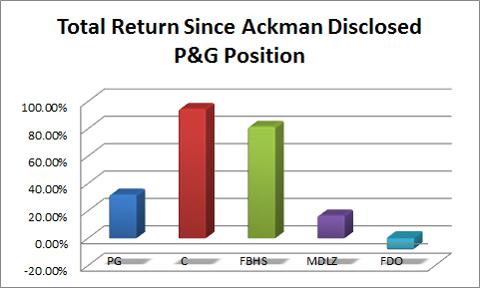 Source: Morningstar Direct
We remembered Ackman's P&G presentation at the Ira Sohn Conference in May and he certainly has an ambitious goal for P&G. Ackman is projecting that P&G will earn $6/share in FY 2016 and trade at a PE of 20X in June 2015 based on the $6/share in projected EPS for FY 2016. Add in $5/share in dividends for FY 2014 and 2015 and Ackman is projecting an intrinsic value of $125/share in FY2015, which would represent a 60% premium relative to the current market price of $78/share as of June 13th and generate a compounded annual return of 26% over the next two years. That is quite a stretch from its Forward PE of 18X based on projected FY 2014 projected earnings of $4.33, especially when analysts are only projecting long-term growth of 8.6% over the next five years. If anything, we believe that the analyst community is being very generous in their projection of P&G's long-term EPS growth when we consider that its EPS has only grown by 17% in total from 2008 to 2013. P&G's former CEO Robert McDonald should be embarrassed that the total investment return on P&G's stock in Ackman's 11 month ownership was identical to what was achieved in his first three years as P&G CEO.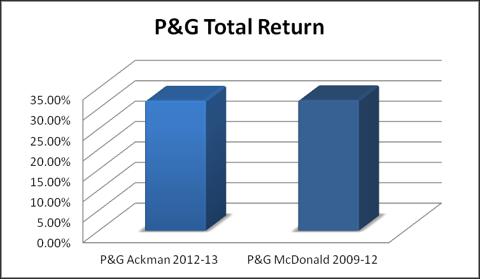 Source: Morningstar Direct
When we began covering P&G last year, Robert A. McDonald was still CEO of the company. McDonald had succeeded A.G. Lafley in 2009 as CEO but his first three years as CEO were quite disappointing relative to Lafley's term as CEO. We were surprised that P&G's performance under McDonald was stale and soft relative to the Lafley administration considering that he was Lafley's COO and had 29 years of experience with the company before being named CEO. Despite the fact that Ackman has a reputation as a combative activist investor, he showed a modicum of class by expressing his belief that he can influence management when he first became a P&G shareholder.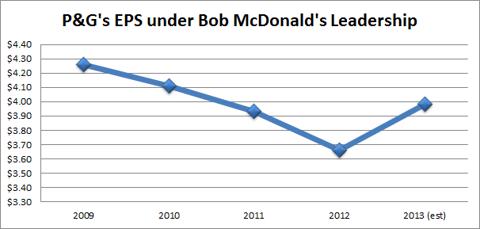 Source: Procter & Gamble's Management Guidance and 2012 Annual Report
We were glad that Ackman did not rattle off how P&G's EPS has been steadily declining since its former CEO A.G. Lafley retired in 2009. We were also glad that Ackman did not feel compelled to discussing how P&G's cumulative revenue growth under Lafley's successor Bob McDonald has only been a pitiful 11% over McDonald's 3 years as CEO of the company. And we also happy that Bob McDonald recently retired as Chairman, President and CEO of P&G and A.G. Lafley came out of retirement to succeed him. We can tell that McDonald retired due to ill health as all of Procter & Gamble's stakeholders were sick and tired of the company muddling around in the mucky morass of mediocrity under his leadership. The good news about A.G. Lafley coming back was that P&G had solidly strong EPS growth under his watch thanks to the acquisition of Gillette, hit new products such as Febreze and Swiffer and expanding its footprint in emerging market countries.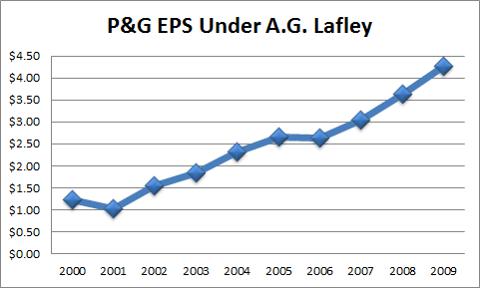 Source: Procter & Gamble's 2000-2009 Annual Reports
While Ackman's July stake in P&G is notable because it's one of only eight managers that owns 1% or more of P&G, it's not the only large stake by a well-known and well-respected active asset manager. Berkshire Hathaway (BRK.B, BRK.A) owns 1.93% of P&G, Yacktman Asset Management owns 0.97% and GMO owns 0.59%. We reiterate that P&G is fairly valued now thanks to Bill Ackman and Pershing Square and the only way one can achieve any value in P&G is if one believes that the company will be able to repeat its record of results that it achieved under Lafley from 2000 to 2009.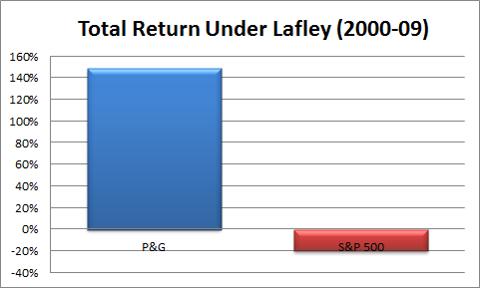 Source: Morningstar Direct
While P&G is still able to generate strong levels of free cash flows and has a history of returning cash to shareholders through dividends and share repurchases, it is apparent that the company has lost its way when Lafley handed power over to McDonald. Due to the severity of the economic downturn, P&G is seeing stronger competitive headwinds from private label products. Like other multinational companies, P&G is seeing headwinds to its revenue and profits from negative effects of converting revenues denominated in foreign currencies back into US Dollars. In its most recent quarter, P&G saw 2% revenue growth due to a 1% negative impact from currency translation and 3% organic growth. P&G forecasted a constant currency organic revenue growth rate of 3-4% for FY 2013 and that currency would basically absorb at least half of its organic revenue growth.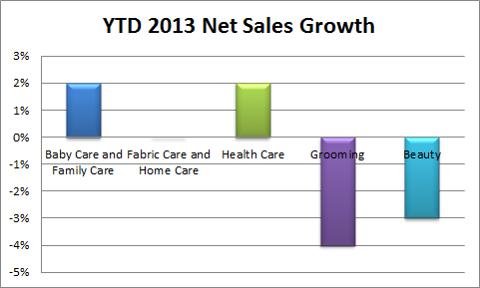 Source: Procter & Gamble's Q1 2013 Report
With regards to P&G's business segments, only the Health Care Segment Baby Care and Family Care Segment saw its net sales generate positive growth (2%) in the YTD 2013 period. P&G's Fabric Care and Home Care Segment had 2% unit sales volume performance but this was offset by foreign exchange headwinds. The Grooming Segment checked in with 2% unit sales volume declines and 4% net sales declines as price increases were not enough to offset foreign exchange weakness. P&G's Beauty Segment had an ugly 3% net sales decline primarily due to a hideous 2% unit volume decline. P&G's operating income from continuing operations was flat year-over-year in the first nine months of 2013. P&G expects June quarter core EPS in the range of $0.69 to $0.77, down 6%-16% compared to prior year core EPS of $0.82. Although P&G's reported EPS grew by 33%, this was due to the following non-core and non-recurring events:
The absence of $1.6B in intangible impairment charges in YTD 2013 which occurred in the prior year's comparable period (non-recurring benefit)
A 14% decline in its Interest Expense, which unfortunately is not a core-operations item.
A reduced effective tax rate expense, which is also not related to core operations
A 60bp decline in its weighted average share count, which is another financial management item instead of relating to core operations
P&G's interest expense savings is also a non-recurring benefit because interest rates are at historical lows, its long-term weighted average interest expense is already at 3.3% and only 25% of its outstanding debt will be paid off or refinanced next year.
A $623 million after tax current period holding gain resulting from P&G's purchase of the balance of its Baby Care and Feminine Care joint venture
We still have a mixed opinion about management walking back its comments about suspending its share repurchase program earlier in the year in order to maintain its AA credit rating. On the one hand, we like share repurchases because it returns cash to shareholders. On the other hand, we believe that P&G's share price is fairly valued because activist investor Bill Ackman's investment in the company has resulted in a 10% boost to the stock price in the month that he has held it. Considering that P&G is trading at 18X and is expecting Adjusted EPS growth of 4% in 2013, we maintain our preference that the company should use excess cash flows for dividends or to reduce leverage. In the first nine months of 2013, P&G spent $2.255B to repurchase shares net of employee stock compensation program issuance.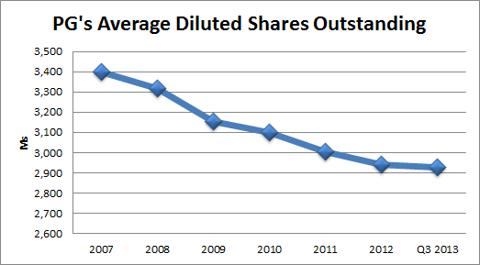 Source: Morningstar Direct
We follow P&G primarily because it acquired the blue chip Boston area consumer products company Gillette. Gillette was not only a local area consumer products titan; it was also a core holding of Berkshire Hathaway's portfolio. Now that Bill Ackman has over 1% of P&G's stock, we have another reason to follow it. We remember Gillette as an industry leading global blue-chip consumer products firm and that its pre-merger headquarters was located in our hometown of Boston. At the same time, we are neutral on P&G. We acknowledge that P&G outperformed the S&P 500 under Lafley's first term and we see investing in P&G is a bet on whether A.G. Lafley can pull off the same level of growth and performance that he achieved in his first term as CEO of P&G. Investors forget that the reason why Lafley was able to generate 15% CAGR EPS growth from P&G during his nine year tenure was due to his ability to widen P&G's profit margins. P&G's adjusted profit margin in 2000 was 10.6% when Lafley took over and he increased P&G's profit margin from continuing operations to 14.2% in 2009 when he first retired. We believe that Lafley will be able to maintain this margin but not expand it as fast as he did.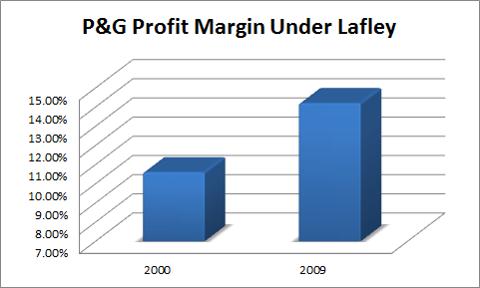 Source: Procter & Gamble's 2000 and 2009 Annual Reports
In conclusion, Pershing's position in P&G represents about 22% of its $10B portfolio as of March 31st and since Ackman disclosed Pershing's stake on July 12th, P&G's shares have outperformed the S&P 500 by nearly 7.5%. However, Ackman had liquidated or reduced a number of Pershing's positions in order to fund the new investment in P&G and this ended up representing a $600M opportunity cost. We reiterate that investors should wait for a 10%-20% market or company specific pullback before entering into a long position in P&G since P&G is fair valued already at 18X expected FY 2014 EPS. We maintain that it is pretty fairly valued already because it is expected to generate a pedestrian EPS growth of 7.2% in FY 2014 and a middling long-term growth rate of 8.6%.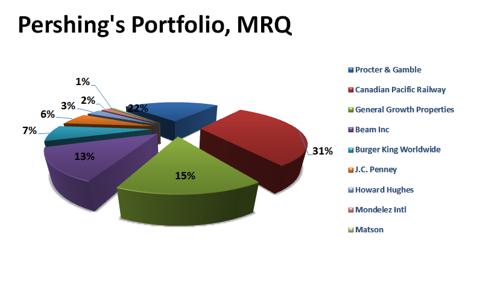 Source: Pershing's Q1 2013 13-F Report
Disclosure: I have no positions in any stocks mentioned, and no plans to initiate any positions within the next 72 hours. I wrote this article myself, and it expresses my own opinions. I am not receiving compensation for it (other than from Seeking Alpha). I have no business relationship with any company whose stock is mentioned in this article.
Additional disclosure: This article was written by an analyst at Saibus Research. Saibus Research has not received compensation directly or indirectly for expressing the recommendation in this article. We have no business relationship with any company whose stock is mentioned in this article. Under no circumstances must this report be considered an offer to buy, sell, subscribe for or trade securities or other instruments.