Two years ago, I wrote an article about the Sirius XM Radio (NASDAQ:SIRI) marketing efforts. It discussed the lack of advertising and direct mail pieces and how Sirius XM's marketing was largely based on its OEM relationships. At the time, Sirius XM had limited free cash flow, and after visiting half a dozen car dealerships, I observed:
Would I still prefer to see some brand awareness spots on TV or receive a piece of direct mail? Sure. But the way the sales people were promoting Sirius could be a much more cost effective way to spend a limited budget. As investors, we should perhaps be a bit less critical about the lack of advertising and a bit more appreciative of the auto dealer sales reps' promotion of the Sirius product.
Since that time, I saw an ad by Sirius XM on TV, watched Peyton Manning use voice commands for his XM radio in his new Buick, and have listened to the company's CFO, David Frear, discuss the importance of the company's direct marketing efforts:
When you think about the business we're running that we are sort of a fairly aggressive and large-scale direct marketer, right? We get all these names from auto dealers and from auto companies about who's bought new and used cars, and then we market to them with a variety of campaigns that are all oriented towards driving people to contact us, whether they come onto our online account center and serve themselves across the web or whether they call into the call center or are part of our outbound telemarketing campaigns that we have, as you should expect the customer service and billing costs to continue to rise as we continue to sort of grow the funnel of opportunities that we're after and grow the customer base that we are serving.
This past weekend I visited my daughter in Washington, DC. With the high temperatures, we decided on an indoor sightseeing option and visited The Steven F. Udvar-Hazy Center in Chantilly, Virginia - a part of the National Air and Space Museum. While there, we saw something that, at first glance, seemed to be a Borg cube. It was located in the hangar that houses the space shuttle Discovery, and was in the corner opposite a model of the mother ship used in the movie Close Encounters of the Third Kind. The cube in question was more than 16 feet high, weighed 1.5 tons and looked like a large box covered with what appeared to be shiny black solar chips.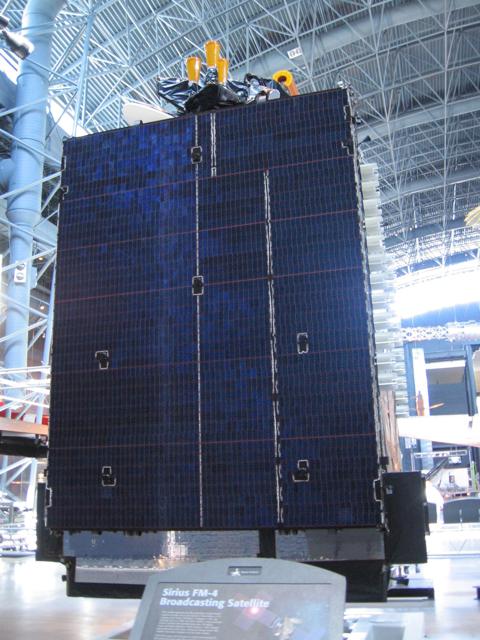 Do you recognize the SIRIUS FM-4 satellite? I certainly didn't, at least not from the "front" (the top picture), and like many of the company's public relations and marketing efforts, I found this one to be somewhat disappointing.
Companies often use corporate philanthropy to promote a particular image, and I suppose this could be considered something used to promote the brand. It is not unlike the product placement arrangements that companies sometimes use to promote their products in movies or on television shows. And maybe the description will make enough of an impression for someone to further investigate the service.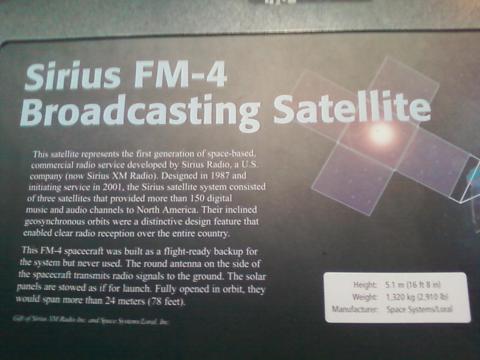 Unfortunately, the plaque (above) describing the shiny black cube was next to the wall farthest away from the entrance, and it was only because of my daughter's curiosity that we even went over to look at it. SIRIUS FM-4 was classified as a ground spare satellite, and in 2010, the company booked "a loss on the full impairment of our FM-4 satellite of $56,100." (All terms were expressed in thousands of dollars, so that notation should be read as $56.1 million.)
Most of the Sirius XM subscription opportunities still begin with the new car trial program. There will be more than 10 million trials started in 2013. Many of these trials will result in the new car buyer eventually being convinced to pay for a subscription at the end of the trial. However, those trials are not sufficient to drive the future growth of Sirius XM.
The company has come to rely much more heavily on activating the idle radios in used cars. When discussing the volume of used car opportunities, Frear has pointed out:
So it's about a 70:30 split, if you - just rough numbers, they move around a little bit but figure that there are 50 million cars sold every year, 35 used 15 new, all right.
He continued:
So for new car production we know exactly what's selling? But the used car market, 30% of it is private transaction, I sold a car to you, right and that doesn't get reported to us, and then there is a lot that are sold through independent dealers, we are trying to capture as much information as we can.
The data that Sirius XM is able to accumulate on used car transactions will never be as solid as the data for new car sales. Some, like the Certified Pre-Owned program ("CPO") provide good data, but the CPO program only represents about 5% of the used car market according to Frear. The company's broader used car trial program covers more sales, but it will never include all car dealers, and it won't help capture the private transaction segment.
Maybe direct mail will help - I know I see enough of these glossy leaflets every week telling me to subscribe to satellite or cable television or to get a free quote on auto insurance. Every once in a while, I may even read one when the price looks especially attractive or the free offer catches my eye.
Summary
Sirius XM didn't actually "spend" $50 million on marketing. They had a very large, very heavy, very costly paper-weight that could possibly generate some brand awareness and gifted it to the Smithsonian. Could spending more money on TV advertising to create better brand awareness help Sirius XM better penetrate the used vehicle markets? Could a creative ad on TV convince someone to go to the Sirius XM web site or call the customer service center to sign up for service?
Perhaps not, but it would seem to be a reasonable use of cash and more effective than having a $56 million large black cube sitting in a remote corner of the Udvar-Hazy Center.
Disclosure: I am long SIRI. I wrote this article myself, and it expresses my own opinions. I am not receiving compensation for it (other than from Seeking Alpha). I have no business relationship with any company whose stock is mentioned in this article.
Additional disclosure: In addition to my long positions, I have January 2014 $3.50 covered calls written against most of my long positions in Sirius XM and some July $3.50 calls written against a smaller position. I also trade blocks Sirius XM on a regular basis. I may sell other $3.50 covered calls against my Sirius position at any time. I have no positions in any of the other companies mentioned in this article.