Please be advised that you use this information at your own risk.
Some people have expressed the need to use mutual funds instead of ETFs in a Tactical Asset Allocation (TAA) strategy. And instead of using semi-monthly updates (twice per month), quarterly updates are desirable because many platforms do not allow more frequent trading for mutual funds. Therefore, I set out to develop a TAA strategy with mutual funds using ETFreplay. ETFreplay has a rather limited basket of mutual funds to choose from (mainly Vanguard funds), but it has enough diversity to develop a good TAA strategy.
For this TAA strategy, I chose eight mutual funds from eight different asset classes. Requirements of each mutual fund included high correlation to an ETF so ETFs could replace the mutual funds if desired. Here is the list of mutual funds selected:
Vanguard Small Cap Index (MUTF:NAESX)
T Rowe Price Emerging Markets Bond (MUTF:PREMX)
Vanguard Emerging Markets (MUTF:VEIEX)
Vanguard Intermediate-Term Investment Grade Bond (VFICK)
Vanguard GNMA Mortgage (MUTF:VFIIX)
Vanguard S&P 500 Index (MUTF:VFINX)
Vanguard MSCI REIT (MUTF:VGSIX)
Vanguard Total International Stock Index (MUTF:VGTSX)
Cash = Vanguard Long-Term Treasury (MUTF:VUSTX)
The corresponding list of ETFs is:
I proceeded to develop a tactical strategy with the mutual funds using the backtested results of ETFreplay. Although the mutual funds go back to 1996 and beyond, backtesting could only go back to 2003 because that is a limitation of ETFreplay (wish they would change that). I know a number of my readers have developed spreadsheets that mimic ETFreplay calculations, and I would be very interested in anyone who could run this mutual fund strategy back to 1996. But this article will only show backtest results to 2003.
The indicators for selecting the top-ranked mutual fund each quarter are 5-month and 20-day total returns weighted 50% each. A cash filter must be passed for the top-ranked mutual fund to be selected in any given period. The cash filter is the 3-month moving average. The cash mutual fund is VUSTX. As I have indicated, updates are quarterly.
The ETFreplay backtest results are shown below for 2003-present. The CAGR is 28.7%, the volatility is 17.0%, the maximum drawdown is 19.1%. $100,00 in 2003 grows to $1,848,000 today.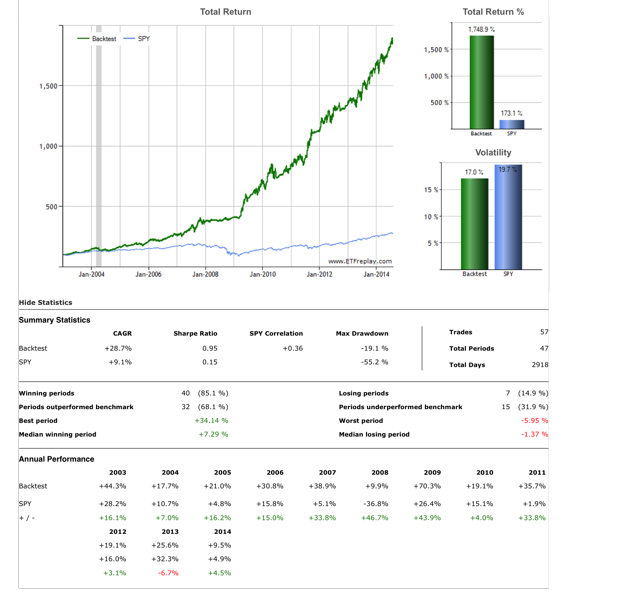 After getting these excellent results with mutual funds, I switched over to see how the ETF version of the strategy would work. I could only backtest the ETF version of the strategy to 2010 because of the start dates of some of the ETFs. And I ran PREMX with the ETF version because its ETF proxy, VWOB, only has a 12-month history. I first ran the mutual fund version from 2010-present, and then I ran the ETF version for the same time span. The results of both versions are presented in the two figures below, first the mutual fund strategy and then the ETF strategy. Excellent agreement can be seen between the two versions of the strategy. I can say confidently that either version will give similar performance.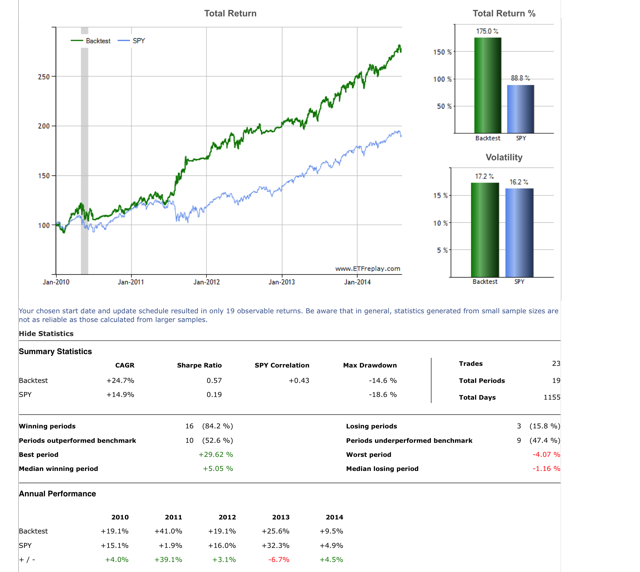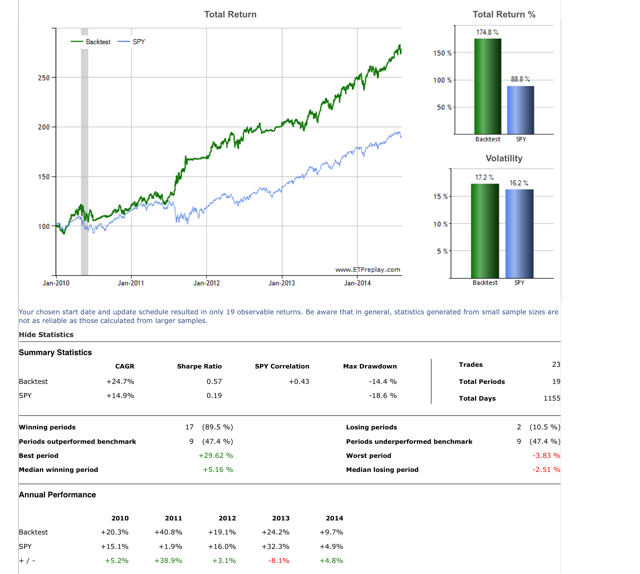 In conclusion, the mutual fund strategy developed in this article may be helpful to those investors who must use mutual funds and can only trade on a quarterly basis. This strategy has been duplicated with ETFs, so investors who desire less trading (only on a quarterly basis) might also find this strategy appealing.
Disclosure: The author has no positions in any stocks mentioned, and no plans to initiate any positions within the next 72 hours. The author wrote this article themselves, and it expresses their own opinions. The author is not receiving compensation for it. The author has no business relationship with any company whose stock is mentioned in this article.