After contracting in the first quarter of 2015, the US economy is again showing some signs of strength. Investors now expect the Federal Reserve Board to start raising short-term interest rates this fall. If it does, this would be the first time the Fed commences a cycle of hiking rates since 2004, which is before many of today's young workers even started saving and investing for retirement. I am often asked about the sensitivity of real estate investment trusts (REITs) to interest rate cycles, a question that I will address in this column.
As my readers know, at Gerstein Fisher, we think there is a strong case for including an allocation to global REITs in a diversified multi-asset portfolio (see, for example, "What do Global REITs Add to a Portfolio?"). With a relatively low correlation to stocks and a very low correlation with bonds, REITs can improve a portfolio's risk-adjusted return. But what happens to REITs during a rising rate cycle, which can often extend for years? Since real estate is a capital-intensive industry and REITs are an income-producing investment like bonds, many investors assume that rising rates are a negative for REITs, as they are for long duration bonds. Our research, however, tells a different story.
REITs and Rate Cycles
We went back to December 1978 and studied the performance of REITs - as well as stocks and bonds - in all rising and falling - rate cycles. We present our findings for US REITs in Exhibit 1 below. As you can see, not only did REITs continue to generate attractive returns in rising rate periods, but they actually performed better than in falling rate periods three out of five times (we conducted the same study for global REITs' sensitivity to Fed rate changes since July 1989, when a global REIT benchmark became available, with very similar results). When we aggregate all of the monthly returns during the disparate rate cycles, we find that, in sharp contrast to bonds, REITs have performed better in rising rate periods than in falling rate periods (see Exhibit 2).
Although these findings may surprise some investors, if you think about the underlying economics of REITS, they should not really be so surprising. REITs are required to pay out 90% of their cash flows as dividends. Unlike with bonds, which have fixed coupons, REIT cash flows typically hinge on property occupancy and rental rates. If the economy is strong and inflation is rising - which is what induces the Fed to raise interest rates - then hotels are probably full, office space is in demand, shoppers are thronging to retail space, and real estate operators are likely able to jack up rents. Rising rental income enables REIT yields to rise. Note, also, that underlying property values, which determine net asset values, also tend to rise during periods of economic expansion and rising inflation.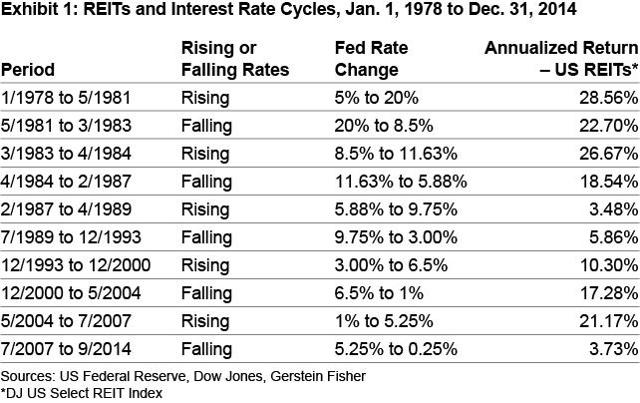 There's no guarantee that REITs will perform well when rates rise - just as there's no certainty when the Fed will start to raise rates - but it does seem clear from historical research that such periods are not necessarily ones to fear for REIT performance - in fact, they have coincided with some very strong periods of REIT returns. Finally, let's not lose sight of how REITs have performed over the long term, across multiple interest rate cycles: from January 1978 to May 2015, US REITs returned 12.54% annualized, compared to 11.81% for US stocks; from July 1989 to May 2015, global REITs, as represented by the S&P Global REIT Index, returned 9.29% annualized versus just 6.94% for the MSCI World Index of stocks. To learn more about my views on REITs, I invite you to view the following video: "Wealthtrack: Gersten Fisher on Global REITs."
Conclusion
Some investors fear that rising interest rates will have negative implications for REIT returns. Our research demonstrates that historically REITs have actually performed quite well during cycles of rising rates. In fact, across multiple cycles, investment returns from REITs have exceeded those from stocks.