The recent events of Chipotle (NYSE:CMG) should be analyzed from both perspectives, the potential buyer and the potential seller. This article touches three fundamental aspects of Chipotle that every shareholder and potential investor should know about the business. These three items are about the fundamentals of Chipotle, particularly the nature of the business costs and the quality of business capitalization. Furthermore, the article presents how this is going to affect the performance and expansion projects of the company going forward.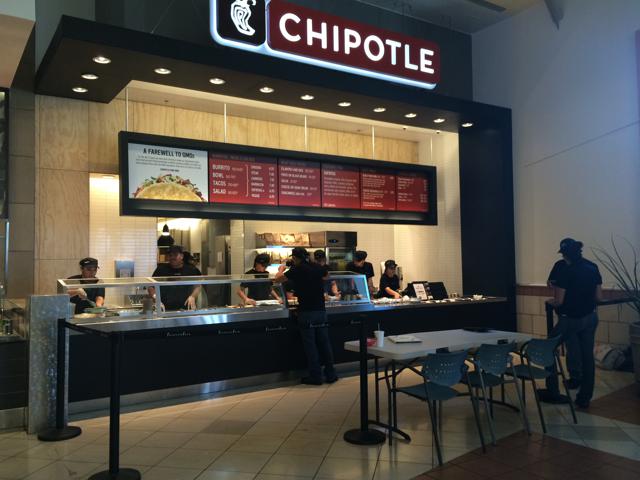 1) Chipotle has no debt, but it is still leveraged
There are two types of leverage that investors need to be aware of: financial leverage and operating leverage. Chipotle has zero financial leverage because it has no borrowings. However, Chipotle has a considerable degree of operating leverage. The degree of operating leverage represents the amount of fixed costs that Chipotle has to bear to run the business. Whether they sell one or millions of burritos, the fixed costs are going to stay the same. Fixed costs are rent, labor, utilities, and headquarters costs.
See the table below for a schedule of fixed costs. Note that I am only considering the costs that are going to result in cash outflows, thus eliminating share based compensation and excluding depreciation and amortization. Cash outflows are important for shareholders because it impacts free cash flows directly.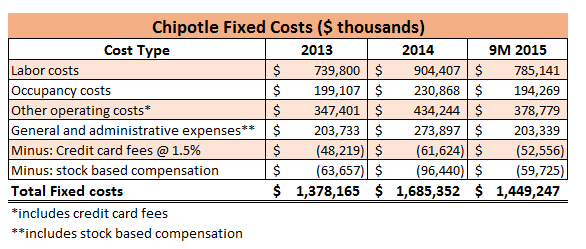 Credit card fees are variable costs that are incurred based on each credit card sale. Chipotle does not disclose the portion of sales that are done by credit card, but I suppose many people use credit cards. To give Chipotle the benefit of the doubt, I am considering every sale as a credit card sale. Based on normal credit card fees applied to businesses, 1.5% of sales for credit card costs seem reasonable.
Rent will not decrease because they are having less business. Only in very few locations rent is tied to sales numbers, but the largest portion of the rent is fixed. Moreover, in the locations where rent is tied to sales, there is still a floor for rent costs.
Marketing costs will not decrease either. Arguably, marketing costs are probably going to increase given the effort that Chipotle will need to carry out to recover its reputation. Labor costs will not decrease because Chipotle won't be reducing headcount, at least for the foreseeable future.
Roughly half of all operating costs are fixed costs, the rest are variable costs. If Chipotle expects less demand, then they would not buy as much in food ingredients. One of the core competencies of Chipotle is their ability to buy fresh ingredients. Food ingredients are variable costs, for which Chipotle can plan according to short-term demand. However, they do not have the freedom to plan fixed costs based on short-term demand. That is referred as operating leverage.
When considering fixed costs as % of revenues, the trend has been downwards. This is because Chipotle has been reporting positive same store sales growth. This allows Chipotle to receive more revenues for the same fixed costs. In FY 2016, fixed costs are likely to be a larger proportion of revenue because of the E.coli and norovirus crisis. This will not only hurt Chipotle's margins, but also reduce the amount of EPS and free cash flows.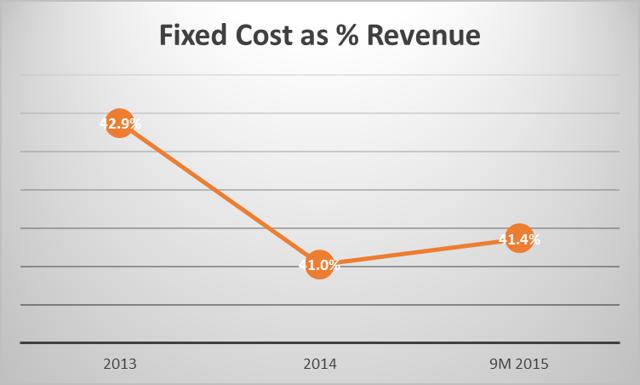 Source: Author
The impacts of operating leverage have been positive for Chipotle over the past 5 years. Mainly because Chipotle has been reporting high single-digits and double-digits same store sales growth. However, when the trend reversed in Q4 2015, fixed costs are likely to negatively impact margins and free cash flows. Chipotle shareholders should expect margin contraction in 2016, both operating and profit margins.
In my opinion, the E.coli and norovirus events are temporary. Other restaurants have been able to solve these problems and Chipotle can solve them too. However, in the near term there may be an impact on sales. As a result of fixed costs, fiscal-year 2016 will be tough. Margins should decline due to operating leverage.
While Chipotle does not have financial leverage, it does have a decent amount of operating leverage.
2) Chipotle does not have real estate assets to hang onto, but it does have a substantial amount of capital to survive the storm
Since the strategy of Chipotle is to lease the land and buildings, none of the real estate is owned by Chipotle. Since the accounting treatment of capital leases allow a company to record assets in the balance sheet, Chipotle is able to record some property and equipment on the balance sheet (most is treated as operating leases, which is covered in the fixed cost discussion as occupancy cost). Moreover, Chipotle has to invest in preparing new locations to get them ready for operations. These investments include furnishing, decoration, equipment, and more. In the balance sheet, that is referred as leasehold improvements.
Taking together, leasehold improvements and equipment account for approximately 40% of assets. Due to accounting standards, both equipment and real estate have to be reported at cost, not fair value. For restaurant companies that own their real estate (such as Casey's General Stores or REITs), the balance sheet tends to understate the fair value of real estate assets because they are stated at cost. However, for companies that lease most of their restaurant space, balance sheet amounts represent at best the fair value of assets.
While Chipotle might not have real estate assets to hang onto, the balance sheet still appears solid. The main reason for such a strong balance sheet is the cash and investment balances. The investments that Chipotle makes are one of the safest (and lowest yielding) assets in the market. Investments consist of U.S. Treasury securities, pretty much risk-free assets (in fact considered risk-free assets by academia and investment professionals). Taking together, cash and investments account for 54% of total assets. In dollar terms, this amounts to $1,585 million (or $1.6 billion to round it up). These are assets that are not only worth every dollar as reported, but also are as liquid as it gets.
So how many restaurants can these assets buy?
The cash costs of opening new restaurants can be approximated using both the amount of restaurants opened in a period and the amounts of capex reported in the statement of cash flows. This can be done because of the accounting and business practices of Chipotle. Chipotle expenses maintenance and repair costs and capitalizes the costs of development and construction of new restaurants. Chipotle runs a single operating segment, therefore cash capex is mostly dedicated to the opening of new restaurants.
Cash capex divided by number of restaurants opened = average cash costs to open a restaurant
From the beginning of 2013 until Q3 2015, the average costs to open a restaurant ranged from $1.3 million to $1.1 million. An average of the last three years suggests that each restaurant openings causes an upfront cash investment of $1.203 million. Let's stick with the average cost for future computations.
Management guides to open between 190 and 205 restaurants per year. Considering management history to barely meet (and sometimes miss) the low end of their guidance, the yearly costs of opening restaurants runs at approximately $230 million. Assuming that fixed costs are going to be covered by sales and that the settlement of the subpoena will cost $100 million, the arithmetic to figure out how many restaurants can be opened with current capital goes as follows:
$1,585 million of liquid capital minus $416 million for approved stock buybacks minus $100 million subpoena settlement = $1,069 million available cash for new restaurants.
$1,069 million available cash for new restaurants divided by $1.203 cash cost per restaurant = 888 restaurants.
The answer to the question is that Chipotle can open approximately 888 restaurants without the need to raise capital. Chipotle has approximately 1,900 operating restaurants. Therefore, a total of ~2800 Chipotle locations can exist from current capital if Chipotle just manages to break even. This number of locations is realistic considering there are ~25,000 Subways, ~14,000 McDonald's, and ~6,500 Taco Bells in the U.S.
Therefore, I conclude that the balance sheet remains solid despite the lack of hard assets. This is positive for Chipotle in the long-run because it means the company is appropriately capitalized to face the storm that is coming after the E.coli and norovirus outbreaks.
3) Gift-card liability increased by over 50%, which means many customers are financially tied to Chipotle
A very important qualitative factor is the fact that gift card liability (which means gift card balances on the customer side) has increased from $32 million in 2013 to $48 million in 2014. The gift card liability is a positive for Chipotle for two reasons: gift-cards have no expiration date and gift-cards can only be used at restaurants (doesn't settle for cash). Given the standard mentality of consumers, it is unlikely that an individual would give up a positive gift-card balance. The likely scenario is that people would want to "use up" their balance. Therefore, continuing to attend Chipotle.
Chipotle only reports gift card liabilities once a year, in their annual report. Therefore, this is a number that investors should be looking forward on February 2nd. (when the 10-K is released). A balance above $48 million would represent an increase. While $48 million is not much as percent of total revenues, this gift-card balance can help restore confidence of consumers.
Chipotle's meals are not very expensive, perhaps a bill for two would run at ~$40 in expensive cities such as New York. In the Midwest, $40 will buy a meal for 3-4 people. With a gift card balance of $48 million in aggregate, there is approximately 1.2 million meals to be eaten at Chipotle solely from the gift cards. As percent of total meals served, 1.2 million meals is not much, but it can help restore confidence among consumers by tying consumers to Chipotle financially. After a few occasions of dining at Chipotle and not getting sick, confidence can be restored. These consumers could then continue to be recurring customers.
In my opinion, this is a long-term positive for Chipotle because it ties customers with Chipotle financially. Once customers go to restaurants, their confidence can be recovered. The impact can be exponentially positive if people go accompanied by friends, family, or acquaintances. Although the latter is more of a speculation than a statement.
Investor takeaways
The three aspects presented in the article cannot be ignored for current or potential shareholders because they are fundamentally important for Chipotle. First, the fixed costs that Chipotle carries are going to remain there whether they sell more or less food. If same store sales continue decreasing in FY 2016, which is a likely scenario, the operating and profit margins will be affected. This is negative for the near-term.
Second, while Chipotle does not have hard assets to rely upon, their balance sheet carries a substantial amount of highly liquid capital. After considering stock buybacks plan and a potential settlement, Chipotle still has enough capital to open more than 800 stores across the US. This is important and positive because it means they can continue expanding through the stormy weather, as it was reaffirmed in the ICR talk. Furthermore, the excess capital gives Chipotle a cushion in case the E.coli and norovirus crisis lasts longer than 2 years.
Lastly, the gift-card liability represents a qualitative positive signal for Chipotle. Although this number will not represent a large proportion of revenue, it is important because it can help restore confidence by tying customers with Chipotle.
In a previous article, I stated that a likely scenario is that Chipotle would trade around 25 to 30 times earnings. In light of new findings, I continue to hold my opinion. Since management expectations for earnings are lower than the TTM earnings, I continue to see a range of $365 to $380 a likely scenario in the short-term. However, with two positives and one (short-term) negative, the long-term prospects for Chipotle appear to be on the optimistic side.
Supporting Documents
Disclosure: I/we have no positions in any stocks mentioned, and no plans to initiate any positions within the next 72 hours.
I wrote this article myself, and it expresses my own opinions. I am not receiving compensation for it (other than from Seeking Alpha). I have no business relationship with any company whose stock is mentioned in this article.