Three of the largest publicly-traded companies in off-price retail are TJX (NYSE:TJX) (operators of TJ Maxx, Marshalls and Home Goods), Ross Stores (NASDAQ:ROST) (operators of Ross Dress For Less and dd's Discounts) and Stein Mart (NASDAQ:SMRT). TJX is the larger player with 2,689 stores in the US, followed by 1,446 for Ross and 278 for Stein Mart.
In the article below, I will make the case for why Ross Stores should acquire Stein Mart. This article will be of interest to investors seeking a potential takeover target (Stein Mart), investors in TJX who may face a stronger future competitor and existing investors in both Ross and Stein Mart.
A Stein Mart acquisition by Ross would be similar to the 1995 acquisition of Marshall's by TJ Maxx. That acquisition in 1995 was for $500 million. A Stein Mart acquisition by Ross in 2016 would likely cost less.
Minimal Geographic Overlap
Ross and Stein Mart only operate stores in the United States. The table below shows the number of stores in states where Stein Mart and Ross both have a presence. States where Ross operates stores but Stein Mart does not are not listed here.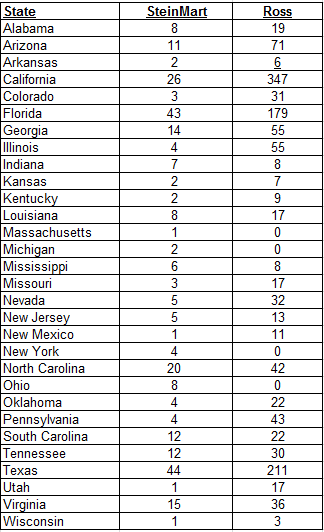 (Source: Ross Stein Mart)
In four states where Stein Mart operates (Massachusetts, Michigan, New York & Ohio), Ross has no stores.
In Ross's largest state, California, Stein Mart has less than 10% of the stores as Ross (347 vs. 26).
Ross has a small presence in Illinois, Nevada, New Jersey & Pennsylvania; large states with large populations. Stein Mart would provide additional stores in those markets.
By acquiring Stein Mart, Ross would gain entry into four new states, likely have minimal overlap in their largest market (California), and strengthen their footprint in four large states with large populations.
Ross and Stein Mart both have decent footprints in Florida and Texas. However, these are two large states with fast growing populations. Store closures there from an acquisition would likely be minimal.
A combined Stein Mart and Ross would also have synergies in warehousing and distribution.
Stein Mart operates three distribution centers and warehouses in Georgia, California and Texas. All Stein Mart distribution centers and warehouses are leased.
Ross Stores does not have a distribution center in Texas where it operates 211 stores. Stein Mart's Georgia distribution center could help serve Ross's 179 stores in Florida where Ross has no distribution center or warehouse. Ross currently serves its Florida stores with facilities further north in South Carolina. Stein Mart's facility in California may be redundant but it is leased and not owned; the lease can simply not be extended.
Earnings Boost, Cost & Talent Synergies
As of July 23rd, 2016, shares of Ross Stores trades at a trailing earnings multiple of ~23 whereas Stein Mart trades at a trailing ~16 multiple. Even if Ross paid a 20% premium to Stein Mart's current share price, Stein Mart would still have a lower trailing earnings multiple than Ross. An all stock acquisition for Stein Mart would not dilute earnings per share for existing Ross shareholders.
Ross & Stein Mart are both off-price retailers. They purchase merchandise at deep discounts from designers that cannot be sold through typical retail channels. A combined Ross & Stein Mart would have more buying power to better negotiate prices for their merchandise.
According to Morningstar, Stein Mart has an SG&A expense ratio of 25%; significantly higher than Ross's 14.56% SG&A. A combined Ross & Stein Mart would have synergies in marketing, financial and other general and administrative expenses. Stein Mart's SG&A would likely fall with a Ross acquisition thus improving their profitability.
In November 2015, Ross Stores hired away Brian Morrow, previously the Chief Merchandising Officer from Stein Mart, to join dd's Discounts. A combined Ross & Stein Mart would be able to pick the best talent from the combined company. This would likely lead to headcount reductions.
Cost Of Acquisition
The paragraphs above described why Stein Mart would be a good acquisition for Ross Stores to make. This paragraph will show why such an acquisition will not be a financial burden for Ross or be dilutive to Ross shareholders.
As of July 23rd, 2016, Stein Mart has a market capitalization of ~$380 million. In Stein Mart's most recent 10-Q form, the company disclosed $149 million in total current debt. Assuming a 20% price premium, the total cost to acquire Stein Mart including assumed debt would be ~$605 million.
As of July 23rd, 2016, Ross Stores has a market capitalization of $24 billion. In their most recent 10-Q, the company disclosed having $910 million in cash and equivalents.
Ross Stores is more than 63 times larger than Stein Mart (based on market capitalization). An all stock acquisition would create ~1.5% dilution for existing Ross shareholders (assuming a 20% premium). A combination cash and stock acquisition, very feasible with Ross's cash, would be less dilutive.
Ross would be assuming $149 million in debt on top of their current $395 million. The combined Ross & Stein Mart would have ~$550 million in debt with a market cap of ~$24 billion. By no means a heavily debt-laden company.
Ross Stores can easily afford to acquire Stein Mart.
Conclusion
In conclusion, Ross Stores should acquire Stein Mart to better compete with large rival TJX. A combined Ross and Stein Mart would have minimal geographic overlap outside the fast growing states of Texas and Florida. The combined companies' distribution centers and warehouses have minimal overlap as well and could better serve a combined company's stores. Ross can easily purchase the smaller Stein Mart and not be heavily debt laden or dilute their earnings per share. Numerous synergies in purchasing, SG&A and talent would further improve profits at Stein Mart.
Investors considering a potential takeover target may consider a position in Stein Mart. A combined Ross and Stein Mart would likely benefit investors in both companies if an acquisition were to occur.
According to SharkRepellent, Stein Mart has minimal poison pills in place to fend off a hostile takeover.
Contrarian
Jay Stein, grandson of founder Sam Stein, owns over 1% of shares outstanding and is chairman of the board. A takeover of Stein Mart, unless it was hostile, would need the backing of Jay Stein who may resist the takeover.
TJX Companies could also step in and acquire Stein Mart. Shareholders in Stein Mart would still do well but Ross would have an even stronger competitor. As TJX has more stores than Ross, there would likely be more geographic overlap with Stein Mart.
Disclosure: I/we have no positions in any stocks mentioned, and no plans to initiate any positions within the next 72 hours.
I wrote this article myself, and it expresses my own opinions. I am not receiving compensation for it (other than from Seeking Alpha). I have no business relationship with any company whose stock is mentioned in this article.