Introduction
BHP Billiton (NYSE: BHP) is an Anglo-Australian multinational mining, metals, and petroleum company headquartered in Melbourne, Australia. The company is the world's largest mining company by value with a market cap of more than $75 billion compared to its 2011 pre-commodity crash highs when the company reached a market cap of more than $250 billion. The company's dual exposure to the mining and oil industries meant the company's share price began dropping in 2011 before taking a much larger downturn after the 2014 oil crash.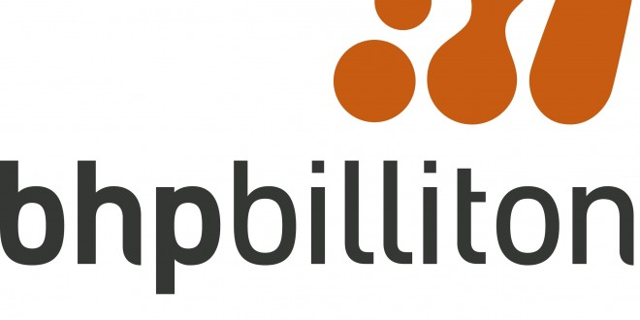 BHP Billiton Logo - Daily Reckoning
After peaking at just under $30 per share, BHP Billiton's share price experienced an impressive run up to roughly $100 per share in 2011. However, at that point, the company's share price began dropping and the company spent 2012 to 2014 at roughly $70 per share. However, when the oil crash started in mid-2014, the company's share price took a much larger hit.
From mid-2014 to early-2016, when oil prices hit their bottom, BHP Billiton saw its share price drop from roughly $70 per share to less than $20 per share. However, since that bottom, BHP Billiton has seen its share price recover by more than 50% to present prices of more than $30 per share. Despite this impressive recovery, I still believe that BHP Billiton has some attractive prospects at its current price.
June 30 Year End Financial Results
Now that we have an overview of BHP Billiton, it is now time to discuss the company's year end financial results.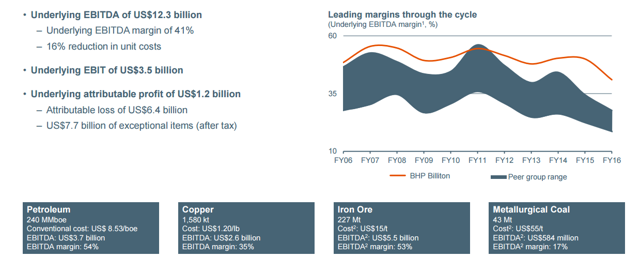 Year End Financial Results - BHP Billiton Investor Presentation
For a company with a $77 billion market cap, BHP Billiton had impressive underlying EBITDA of $12.3 billion for 2016 with an underlying EBITDA margin of 41%. The company managed to reduce its unit costs by 16%. However, when removing the company's depreciation and amortization expenses, that is the lost value of its mines, the company's underlying EBIT was just $3.5 billion a much lower ratio based on its market cap. However, despite the downcycle, BHP Billiton's continued strong profits show some upside.
Looking at BHP Billiton's EBITDA margin, we see that the company has continued to maintain an EBITDA margin of more than 40%, significantly ahead of the company's peer group. That continued strength in the company's EBITDA margin means that even in the downturn, the company can continue to earn impressive profits. The company's metallurgical coal business continues to see a low EBITDA margin. However, despite this, the company's other business continue to be much higher margin sources of EBITDA.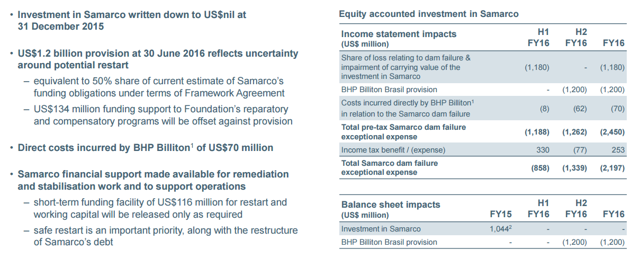 Samarco Disaster - BHP Billiton Investor Presentation
However, during the year, the company also had to deal with the Samarco disaster. The Samarco project is a joint project between Vale and BHP Billiton with each company controlling 50% of the project. The disaster occurred when two dams that contained by-products of iron mining collapsed spilling the tailings throughout a number of major rivers and significantly hurting the ecosystem. Brazil settled the penalty but they are currently looking at significantly increasing the size of the penalty.
So far BHP Billiton has had to deal with $0.07 billion in direct costs and the company has written down the value of the investment to nothing. The company will likely have to deal with several $ billion of costs that will negatively affect it. However, the company will also likely be able to eventually restart the Samarco project and this should help bring the company increased profits. Once the fines are paid in the short term and the mine is restarted, the mine will provide a source of long-term profits.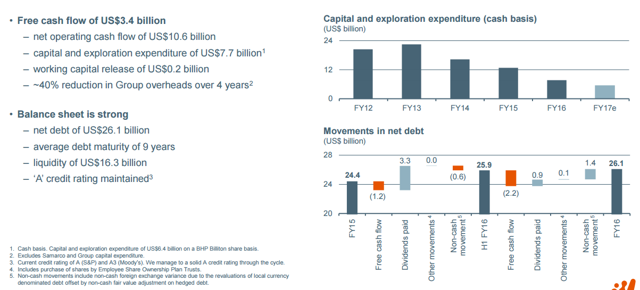 Free Cash Flow and Balance Sheet - BHP Billiton Investor Presentation
The company also continues to generate immense amounts of free cash flow with 2016 year cash flow of $3.4 billion and net operating cash flow of $10.6 billion. However, the company also had working capital release of $0.2 billion and capital and exploration expenditures of $7.7 billion. The company has been significantly reducing its capital expenditures which should allow it to save additional cash earnings to pay off debt and improve its financial strength.
But the company's debt has been slowly increasing partly because the company is continuing to pay a dividend. Despite this, the company is continue to pay off significant portions of its debt with free cash flow, $2.2 billion for the last 6 months. The company's recent dividend reduction should make the company's debt load much more manageable (debt just increased by $0.1 billion per quarter for the last two quarters despite the Samarco costs). As a result, I expect in the coming quarters, the company's debt will continue to decrease.
BHP Billiton Portfolio
Now that we have discussed BHP Billiton's June 30 2016 financial results, it is now time to discuss the company's present portfolio.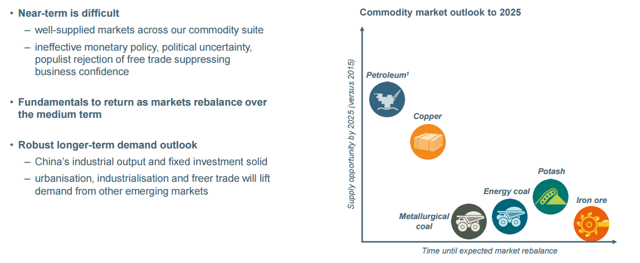 Market Conditions - BHP Billiton Investor Presentation
The above image provides an overview of the commodity markets from the perspective of BHP Billiton. The x-axis of the graph shows how long the company expects it will be until the market rebalances while the y-axis shows the supply opportunity in these markets by 2025. Take a minute to look at the company's four largest sources of income, iron ore, metallurgical coal, petroleum, and copper.
Two of the company's three largest sources of income are petroleum and copper which are both expected to quickly recover by a huge volume. The company's iron ore business which generates the vast majority of the company's income should take a long time to recover. However, the company's petroleum and copper businesses will recover quickly and will significantly boost the company's income. A recovery of these two industries could help BHP Billiton's share price recover to pre-oil crash prices.
Despite this, BHP Billiton does have some things to worry about. In the near term, the company has to deal with well-supplied (read: oversupplied) markets across the company's entire business line. However, the company expects markets to return to their fundamentals in the coming years, and the company knows it has the financial strength to handle the crash until prices recover in the medium term.

Production Volumes and Unit Costs - BHP Billiton Investor Presentation
And until the prices recover, BHP Billiton remains in an incredibly strong financial position. The company has kept its copper volumes
strong since the start of the oil crash actually increasing them since the start of the 2011 crash. And on top of the volume remaining strong, the company's unit costs for production copper has managed to drop rapidly and is expected to be reduced by a further 12% in FY 2017. This drop will help the company's profits grow even faster.
The above image shows the company's free cash flow and present prices. BHP Billiton stands to generate free cash flow of more than $7 billion at 2017 spot prices. That cash flow will be hurt by capex costs of $5.4 billion, but these capex costs are necessary to take advantage of a cheap market environment to achieve growth. And the best thing to see is that on top of the company's growing profits, it expects its FY 2016 net debt load of $26.1 billion to be the all time peak of the cycle.
As a result, this shows why BHP Billiton is such a good investment in the present oil environment. The company expects its debt to increase from now onwards, it is focused on low cost growth, and it maintains a respectable dividend yield.
Conclusion
BHP Billiton has had a difficult time recently seeing its stock price drop by 80% from its 2011 peaks to its early-2016 lows. However, despite this BHP Billiton has seen its stock price recover by more than 50% from its January 2016 lows to its present prices. But the company is still undervalued at its present prices.
The company expects its net 2016 debt to be its peak in debt load and the company expects it debt will begin decreasing from that point onwards. The company is also undertaking a large number of expansion projects spending billions in a number of businesses such as its copper business to help increase its production. Combining this increase in production with its lowering net unit costs means that BHP Billiton will see its profits increase in the coming years.
This combination of decreasing debt, high margins, expansion projects, and dividend makes BHP Billiton a strong investment at its present share price.
Disclosure: I am/we are long BHP.
I wrote this article myself, and it expresses my own opinions. I am not receiving compensation for it (other than from Seeking Alpha). I have no business relationship with any company whose stock is mentioned in this article.