Ten years ago, fertilizer companies were all the rage in investing. Margins and profits were soaring each quarter, supplies were tight, demand was strong, and the stock prices of companies like Potash (NYSE:POT), Mosaic (NYSE:MOS) and Agrium (NYSE:AGU) seemed to rise every day. Today the outlook for these companies is represented by a much different landscape. Margins are tight, fertilizer supplies are high across all sectors (potash, phosphate and nitrogen) and the stock prices for these companies are hitting lows not seen in nearly a decade. However, a sign of a bottom approaching may be at hand. Recently, Potash and Agrium announced that they are pursuing a merger with one another. This opens the door to a company that could potentially become the largest fertilizer provider in the world, as well as a company that would enjoy additional pricing power and access to new markets. This article examines these aspects of a potential merger and discusses the implications if it actually occurs.
A merger between Potash and Agrium is a merger between two companies that would truly complement each other. Potash has huge production capabilities, yet most of its products are sold wholesale. Agrium is one of the smallest production companies in the fertilizer space, yet has the largest retail distribution network in North America. As you can see below, combining these two companies would, in fact, create the largest fertilizer conglomerate in the world.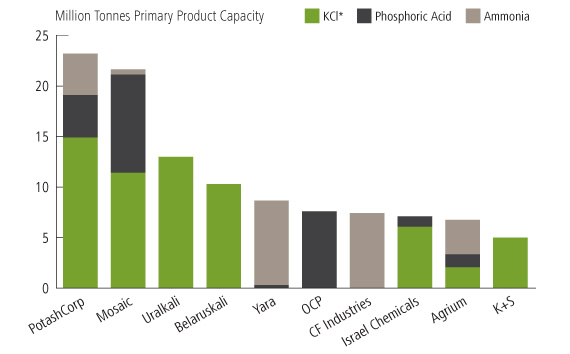 Potash could realize much higher margins by selling products directly to the retail market through Agrium's distribution networks, and Agrium would be able to offer much larger quantities of product, specifically potash, to its customer base. The result would be much higher operating margins and greater product distribution for these companies.
While a merger appears quite appealing for shareholders and their respective companies, the farmer, and ultimately the consumer may pay a heavy price. Fertilizer prices took off in 2007 when demand began to outstrip supply, and fertilizer producers restricted additional supply reaching the market. Immediately following the spike in prices, grain prices and food prices reached all-time highs, harming the purchasing power of consumers across the globe. However, after peaking in 2011, prices have slowly worked their way back to historically normal values as seen below.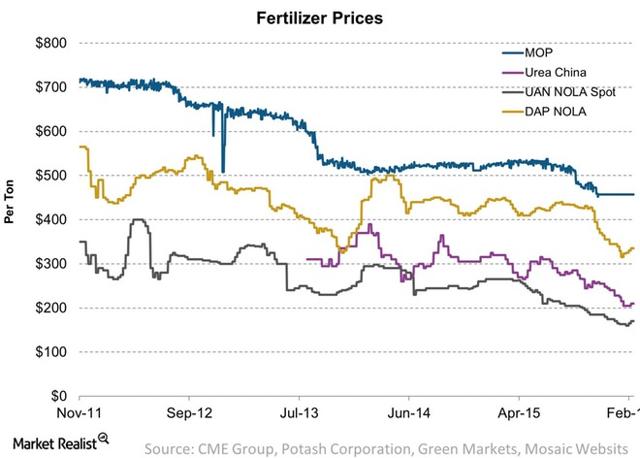 Supply finally caught up with demand and major fertilizer players in Russia helped flood the market with cheap products, crushing margins for US fertilizer producers, particularly in the potash space. However, a consolidation in the fertilizer space involving two of the largest players may reverse these pricing and supply trends seen over the past 5 years.
A merger between Potash and Agrium would prove extremely beneficial to each company and its shareholders, but potentially introduces higher fertilizer and food costs as a result. Both companies are excellent long-term investments, have solid balance sheets, and are run by excellent management. Invest in either company now, and your portfolio will be fertilized with profits in the years to come, regardless of whether this merger occurs or not.
Disclosure: I am/we are long POT, AGU.
I wrote this article myself, and it expresses my own opinions. I am not receiving compensation for it (other than from Seeking Alpha). I have no business relationship with any company whose stock is mentioned in this article.