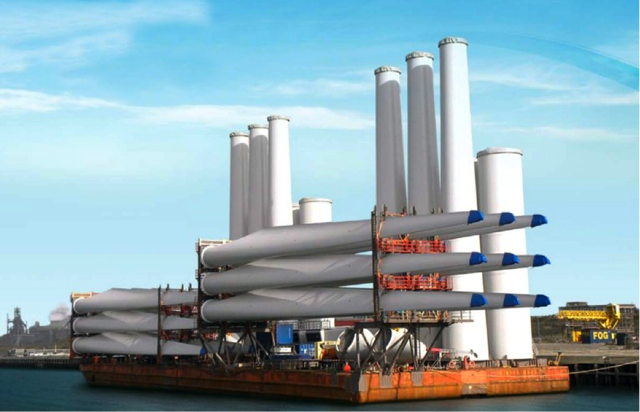 Source : US Department of Energy
Only a month ago I wrote about the quickening pace of the wind industry both on- and off-shore. A lot is changing for offshore wind and it all looks positive after years of uncertainty in the US.
This week Swedish Government owned power company Vattenfall trumped Dong Energy's (DC:DENERG) recent record low bid of $73/MWh, by bidding Euro $60 ($67.47)/MWh for two offshore wind farms. This is 20% lower than Dong Energy's bid. The dramatic reduction in cost of offshore wind is evident in the following figure, with the Dutch, Dong Energy project indicated in red. The Vattenfall project is not on the figure but it sits 20% below the Dong project.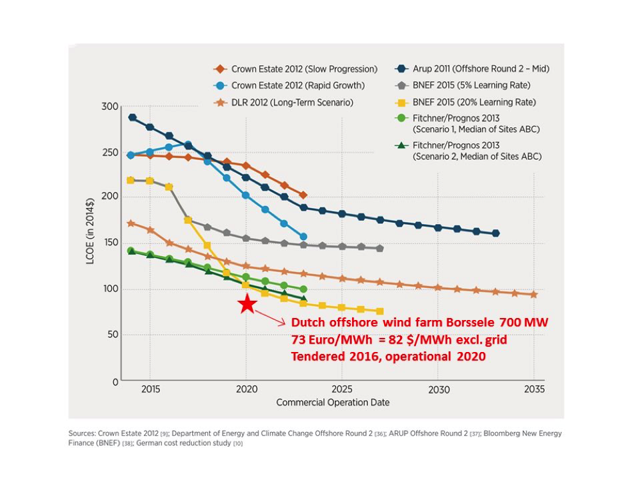 The Vattenfall farms are special (cheaper) because they are close to the Danish coast. The Danish Government still needs to approve the tenders, but if approved the windmills could commence operation in 2020, with a capacity of 350 MW.
This week the US Government released a National Offshore Wind Strategy to stimulate offshore US wind developments. The report has a 34 year horizon and it envisages 86 GW of offshore wind by 2050, which is a long way from 30 MW today.
The National Offshore Wind strategy document says almost 80% of US energy demand is located in coastal cities which offshore wind could service. There is the capacity to generate twice the power needed to service these cities. Holdups have been cost, technical risk, regulation, environmental risk & better understanding of cost/benefit.
While the new national strategy is a big picture document, at the end of last month a new energy bill in the Massachusetts House and Senate mandated long term (at least 15 years) power purchase of up to 1.6 GW of offshore-produced wind power. The deadline is tight and because only two commercial leases have been granted off the coast of Massachusetts. Dong Energy and OffshoreMW LLC (sister company of German company WindMW GmbH) are the only companies able to participate in the first program.
While Europe has taken the running on offshore wind (91% of offshore wind in 2015), all around there world there is action.
Japan :
A lack of strong offshore wind targets means that the Japanese market is more potential than reality, although skills are being developed. For example MHI Vestas involves a partnership between Vestas (OTCPK:VWDRY) and Mitsubishi Heavy Industries (OTCPK:MHVYF) has significant projects in Europe.
Also Japan is seeking a place in the offshore wind space through a demonstration project off the coast at Fukushima, involving 2MW, 5MW and 7MW floating turbines.
Several of Japan's major heavy industry companies are participating in the project led by Marubeni Corp (OTCPK:MARUY). Other partners include Hitachi Ltd (OTCPK:HTHIF) which manufactured the 5MW turbine and Mitsubishi Heavy Industries which manufactured the 7MW turbine. It is acknowledged that Japan is behind the European expertise in wind turbine technology.
With 500 GW of floating offshore capacity, the payoff for Japan could be significant. And floating turbines are still in their infancy, although France is making a significant effort in the area.
China :
I'll save the Chinese story for elsewhere, although it is interesting to note here that China's largest nuclear power company CGN Power Company (OTCPK:CGNWY) has been investing in wind power since 2006 and now has 8.9 GW of wind power in operation, including its first offshore project a 152 MW offshore farm 25 km off the coast of Jiangsu province about to go online.
Big players in Europe (and who will have a big say in the US offshore developments)
Dong Energy (DC:DENERG)
The stock price for Dong Energy has been increased ~15% since listing 3 months ago. Revenue from construction contracts for offshore wind projects has doubled year on year, while there have been losses in its legacy oil and gas segment.
In the last couple of weeks Dong has announced major new offshore wind business
i) UK Government gave its approval for Dong Energy's world's biggest offshore wind farm, Hornsea 2, which is a $7.8 billion, 1.8 GW project that is 89 km off the Yorkshire coast.
ii) Dong Energy (known as Bay State Wind in the US) is one of two companies able to participate in the new Massachusetts energy bill in the first instance. Massachusetts distribution companies must support at least one offshore wind project by 30 June 2017.
Sorting out who is who between Siemens (OTCPK:SIEGY), Gamesa (OTCPK:GCTAY), AREVA (OTCPK:ARVCY) and Adwen: it gets simpler
There has been a shakeout in the European offshore wind sector with a battle for who will get to own Adwen finally looking like being resolved. News this week indicates that Siemens-Gamesa will buy the 50% of Adwen owned by AREVA for 60 million Euro. GE Renewable Energy (NYSE:GE) had sought to acquire AREVA's 50% share of Adwen, but that was rejected by AREVA.
Currently Adwen is a 50:50 joint venture between AREVA and Gamesa (now Gamesa-Siemens as a result of recent merger), which is dedicated to offshore wind. The JV is responsible for design, manufacture, installation and commissioning and servicing offshore wind turbines. It has contracts to build 1.5 GW wind off the French coast for Engie (OTCPK:ENGIY) and Iberdrola (OTCPK:IBDRY)
Adwen has corporate offices in France, Spain, the UK and Germany. It is completing the development of the world's largest offshore wind turbine, the AD 8-180, which has 8 MW capacity and 180 meter diameter blade rotation.
Siemens (now Siemens-Gamesa)
Siemens has a 75% stake in Winergy, which is a major player in wind turbine drive train development. Winergy has partnered with Adwen in the development of the gearbox for Adwen's AD 8-180. Its product portfolio includes power ratings between 750 kW and 10 MW.
Winergy has innovated maintenance of wind turbine gearboxes, including bearing replacement in situ, without needing to remove the gearbox from the nacelle. This kind of development is valuable for offshore wind turbines.
GE
GE Renewable Energy built the five 6MW turbines comprising the Block Island wind farm for project owner Deepwater Wind LLC. So GE is at the front of the pack for the first US offshore wind farm.
Unlike the solar PV market where there are lots of emerging (or not) companies vying for a share of the pie, wind is a big engineering game and so the number of companies is smaller, but as for any emerging industry, there is a lot of jostling in the early days.
Conclusion
The scale of the wind opportunity off the east and west coast of the US is still a well kept secret. There is a lot at stake for the companies who get to dominate this market opportunity. Dong Energy is extricating itself from an oil and gas past and its share price reflects some legacy issues with its oil and gas divisions. However it is clear that it is becoming a pure offshore wind play and it has a leading position not only in Europe but also in the emerging US offshore wind market.
As might be expected GE looks set to have a major place in the US offshore wind market.
In Europe the big players are consolidating with Dong Energy, Siemens-Gamesa and GE Renewable Energy all being major players.
All of the above are significant companies who have the capacity to grow the offshore wind market rapidly. If you are looking for where to invest in the energy space, as fossil fuels come under pressure because the COP21 Paris agreement starts to get real, these companies are well worth having on your watch list.
Disclosure: I/we have no positions in any stocks mentioned, and no plans to initiate any positions within the next 72 hours.
I wrote this article myself, and it expresses my own opinions. I am not receiving compensation for it (other than from Seeking Alpha). I have no business relationship with any company whose stock is mentioned in this article.
Editor's Note: This article covers one or more stocks trading at less than $1 per share and/or with less than a $100 million market cap. Please be aware of the risks associated with these stocks.