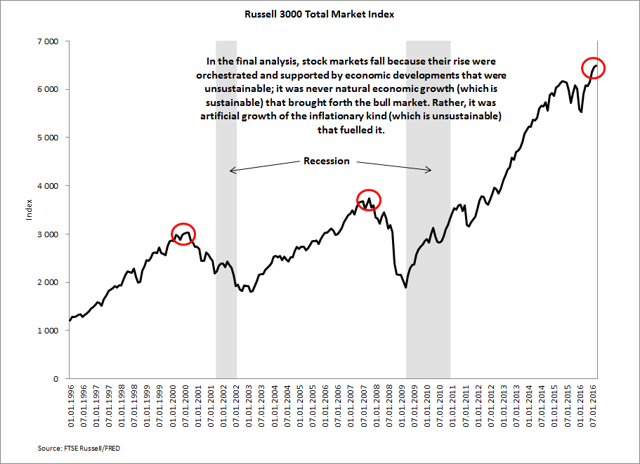 The stock market is frequently considered a leading indicator of future economic developments. A rising stock market signals an (expected) improving economy while a declining one signals an economy heading for the worse.
Viewing the stock market this way is logical, at least in theory, as stock market participants, we've been told, discount expected future economic developments when forecasting corporate earnings and discount rates. Unfortunately, a rising stock market does not forecast an improving economy, if by "improving" we mean economic growth, i.e. an improvement in living standards.
Contrary to popular opinion, an ever-rising stock market is not an indicator of a prospering economy. What a rising stock market however is an indicator of is rising corporate earnings, increased demand for stocks, and falling discount rates. As aggregate corporate earnings, ultimately fueled by increased consumer spending, cannot forever expand without an inflating money supply, and as interest rates would rise with increased consumer spending and a reduction in savings if the money supply was inelastic, a rising stock market is in fact predominantly a reflection of monetary inflation.
But increased monetary inflation is no gauge of increased prosperity. If anything, it's the opposite. Instead of bringing forth economic prosperity, monetary inflation distorts prices and the saving-investment relation, it makes instant gratification possible which puts downward pressure on the rate of saving, and it undermines, and sometimes destroys, the functions, including the value, of money.
Monetary inflation facilitates malinvestments and overconsumption, and it complicates sound capital formation. Market participants are hence wrong in viewing a rising stock market as an indicator of current and future economic growth to the extent they mistakenly confuse monetary inflation (and the increases in GDP, corporate earnings and other economic aggregates measured in monetary terms it brings about) with a prospering economy.
A range of economic imbalances build up during the course of monetary inflation, most of which culminate in broad-based overconsumption and malinvestments. In the final analysis, stock markets fall because their rise was orchestrated and supported by economic developments that were unsustainable; it was never natural economic growth (which is sustainable) that brought forth the bull market.* Rather, it was artificial growth of the inflationary kind (which is unsustainable) that fueled it.
During the course of monetary inflation, an ever-increasing rate of money supply growth becomes necessary to further elevate economic aggregates measured in monetary terms, including the stock market. At some stage, however, the money supply growth rate must slow down, caused either by price inflation exceeding the central bank's mandate which forces it to tighten monetary policy, or by banks having to slow down credit growth as losses increase, or for some other reason. If none of these happen, hyperinflation and the breakdown of the monetary system will finally end the expansion.
The growth rate of the money supply will always have to slow down or even turn negative at some stage. This marks the end of the expansionary phase of the money cycle. It now becomes readily apparent that the peaking stock market was not an indicator of current and future economic growth, but instead was a leading indicator of a regressing economy as a recession now sets in.
This explains in broad terms why an economic recession, popularly defined as a decline in GDP for two consecutive quarters, is frequently preceded by a peaking stock market followed by rapid deflation of stock market prices.
*See The Crank Report Issue #8 for the difference between natural and artificial economic growth.
Supporting Documents
Disclosure: I am/we are short MYY.
I wrote this article myself, and it expresses my own opinions. I am not receiving compensation for it (other than from Seeking Alpha). I have no business relationship with any company whose stock is mentioned in this article.