National Storage Affiliates (NYSE:NSA) is outperforming its larger peers and is currently the only storage REIT that is outperforming the S&P 500 in 2016.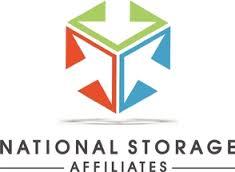 National Storage Affiliates is a roll-up of regional storage operators that went public in 2015. Since its IPO, it has added an additional regional operator and grown the total portfolio with a plethora of relationship driven acquisitions. While it is much smaller than its peers, the NSA growth story is becoming well known in the storage industry. Its business model is based on acquiring cash flowing properties, cutting costs and improving margins. Given its early success, NSA appears well positioned to continue growing at a rapid pace.
Storage REITs have been the best performing REIT (Real Estate Investment Trust) category over the past five years. Growing demand for storage has helped storage REITs achieve good margins and perform relatively well in a low growth environment. While the success of National Storage Affiliates is noteworthy, it also helps to understand how its larger peers have performed.
Storage REITs such as Public Storage (NYSE: PSA) Extra Space Storage (NYSE: EXR) and CubeSmart (NYSE: CUBE) performed very well from 2011 to 2015. However, the major storage REITs have pulled back significantly since mid-2016.

Source: Google Finance
The pullback over the last six months has brought frothy multiples back to earth and nearly every storage REIT is currently down YTD. While the threat of rising interest rates appears to be making an impact, storage REITs also have experienced softening fundamentals that appear to be impacting their stock prices.
The greatest fundamental threat has been additional supply of new facilities. While new supply had been constrained for years, 2016 is shaping up to be the first year with an ample supply of new facilities coming to market.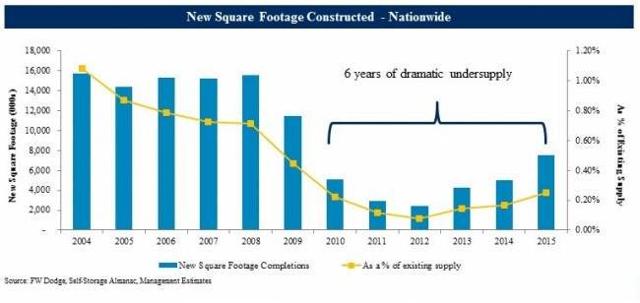 Source: Jernigan Capital
While rising rates and added supply have impacted the REIT stock prices, there is a shining star among the storage REITs that still appears to have an excellent growth trajectory: National Storage Affiliates.

Source: Google Finance
As you can see, NSA has been the best performer. Life Storage (NYSE: LSI) has been the worst performer and is currently rebranding most of its stores. If PSA and EXR finish 2016 lower than 2015, it will be the first down year for either REIT since 2008. So far in 2016, NSA is up approximately 15%, PSA is down ~13% and EXR is down ~16%.
So how is NSA outperforming peers?
NSA has a unique business model that allows owners of self-storage facilities to contribute their portfolio to NSA and gain equity in the company. This model has been written about by SA contributor Bill Stoller. You can learn more about NSA's model from Bill's articles or by visiting its website.
In short, the company's acquisition methods are more appealing to mom and pop storage owners. Public Storage, CubeSmart and Extra Space offer storage owners cash while NSA can offer cash or equity in NSA. When new facilities come under the NSA umbrella, they tend to gain operational efficiencies. National call centers, sharing facility best practices and implementing revenue management systems are all tools that NSA uses to gain efficiencies. Furthermore, the previous owners have strong incentives in place to make sure their facilities continue to perform well into the future. Thus far, the model is proving to be valid and quite profitable for NSA shareholders.
Third-Quarter 2016 Earnings Results
National Storage Affiliates' management team continues to deliver on its promise to acquire facilities at attractive prices, implement best practices and provide maximum value to shareholders.
Let's take a look at same store comps from 3Q16 reports for PSA, EXR, CUBE, LSI and NSA.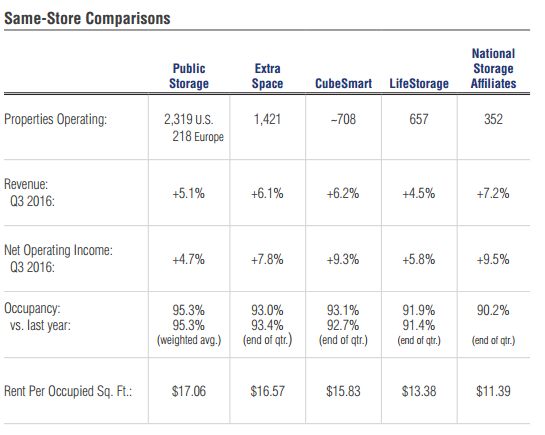 Source: MJ Partners
In terms of same store sales, NSA is delivering the most revenue growth which indicates that the company is producing notable improvement. That improvement has been consistent and demonstrates NSA's focus on operational efficiency.
Looking at the quarterly results from NSA compared to its peers, there is clearly room for continued improvement. Street rates at the NSA portfolio are up 10% YoY and moving closer to its peers. Higher rates are driven by NSA's revenue management system and that will push rent per occupied SF higher. Given the high level of occupancy across the industry, expect revenue growth to come from higher rent rates going forward for all the major storage REITs.
On the 3Q call, CEO Arlen Nordhagen and his team spoke about the advantages of working with Heitman on the iStorage acquisition. The JV allowed NSA to acquire a large portfolio and be the junior partner contributing 25% while Heitman made up the 75% difference.
From a capital markets perspective, the Heitman JV is great. NSA was essentially able to use a high quality institutional balance sheet to finance the acquisition of an excellent portfolio of facilities. The added facilities will be under the NSA umbrella and NSA still has dry powder left to buy more facilities. As the chart below shows, NSA has more than quadrupled its portfolio since inception.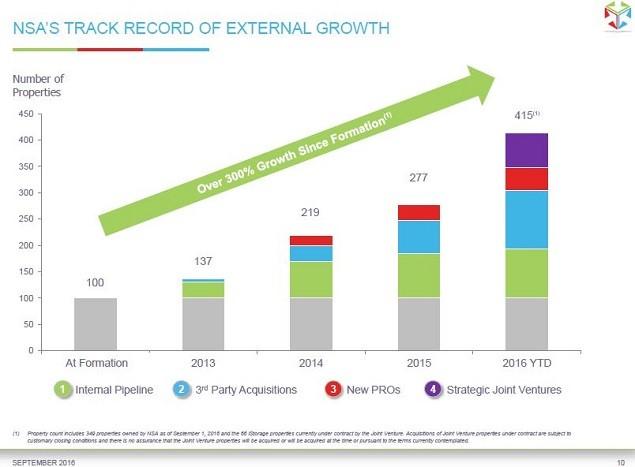 Source: National Storage Affiliates
In addition to the JV, NSA acquired a captive insurance business, the iStorage brand including its revenue management system, and other intellectual property from iStorage for $20m. Arlen and his team spoke about iStorage as an "internal PRO." iStorage will add another growth lever by allowing iStorage to collect revenue from facilities managed, not owned, by NSA. Also, the captive insurance business has tremendous value and should not be overlooked. Overall, the management team is quite pleased with the acquisition.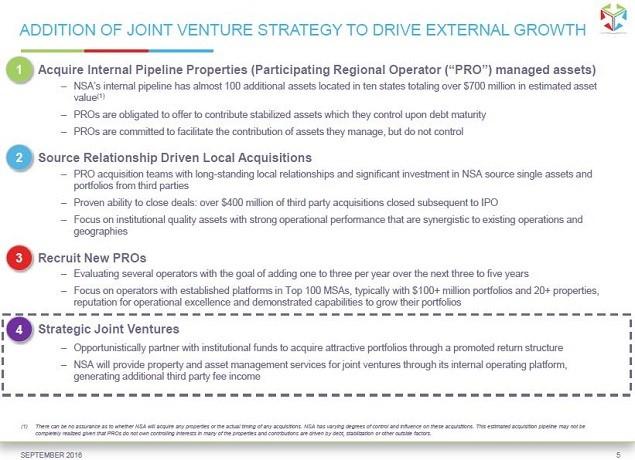 Source: National Storage Affiliates
As the graphic above indicates, this is the first JV and fourth method of achieving external growth for NSA. While the JV looks great for the iStorage deal, there are only so many portfolios of that size to acquire. Expect future growth to come from the internal pipeline, relationship driven acquisitions, and the recruitment of new PROs.
The Threat of New Supply
The impact of added supply has been addressed by all the major storage REITs. The greatest impact is being felt in a few key markets such as Houston, Austin, Chicago and New York. Luckily for NSA, it has less exposure in those markets compared with its peers. Note that the graphic below highlights the new iStorage properties.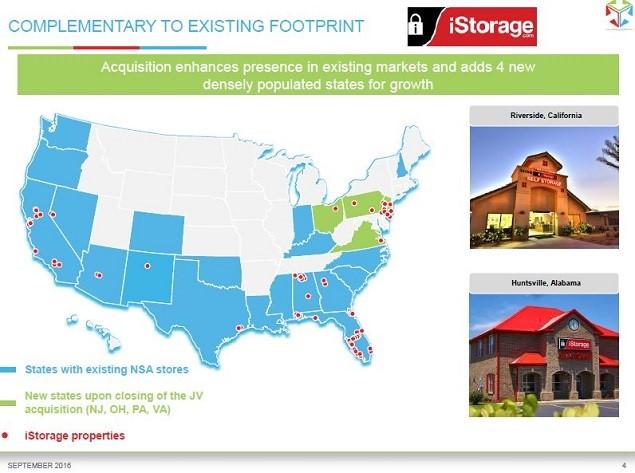 Source: National Storage Affiliates
NSA's footprint is most heavily concentrated in California, Oregon, Texas and Florida. It has less exposure to New York and the Midwest when compared to its peers.
A healthy amount of supply is added by developers who immediately sell to storage REITs. For example, Extra Space Storage uses third party developers in many areas. However, the majority of the new supply is added by smaller independent developers. Regional operators and self-storage developers are adding new supply and creating their own privately held portfolio of facilities.
As industry icon Dean Jernigan is proving the opportunity to develop storage is now. Dean and his team at Jernigan Capital (NYSE: JCAP) are an example of well-heeled developers taking advantage of strong industry fundamentals and adding much needed supply. Dean is the former CEO of CubeSmart and formed Jernigan Capital to take advantage of the lack of supply coming to market.
Overall, the threat of new supply is important to consider. If 2017 has even more facilities opening than in 2016, that poses a major risk to NSA and all of the major storage REITs.
Capital Structure
National Storage Affiliates' capital structure has never looked better. That said, the NSA balance sheet is not nearly as strong as its peers'. Access to capital markets is important for REITs and incremental improvement to NSA's balance sheet will allow it to continue to grow.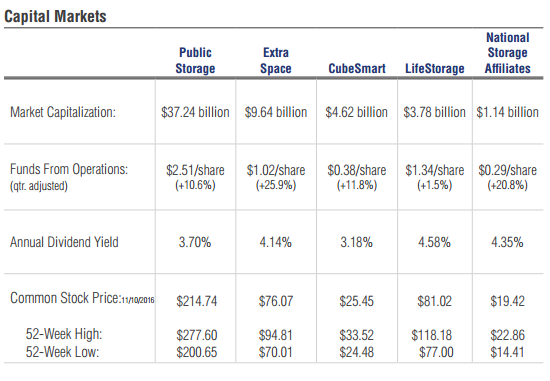 Source: MJ Partners
Last week, NSA announced a dividend increase from $0.22/quarter to $0.24/quarter. That increase is NOT reflected in the chart above. Currently, NSA's dividend yield is at 4.92%. The dividend increase was excellent news and indicates that NSA's dividend payout is sustainable and should continue to grow.
Here's a quick look at NSA's capital markets activities: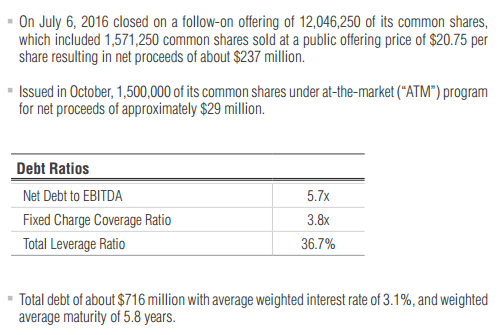 Source: MJ Partners
Summary and Valuation
National Storage Affiliates delivered a strong quarter, raised its dividend, and is executing on its growth strategy. NSA is growing revenue and FFO faster than its peers. The facilities it acquires are showing significant improvement as soon as it is under the NSA umbrella. Compared to PSA, EXR, CUBE and LSI, it appears that NSA is the most attractive storage REIT.
NSA is currently trading at 17.5x adjusted 2016 FFO. PSA and EXR trade at 21-24x adjusted 2016 FFO. PSA has traded as high as 27x FFO this year. Based on NSA's revenue growth, unique business model and improving operations, NSA should be trading at 21x FFO. Using 2016 FFO, that equates to a price above $23 per share. Using 2017 FFO, that equates to $28 per share. Looking forward, a $28 price target is reasonable.
Disclosure: I am/we are long NSA, JCAP.
I wrote this article myself, and it expresses my own opinions. I am not receiving compensation for it (other than from Seeking Alpha). I have no business relationship with any company whose stock is mentioned in this article.