For the first time in seven quarters, the total number of drilled but uncompleted wells (DUCs) in America grew. The Energy Information Association (EIA) recently began publishing information on the number of DUCs. The number of DUCs has grown significantly since oil prices collapsed two years ago. Oil market participants have been increasingly concerned regarding the potential overhang DUCs create for an oil price recovery.
Should oil prices recover, DUCs (which can be quickly completed and start producing oil) might flood the market with supply. That would keep oil prices range-bound and below sustainably profitable levels for U.S. shale oil producers. The primary driver of the growth in DUCs is the Permian Basin (as seen in the chart below, taken from the Energy Information Association's "Drilling Productivity Report - DUC Wells by Region").
The Permian Basin has been the subject of many claims with regard to the amount of oil available for recovery with the application of horizontal drilling and hydraulic fracking. A Wall Street starved for yield and growth opportunities has noticed. Further claims regarding the improvements in these technologies and the impacts they've had on higher initial production rates and flattened decline curves have sent a gusher of Wall Street capital into Permian plays.
This massive influx of capital from investors into companies focused on the Permian Basin and acreage acquisition funding has driven growth in drilling activity (i.e., rig counts) and a buying spree driving up acreage acquisition and stock prices to all-time highs. Clayton Williams Energy, Inc. (NASDAQ:CWEI), a Permian Basin pure play, has seen its market capitalization soar 2,668%. That is greater than 26x. (Its stock hit a 17-year low on March 20, 2016, of $6.25 with 12.17 million shares outstanding, and on Nov. 15, 2016, its stock hit an intra-day high of $117.90 with 17.49 million shares outstanding). CWEI is still highly unprofitable and its valuation has never been this high, even when oil was over $140 going to $200 according to Goldman Sachs, or when in 2015 CWEI had TTM EBITDAX of greater than $300 million (TTM EBITDAX is now below $100 million as of the Sept. 30, 2016, quarter end).
The recent surge in acquisition activity in the Permian Basin is expected to drive an additional significant rise in operating rigs and drilling activity in 2017. Investors who funded these deals are not eager to see their invested capital sit idle. The growth of American shale oil production from 2010 to 2014 (see chart below, taken from the Energy Information Association's "Shale in the United States," Oct. 19, 2016) contributed significantly to global supply and the surplus to demand that led to the collapse in oil pricing. America shale oil became a victim of its own success with over 60 companies going bankrupt since the 2014 downturn.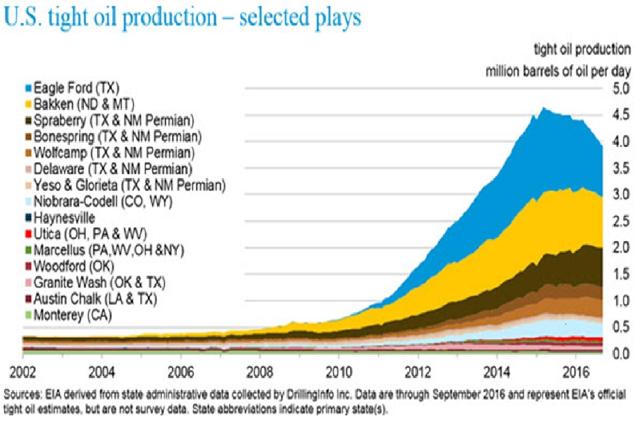 While many industry observers expected a 2015 oil price recovery, American shale oil E&P company production declined only slightly. Slow growth in global demand has been unable to sop up the difference, as prices have languished. 2016 started off even worse, with overall global production remaining strong. Recent OPEC and EIA monthly reports (see links) have highlighted the continued global supply/demand imbalance.
Oil prices have recovered some, but not to levels where American shale producers can earn profit amounts sufficient to cover the costs of capital, service debt, make continually higher investments in drilling to grow, and justify the costs of high priced acreage additions or current stock prices. But the cycle of boom and bust that defines the oil industry is upon us again. And while company balance sheets have improved with cost cuts and capital infusions, stock valuations for Permian Basin companies -- such as Concho Resources (NYSE:CXO), Parsley Energy (NYSE:PE), SM Energy (NYSE:SM), Resolute Energy (NYSE:REN), Callon Petroleum (NYSE:CPE), Carrizo Oil & Gas (NASDAQ:CRZO), RSP Permian (NYSE:RSPP), Diamondback Energy (NASDAQ:FANG), Pioneer Natural Resources (NYSE:PXD), Laredo Petroleum (NYSE:LPI), Oasis Petroleum (NYSE:OAS) -- are priced beyond perfection or any fundamental underpinning.
While the breakeven cost per barrel of oil for American shale producers has declined, much of the decline is due to cyclical factors, including: high grading, lower drilling and completion unit service costs, and lower operating costs. Rystad Energy, an independent oil and gas consulting firm, recently did a very nice analysis attributing and quantifying components of cyclical and structural cost savings. While rigs remain idle, other costs associated with drilling (e.g., labor) will respond quickly to increased activity driving up costs and lowering per barrel profits.
The growth in DUCs should give investors pause to consider the impact that these untapped wells might have on any potential price recovery in oil in the short term and longer term. DUCs and increasing drilling activity will mean another year of unfilled hope -- we believe 2017 oil prices will remain at levels where American shale producers will remain unprofitable.
Disclosure: I/we have no positions in any stocks mentioned, but may initiate a short position in CWEI, PE, REN, CXO, FANG, EGN, SM, OAS, CPE, CRZO, MTDR, EPE, LRE over the next 72 hours.
I wrote this article myself, and it expresses my own opinions. I am not receiving compensation for it. I have no business relationship with any company whose stock is mentioned in this article.