Petrobras (NYSE:PBR) has been a great stock to own for the past year. With a 215% price increase on its stock in a year. The stock has rebounded to 11.28 from past years low ($3.5 USD). This has left investors wondering: Will the price rise further?
Petrobras Price/Book is at 0.98x and Price/EBITDA is at 5.33x. With such ratios, one would think the stock is a compelling buy. Supporting that argument is a market capitalization lower than a year of sales (0.71 Price/Sales) and many other valuation metrics that are way below the oil industry.
I believe the actual price of the company does not reflect current financial conditions. At 11.54 USD per share, the stock is trading at levels that were seen when WTI prices traded at 100 USD/Barrel. It is true the worst for the company has passed, but there are some issues that must be considered before thinking on holding or buying the stock.
Risk 1: Petrobras is still close to bankruptcy.
The company has been on the verge of bankruptcy for a couple years. Even though its situation has improved, financial conditions remain very vulnerable. One of the most common ways to asses if a company is under financial pressure is by using the Altman Z model. This model states that any company with a score below 1.80 is at the risk of becoming bankrupt. With that in mind, I made an Altman Z calculation for Petrobras.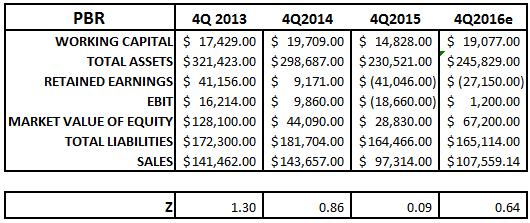 By looking at the results we can see that the score approached zero on 4Q2015 and will be below 1 for 2016. This implies the company is at risk of becoming bankrupt. I am not saying that the company will certainly go belly up, but this is a measure that helps us understand its poor financial fitness. The only reason I believe the company survived 2014 was the perception that the company is "too big to fail" for Brazilians.
In order to make results comparable, I estimated 4Q2016 values by annualizing income, working capital and retained earnings stated on 3Q2016. The only changes made were a 1.6 billion USD deduction from assets that were matched with a 1.6 billion USD decrease on debt. Not until February 8th will we be able to know the actual result for Z, but I believe it will not be very different from what is shown in the table.
It is true that the Z score has had huge improvements since 2014. Sadly, other oil companies have better scores than Petrobras. As of 4Q2015, XOM had an Altman-Z score of 3.9511 while Petrobras had a 0.09. The difference is staggering and shows how difficult will be for Petrobras to achieve multiples similar to the industry. Therefore, investors should look at bankruptcy as a current risk instead of a past issue.
Risk 2: The stock is priced as if WTI was at 100 USD/Barrel.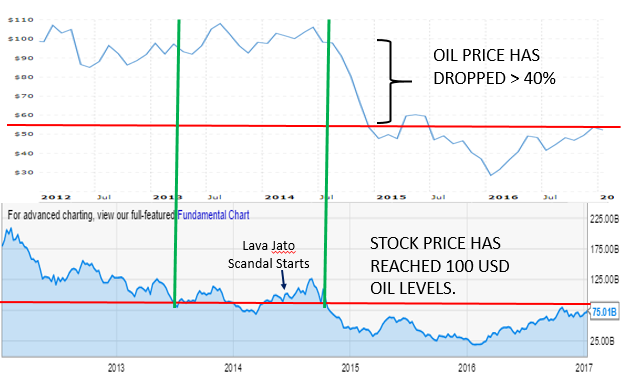 On 2014, WTI was trading around 100 USD/Barrel and Petrobras had the same market value as today. I believe the market is overexcited with the company and has not acknowledged that the main source of income for the company is 40% less valuable. This has not reflected in sales as the company is pumping oil at record levels to avoid bankruptcy and depleting its reserves faster.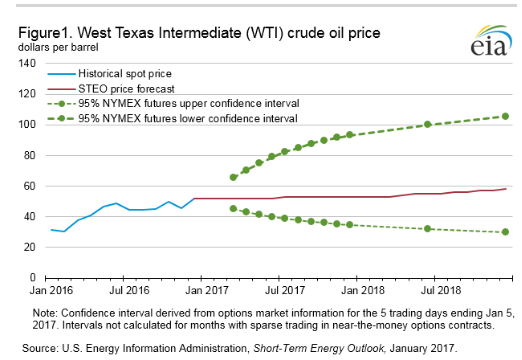 Looking at the EIA projections, WTI is not expected to go above 60 USD per barrel for 2018. This will cap the financial performance of the company, probably forcing further asset sales to keep the company afloat to repay debt.
On 3Q2016, WTI traded at 44.85 USD/Barrel on average. This allowed the company to earn a 1% operating margin and report a 9% Net Loss. Therefore, any price point below 45 will probably result in losses for Petrobras i the future. For 4Q2016, average price for oil was 49.14 USD/Barrel. If the company fails to provide a profit in such quarter, investors might see reality and reverse the stock price to realistic levels (Around 9 USD per share).
Conclusion
I believe the worst has passed for Petrobras as divestitures and current oil prices support a positive review for the company. Petrobras stock seems to be priced in a "rosy" scenario. This seems disconnected to fundamentals. Investors should be aware that Petrobras is still vulnerable and lots of volatility could be expected in the stock if oil prices go down or the company has a hard time selling assets to repay its debt.
Update, 01/15/2017: There have been several comments regarding the article implying that Petrobras will go bankrupt. I am using the Altman Z calculation as a way to show how stressed financials still are. But I do not expect the company to be in real trouble unless WTI trades below $40 USD/Barrel.
Regarding price performance, I believe the price is high compared to the financial reality of the company. I also believe that if the company continues paying debt and WTI helps the company, price will go above for long-term investors (more than 5 years).
Disclosure: I am/we are long PBR.
I wrote this article myself, and it expresses my own opinions. I am not receiving compensation for it (other than from Seeking Alpha). I have no business relationship with any company whose stock is mentioned in this article.
Additional disclosure: I am not responsible for any invesment decision made based on this article. Please remember to do your own dilligence before buying or selling any investment.