Gilead Sciences' (NASDAQ:GILD) price makes it a tempting stock to buy, despite a lackluster pipeline and falling sales for its blockbuster hepatitis C drug franchise. The crux of the problem for Gilead is that it is essentially three business combined in one company. It has a steady state HIV treatment business, and shrinking hepatitis C treatment business, and like almost all pharmaceutical companies, an ongoing R&D business. However, the company trades at a price so low investors are able to purchase its HIV franchise and get the rest of the company for free.
Gilead HIV and Hep C Businesses
Gilead's HIV business consists of a multitude of anti-viral drugs that help prolong the life of patients with HIV. Indeed, the drugs are so effective the disease is no longer a death sentence. Gilead benefits from substantial pricing power (the drugs are life-saving) and the fact that patients need to take the drugs daily for the rest of their lives.
The chart below shows the annual sales of Gilead's major HIV treatments: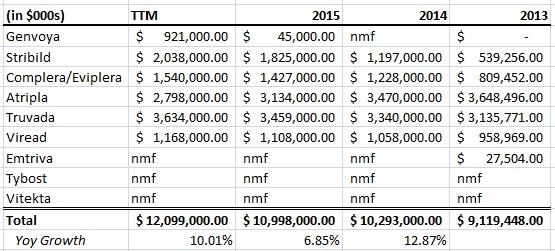 We can see that annual growth averages around 9% per year. With patents on many of the major drugs extending out to 2030 we would expect sales to continue to compound at an attractive rate.
Now contrast this with Gilead's hepatitis C drug sales. After an initial surge in sales from 2014 to 2015 sales have been declining and are likely to continue to decline. The chart below shows the sales for Gilead's two main hep C drugs for the first nine months of their fiscal 2016 year.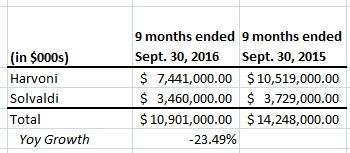 The problem for Gilead is three-fold. First, there was an enormous amount of pent up demand for the drug from existing hep C cases. Second, unlike patients with HIV, patients being treated for hep C do not need to take Gilead's drugs for the rest of their life so the market is much less lucrative. Finally, there is increasing intense competition from other major pharmaceutical companies such as Merck (NYSE:MRK) and AbbVie (NYSE:ABBV).
Valuing Gilead Sciences
Luckily for us Gilead trades so cheap that we don't need to figure out the trajectory of the hep C market. We also don't need to make any judgments about the value of Gilead's pipeline. The value of Gilead's HIV franchise alone is worth the current stock price.
We know that most HIV drug sales should continue to grow out to at least 2030 which is when Gilead's last patent expires. The company has been able to extend patents by combining multiple drugs into one compound so tricks like this could extend patents even farther. We were conservative in our approach to sales by projecting only 6% annual increases rather than the 9% average over the past three years. We used profit margins of 77% which is Gilead's operating margin before R&D costs (we are valuing their pipeline separately) for the last fiscal year. We also used a discount rate of 10%.

Using those numbers we get a net present value of $109B for Gilead's HIV drug franchise. Considering the company has no net debt and currently has a market cap of $92.71B we are basically getting the rest of Gilead's businesses plus some cash for free.
The full valuation is below.
| | |
| --- | --- |
| Gilead | Value |
| HIV franchise | $109,885,505 |
| Cash and short term securities | $12,266,000 |
| Long term securities | $19,343,000 |
| Long term debt | -$26,371,000 |
| Sub total | $115,123,505 |
| Value of Hep C franchise | ? |
| Value of pipeline in excess of R&D costs | ? |
| Value of Gilead | $115,123,505 + ? |
Investors are essentially looking at Gilead and predicting saying that not only is the company's pipeline worthless but it is going to squander a substantial portion of its cash, profits from its HIV drugs, and remaining hepatitis C sales and that no value from those assets will accrue to shareholders.
We believe that is highly unlikely and at current prices Gilead Sciences offers a very attractive risk reward ratio. There's no catalyst for reversing the valuation mismatch in sight but for investors buying assets for less than their market value is usually a sound strategy. We are seriously considering purchasing Gilead for one of our portfolios.
Disclosure: I/we have no positions in any stocks mentioned, but may initiate a long position in GILD over the next 72 hours.
I wrote this article myself, and it expresses my own opinions. I am not receiving compensation for it (other than from Seeking Alpha). I have no business relationship with any company whose stock is mentioned in this article.