Gilead Sciences (NASDAQ: GILD) investors had some reason to celebrate when the biotech company reported fourth quarter and full year earnings on Tuesday. Revenue for the quarter beat consensus estimates by $150 million with $7.32 billion reported. EPS beat by $0.09 with a reported $2.70. The company also boosted the dividend by 10%. But Gilead shares have still dropped over 8% as of Wednesday close because of the weak 2017 guidance that highlighted the company's dependence on its Hepatitis C treatments and the fact that the class of drugs, by design, erodes the potential patient base.
Does the lowered guidance spell doom for Gilead? Not exactly.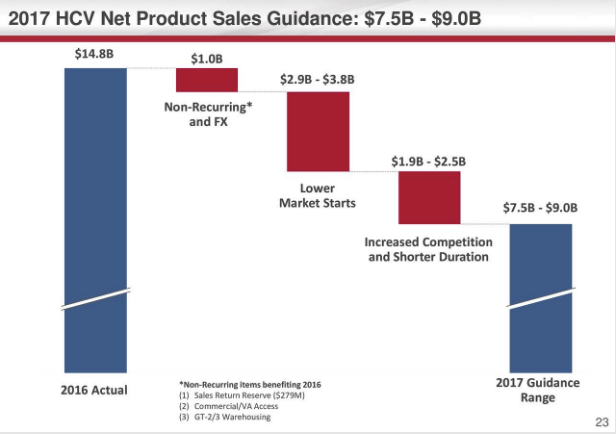 (Article slide sources: Company's earnings presentation)
HCV Patient Pools Will Organically, Continually Shrink
Gilead broke down the reasoning for lowering 2017 guidance by product category, which is just HCV and non-HCV. On the HCV side, the 2017 revenue guidance dropped below this year's reported revenue largely due to an anticipated drop in market starts, which could erode up to $3 billion in sales.
Lower market starts refers to the fact that a decreasing number of patients will need HCV treatment because the existing HCV drugs have high success rates at completely curing the disease relatively quickly. The earlier the disease is caught, the faster the treatment time so Gilead's drugs are going from an entry market rich with later stage HCV patients requiring a 24-week dose or 12-week dose down to a market of early stage patients, who also have the option of postponing treatment for longer, requiring an 8-week dose.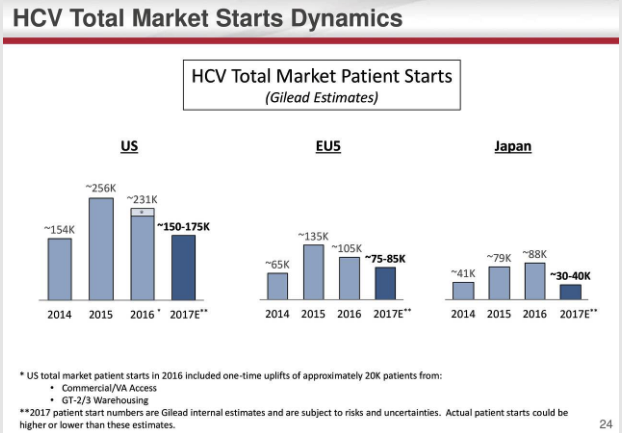 Gilead's staple HCV products saw substantial annual revenue drops compared to the prior year with Harvoni down 34% to $9.1 billion and Sovaldi down 24% to $4 billion. Both drugs saw plummets in the fourth quarter with drops of 51% and 65%, respectively. The drugs are facing rising competition from Merck's Zepatier, which gained fast market share due to steeply discounted price compared to other combination treatments.
Gilead does have some growth hope in Epclusa, which received FDA approval last summer and closed out the year with $1.75 billion in sales even with a soft European launch.
Epclusa is a unique HCV treatment because the drug was approved to treat all six genotypes of the disease including the difficult to target genotype 3 and genotype 2, which typically requires a duo of drugs for treatment. The drug has a relatively low market price compared to other HCV drugs: $74,760 for full Epclusa regimen, $84,000 for Sovaldi, $94,500 for Harvoni, and $147,000 for a combo treatment of Sovaldi and a Bristol-Myers Squibb drug often prescribed for genotype 3 patients. Merck's Zepatier is far cheaper at $54,600 but is only approved to treat genotypes 1 and 4.
Epclusa's "all genotypes welcome" indication and its lowered price, which is an easier sell for insurance companies, might make more early stage patients opt for this treatment even though it is a 12-week regimen. And Epclusa could become Gilead's best chance at holding back Merck.
HIV Drugs Holding On
Gilead's 2017 guidance for non-HCV products looks much healthier thanks to the continued success, or at least holding on, of the company's key HIV drugs.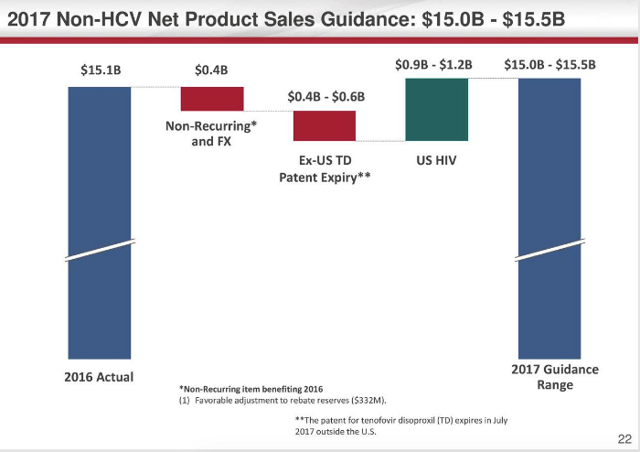 Sales of key combination drugs Truvada and Stribild were both up for the year. Truvada sales were up 3% to $3.6 billion in 2016 while Stribild rose nearly 5% to $1.9 billion. Older drug Atripla dropped nearly 17% to $2.6 billion as newer, safer drugs came along.
New drug Genvoya brought in $1.5 billion in its first full year of sales. Genvoya quickly became the go-to drug for new HIV patients and those having poor results on other regimens because the drug has better efficacy and safety profiles than many predecessors. The problem is that many of those switching from other regimens are switching from other Gilead products. Company management admitted during the earnings call that a mere 10% of Genvoya patients come from competitor's drugs.
Pipeline Potential
Gilead needs some pipeline help to come through, get approval, and offset those HCV losses.
JAK1 inhibitor filgotinib, a partner drug with Galapagos, has separate Phase III trials underway for Crohn's disease and rheumatoid arthritis with a newer ulcerative colitis late-stage trial enrolling, according to the earnings call. The Crohn's trial dosed the first patient in November and will finish up in late 2019. The rheumatoid arthritis trial is running several months behind a similar trial from a potential competitor from AbbVie, which in turn is running quite far behind Gilead in the Crohn's indication. The race will come down to the final efficacy and safety data for both indications.
The other pipeline drug that grabs investor attention is selonsertib for treating nonalcoholic steatohepatitis (NYSEARCA:NASH), a life-threatening fatty liver disease. While NASH is a disease with unmet treatment needs, selonsertib has not shown signs of successfully filling that void. Selonsertib has flunked out of several other indications and the Phase II NASH data the company reported in November was okay but not as convincing as some solid Phase III results.
Gilead has initiated Phase III NASH trials targeting patients with the hardest to treat F3 and F4 fibrosis scores, according to the earnings call. The drug might pull through, pass all the trials with flying colors, and go on to blockbuster potential. But I'd rather put my money on that JAK1 inhibitor up there.
Final Thoughts
The 2017 guidance created a small panic but if you invested in Gilead for the HCV potential, you likely knew that the size of the patient pool would quickly shrink due to the nature of the drug. Epclusa stands as the company's best chance at grabbing back some market from Merck. The HIV segment is holding in there with Genvoya showing room for growth, even if some of that comes from cannibalization. And many other companies would love to have the sales numbers Gilead's "shrinking" drugs are posting - and the high margins these products provide.
Gilead needs to keep moving forward with the pipeline, potential acquisitions, and competitive pricing that can keep that HCV market share from eroding faster than needed.
Disclosure: I/we have no positions in any stocks mentioned, and no plans to initiate any positions within the next 72 hours.
I wrote this article myself, and it expresses my own opinions. I am not receiving compensation for it (other than from Seeking Alpha). I have no business relationship with any company whose stock is mentioned in this article.