This report covers the week ending March 31, 2017. Daily data for March 24 to March 30 is estimated. Daily data to March 31 is forecast.
Total Supply/Demand Balance
We estimate that total demand for American natural gas fell to around 495-497 bcf this week (down 7% w-o-w, but up 1.4% y-o-y). National consumption continued to decline in annual terms, but exports' contribution completely offset this trend. Pipeline nominations to Mexico and Canada are up more than 10% y-o-y, while liquefaction demand surged by more than 400% over the same period due to a very low comparison base. The deviation from the norm decreased from just over +10% last week to around +4% this week.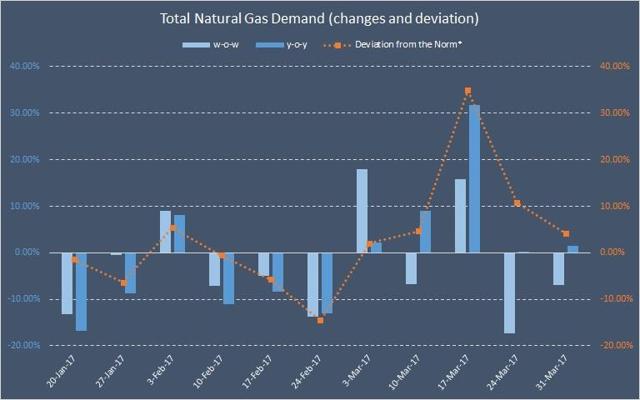 Source: GeckoiCapital
* norm defined as simple average over the last nine years
Due to seasonal pipeline maintenance, production was weaker than last week. Imports from Canada also declined and total aggregate supply was down some 2% y-o-y. Overall, total SD Balance is expected to be positive at no less than 50 bcf, which is some 23 bcf above 5-year average for this time of the year. Please note, that total SD Balance does not equal storage flows.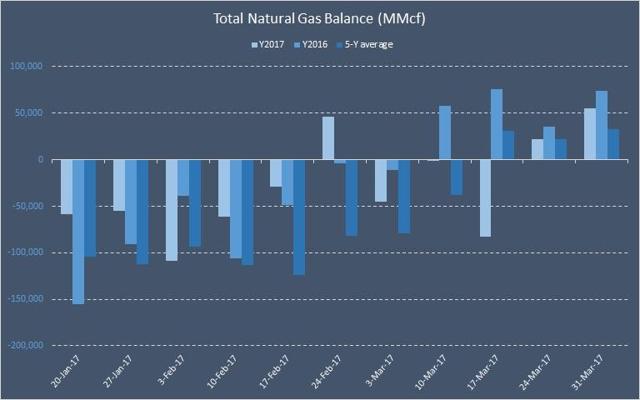 Source: GeckoiCapital
Storage
Today's EIA report came exactly in line with our expectations of -43 bcf. Although our first publicly released estimate was -40 bcf, we revised it to -43 bcf this Tuesday. As we said in our previous Natural Gas Weekly: "traders may wish to rethink their excessively bullish expectations." That is exactly what they did. According to ICE reports, the expectations for the total of four reports went up from +14 bcf on March 22 to +26 bcf on March 27. Our expectations gap indicator has, therefore, narrowed. However, that narrowing was not accompanied by a corresponding decline in price, which is surprising. The reason is probably that the market is less concerned about mid-term fundamentals and more focused on the structured imbalance and the end-of-injection season storage forecast.
Currently, we expect EIA to report an injection of 10 bcf next week (final estimate will be released next Tuesday). Our projection is 2 bcf higher than the comparable figure in ICE's latest report for EII-US EIA Financial Weekly Index, implying a potential "bearish surprise".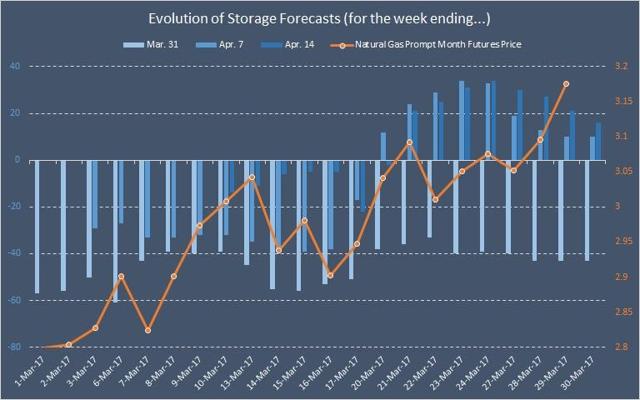 Source: GeckoiCapital
Storage projections for the weeks ending April 7 and April 14 have been getting more bullish since last Friday. However, the injections in the next two reports are still expected to be above last year's level.
Disclosure: I/we have no positions in any stocks mentioned, and no plans to initiate any positions within the next 72 hours.
I wrote this article myself, and it expresses my own opinions. I am not receiving compensation for it (other than from Seeking Alpha). I have no business relationship with any company whose stock is mentioned in this article.