Note: Kroger's 2Q17 10-Q was posted on Friday. While the below article is event-driven not data-driven, I always encourage potential and current investors to spend some time reviewing a company's underlying financials. You'll be surprised what you learn.
Kroger (NYSE:KR) has been taking a beating in the markets due to a perception that life after Amazon (NASDAQ:AMZN) will result in a much reduced (if even existing) grocer. Kroger bulls and bears have been pretty passionate on the topic (see the comment section of any recent article), with the primary ground for debate centering around how Amazon (and Aldi, Lidl, etc.) will simply undercut Kroger to the point of no return.
While I'm doubtful economic pressures will allow margins of basic brand name grocery products to get much lower than they presently are, let's say for a moment that this occurs. What can Kroger do? A better question - and one I will address in this article - is what Kroger currently is doing (Note the important distinction of "basic brand name grocery products").
There are many opportunities for Kroger to grow even facing these headwinds. In fact, some of these opportunities are right out of Whole Foods' (WFM) playbook.
Just a quick note that below I focused only on ideas that a) demonstrated Kroger's commitment to continue moving beyond brand names and b) also felt would potentially impact both revenue and earnings. I intentionally left out changes such as home delivery and a more efficient in-store experience (e.g. ClickList). While these are needed, I believe they would only improve revenue and not the bottom line (especially home delivery).
I realize this article is lacking in the normal financials and/or technicals, but those have largely been covered elsewhere recently. The bear case has been loudly drummed that Kroger is completely at the mercy of its incoming competition, and while it is going to feel the squeeze, the company also has a lot of leverage and opportunities.
Reaching "foodies"
There's good reason why Kroger CEO Rodney McMullen emphasized "foodies" in his opening remarks on the 2Q17 conference call:
"Food retailing is more exciting than ever before, especially as more of us become foodies. Customers have nearly an unlimited number of options when you combine tastes, flavors and types of meals with the growing number of food outcomes that consumers are focused on. Those outcomes might include eating for health or for enjoyment, for example, or for lifestyle or performance reasons." (Emphasis mine)
Many basic brand name grocery items (with their low margins) typically aren't associated with terms such as "health," "lifestyle" or "performance." They could be associated with "enjoyment," but not in the way Mr. McMullen probably meant.
His statement was also an obvious shot across the bow towards Whole Foods. While Kroger is no stranger to the "foodie" perspective, there is a definite push towards these high-end products which also have high margins. Mr. McMullen also took a swipe at Whole Foods' historic whole paycheck image by stating:
"We are very proud of the role we've played for over a decade in making natural and organic products more affordable and accessible to America, especially for shoppers on a budget. We've always believed that our customers shouldn't have to pay higher prices just because a product is natural or organic."
I've seen two tangible ways that Kroger has increased its promotion of a "foodie" culture:
Prepared meal kits: While the recent industry focus has been on cost, what is sometimes lost in this calculus is the relative importance of convenience (and quality). Prepared meal kits are a high-margin way of reaching this need for convenience and quality. Kroger announced this week the introduction of "Prep + Prepared" meal kits, starting in a few locations.
Recent push of recipes: I'd surmise that there are two primary benefits from this recent push. The more obvious one is communicating Kroger's commitment to "foodie" culture and healthy/lifestyle eating. The second more subtle reason is that it allows it to promote and sell ingredients that a consumer might not otherwise buy (or buy from it) because it is needed for a given recipe. While it is fair to argue that many grocery chains provide recipes online, it is more about the visibility and types of recipes Kroger is communicating. It has a definite foodie vibe.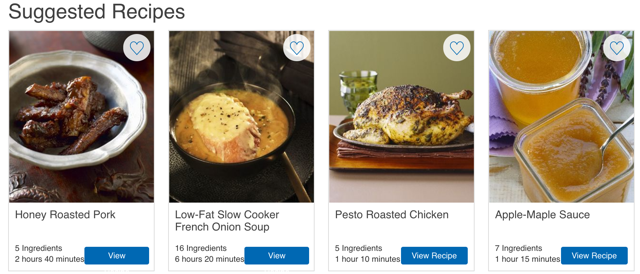 Kroger is increasing promotion of private label brands
"Customers get the best and most innovative quality at the best prices. We will build this momentum to be the premier private label destination in America." (2Q17 call)
One of Kroger's strengths it has developed over the past decade or so has been its private labels. If there is one area I believe investors have really sold Kroger short on, it is just how important and impactful its private labels are and can be. Private label products can have margins 8-10 percent higher than national brands. You read that correctly.
And private label products aren't just "knock offs." They can be completely unique product lines. Many of Kroger's "Simple Truth" natural and organic products would fall into this category. Customers are buying on more than value when that happens, increasing loyalty and store traffic (because they can't purchase it anywhere else). Kroger reported during the 2Q17 call that Simple Truth was a $1.7 billion category for the company, and it did $16 billion annually in natural/organic overall.
Kroger certainly makes serious margins on its private label (including via Harris Teeter), and you can anticipate that it will continue pushing these products, which should stabilize earnings in the event of a brand name apocalypse. It could also push revenue through its quality and unique private labels.
Kroger is expanding into the restaurant business
I can already anticipate the cynicism on this one, but here we go. Kroger announced this week the opening of its first full-service restaurant called "Kitchen 1883" (named after the year Kroger was founded). The concept, as described in its press release, includes "made-from-scratch menu, hand-crafted cocktails," which is literally the least Kroger-like description you can imagine. I still like that better than what is on its new website, which reads "The food you want to eat. A place to feel happy." Cringe. Someone get Don Draper on the phone with Kroger.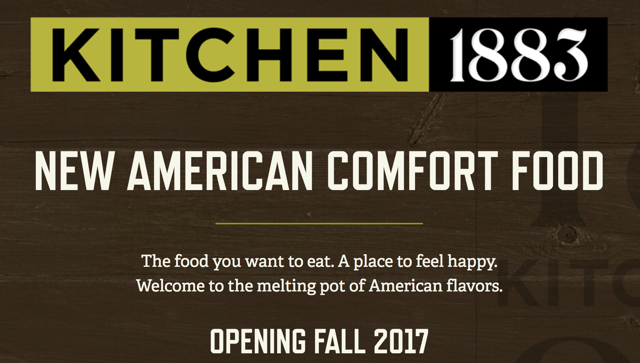 Screenshot from kitchen1883.com
While I'll concede that moving into the restaurant business - especially full-service dining business - is risky, what I like about this move is the pure corporate chutzpah of it. It demonstrates that Kroger is willing to take some risks and try to branch out. Try and build that moat, if you will. The downside of this failing is minimal to a company Kroger's size. It is starting with only one location and I'm confident it'll pull the plug on it (or not expand) if things go sideways.
It probably isn't a coincidence that its first Kitchen 1883 location will be within one of its new Kroger Marketplaces (this one being in Union, Kentucky). It is clearly part of a play towards a more upscale approach. One that, if successful, will mitigate losses from basic grocery margins.
I agree with Bloomberg that Kroger won't beat Amazon with a restaurant. But Kroger is trying to evolve, and there is very little downside, relatively speaking.
The Future
Kroger has great management and understands the need to innovate in order to survive. While it has a track record of being conservative, there are signs it's gotten a little giddy in its step and a little Amazon in its blood. I fully anticipate it's up to this challenge. Plus, some locations give free fruit to kids on every visit. Step up your game, Bezos.
Disclosure: I am/we are long KR. I wrote this article myself, and it expresses my own opinions. I am not receiving compensation for it (other than from Seeking Alpha). I have no business relationship with any company whose stock is mentioned in this article.