Crude oil activity is in what I believe to be a "priceless recovery," whereby drilling activity is recovering in the key places of swing production, even though the price of Brent Crude stays rangebound in the $50s. There are many important indications that we've reached a bottom in oil and gas activity, and this is thanks to a few things: Cost deflation in capital expenditures such as drilling and completions, continual innovations which make drilling more economical, and a persistent decrease in operating costs.
A good deal of these cost reductions are permanent, if we are to believe the management of most of many upstream companies. I do believe those forecasts, and I generally believe that one can therefore waive the 'all clear' signal in various parts of the oil and gas industry. That's not to say there won't be any more major bankruptcies, or more stress in certain areas, but I do believe that enterprising investors should start wading in to the energy names which stand to benefit most.
This article recommends three of those names, each of which I believe will be among the greatest beneficiaries of this 'priceless recovery,' a recovery I believe we are experiencing now. Two of the three pay a substantial dividend, while the third, I believe, will re-instate its dividend before too long.
In particular, deepwater offshore drilling has seen its worst, and from here I believe investors will find conditions steadily improving. The bottom in offshore drilling activity was marked by the dramatic Chapter 11 bankruptcy of Seadrill Inc (SDRL) and the equally dramatic acquisition of Atwood Oceanics (ATW) by Ensco PLC (ESV). This will provide the offshore rig leasing industry the consolidation it desperately needs. For this reason, I would like to recommend Transocean Inc (RIG), which is now the biggest offshore rig lessor of the publicly-traded companies.
Cost improvements and consistently low rig dayrates have made offshore drilling competitive with onshore shale, and in the long run, I actually give offshore drilling the advantage. Transocean sees the new average breakeven offshore at about $40 Brent. In important shale plays such as the Permian, companies are already adding rigs, and this is driving up fracking costs and bringing cost inflation to the Permian and other shale plays.
Not so in offshore, at least not yet. Rig dayrates have remained stable, which has made offshore drilling very competitive versus shale. Also, consider this: Offshore drilling has higher barriers to entry due to the sheer size of offshore projects. Offshore producers tend to be larger companies with deeper balance sheets. And don't forget, most offshore crude production is realized at Brent Crude or indicies tightly related to Brent, whereas onshore producers have to settle for the substantially lower WTI.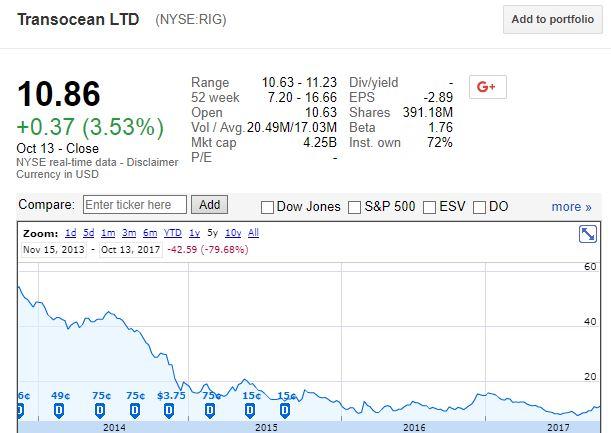 All this bodes well for Transocean. With the acquisition risk inherent in Ensco right now, I believe that Transocean is the most logical pick for offshore rig lessors. Shares of Transocean have been climbing lately, but, as you can see, we're a very long way from where they were a couple years back. Since then, Transocean has cleaned up its balance sheet and lowered its costs substantially.
If you want exposure to offshore drilling, but don't want to wait for that dividend, the train hasn't yet left the station on BP Plc (BP). BP is Britain's largest oil company, and is the biggest producer in the Gulf of Mexico. This integrated oil giant also has a respectable position in the North Sea. The Gulf of Mexico and North Sea are probably still the best place to do business when it comes to offshore drilling.
As of last quarter, BP was able to pay both its (much reduced) capital expenditures and its 6.15%-yielding dividend from organic cash flow. That does not count ongoing payouts related to the Deepwater Horizon accident, but those payments have crested and will be declining in the years to come.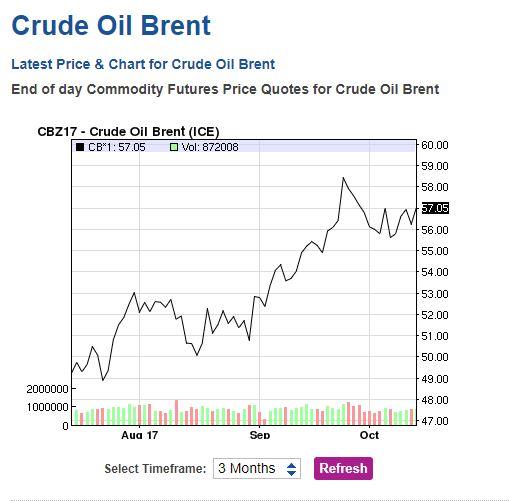 I expect BP's performance in the third quarter to improve significantly, mostly because Brent Crude has been higher over the third quarter. With much of BP's production coming from offshore, and with breakevens at just $40 Brent, BP should generate a lot of excess cash flow in the third quarter. If the company could trend water in Q2, it will have done a lot better than that in Q3. I'm not sure where the price of crude oil will go, but I do know that BP is poised to do very well at this crude price. I would not expect any dividend hikes, however, as the payments from Deepwater Horizon are still substantial, and the company may want to increase capital expenditure if crude prices stay here. Nevertheless, I do really believe that BP is well situated for the 'priceless recovery,' particularly because of its strong offshore assets.
The picture in the shale is a bit different. Schlumberger Inc (SLB) is also very well positioned for a 'priceless recovery,' but for a different reason. Schlumberger is the world's biggest publicly-listed oil servicer, and the company has big exposure to fracking services in North America. Since cost inflation has already begun in some important shale areas such as the Permian Basin, Schlumberger is in a very good spot by which to take advantage of that. Cost inflation for upstream producers will ultimately flow to Schlumberger's bottom line.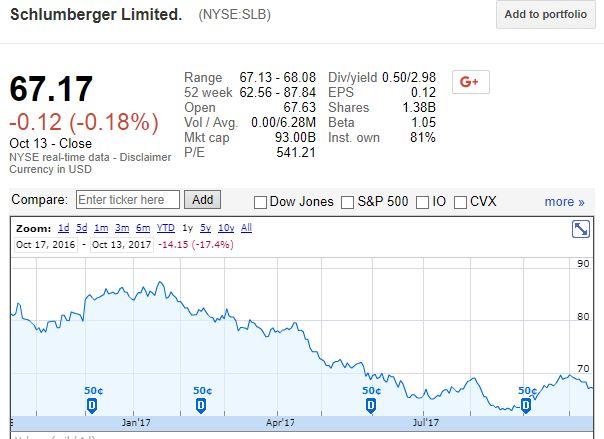 Courtesy of Google Finance.
Schlumberger yields a solid 3%, with an excellent balance sheet that will allow for more dividend increases when it becomes increasingly apparent that this recovery is a real thing. I see good potential for big dividend increases in the future, because Schlumberger doesn't really need to do any work to "repair" it's balance sheet. That balance sheet is already in pretty good shape. This is one of those cases where investors can ride the cost inflation we're already seeing in the Permian Basin. Much like BP and Transocean, Schlumberger is nowhere near where it was a couple years ago.
Also like the other two, Schlumberger has lowered operating costs permanently and is a much stronger company than it was coming into this downturn. In other words, crude oil doesn't need to recover to where it was in 2014 for Schlumberger to reach comparable margins.
Conclusion
These are three blue-chip energy names that will do very well in a "priceless recovery." Not all oil and gas names will do well in this environment, and some large names may yet go bankrupt. Thankfully for us, investors have a wide array of world-class energy companies to choose from, many of which are still badly beaten up. These three companies, Schlumberger, BP and Transocean, are great examples of just that.
If you're interested in any of these names, feel free to follow me here on Seeking Alpha. I am personally long Schlumberger and BP, and I intend to provide update articles when doing so is material and relevant. I also have a Marketplace service for dividend investors which allows me to provide comprehensive, timely coverage on some ongoing investment theses, in articles which would not otherwise fit the 'free' article mold here. I encourage you to take a risk-free look at that as well.
Disclosure: I am/we are long SLB. I wrote this article myself, and it expresses my own opinions. I am not receiving compensation for it (other than from Seeking Alpha). I have no business relationship with any company whose stock is mentioned in this article.