It has been a volatile few weeks for the Loonie. Here are my reasons why we could see the Loonie go weaker especially against the Dollar.
1. Breaking down GDP
The growth in the real estate market means that GDP growth has a relatively high weighting towards certain sectors. These include construction, broker dealer fees, real estate rental, etc.
The growth of the "Real Estate Rental & Leasing" sector has been growing from a low 10.83% in July-2000 to 12.92% as per the May-2017. Canadian housing broker commissions as a percentage of GDP has recently reached just below 2%.
Prices following the implementation of foreign tax and China's capital controls have provided drag in the momentum of the property market. Signs of this detrition can be seen in the recent Building Permits which lagged expectations; -5.5% vs. an expected -1.0%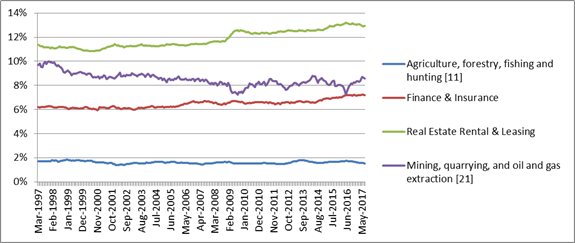 Oil and gas have somewhat stabilized despite the relatively low oil prices, but I do not see it picking up the slack for the weakening fundamentals in the property sector.
I expect the property market to drag on the economy going forward (more on this below), so we are likely to see a further decline in the GDP numbers in the coming prints.
2. Balance of Trade, U.S. impact
Since January, the USD/CAD has declined by over 10%. When you suddenly have a drastically stronger currency vis-à-vis your largest trading partner, basic economics will tell you the balance of demand and supply will be affected.
The higher prices realized by currency moves will result in lower demand for your products while your exports look expensive, making demand drop.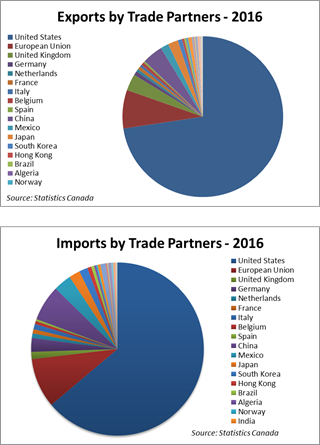 75% of Canadian exports go to the U.S., while 66% of Canadian imports are from the U.S. This balance is also not in favor of Canada, having a declining trade Surplus to the U.S. which looks to weaken further in light of the above evidence.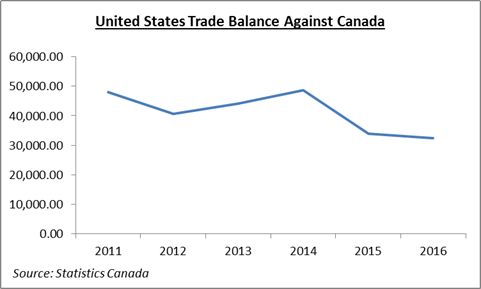 2.5. Potential Black swan - Housing Bubble
If one were to do any form of research into the Canadian economy, there is little doubt there will be questions raised regarding the state of the housing market.
This outcome is not something that can be ignored, especially given the meteoric rise in the housing prices. Particularly when comparing the Canadian housing market against the U.S. market.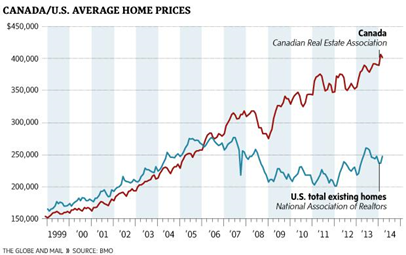 This increase could be attributed to high levels of speculation. The significant difference between Vancouver vs. Halifax could be evidence of the investor preference for more populated cities.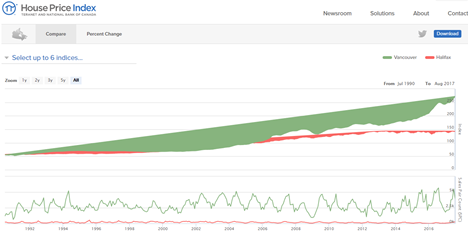 Source: Housing Price Index
Some pundits are raising questions about the ability of homeowners to finance their debts with the two recent rate hikes.
While I am a proponent of Ray Dalio's debt cycle theory (I know this thought can be traced back to Ludwig von Mises and Friedrich Hayek), it is the one that is most familiar to me. But if there is one lesson that I have learned particularly this year, it is that something overvalued can get even more exaggerated.
What will cause the bubble to pop? In the U.S. mortgage bubble and the Japan property bubble, each had a tipping point. I do not see it yet for Canada.
LTV per household ratios appears fine
Some point to the higher interest rates after the recent two rate hikes as a potential problem.
However, a typical mortgage structure in Canada is a 25-year loan with a 5-year initial fixed lending rate. Meaning, existing homeowners will not be affected for the next few years.
The bubble could have systemic effects then, but it does not appear to be now.
If the speculation market is so rampant by Chinese buyers, I do see a potential risk of devaluation in the Chinese Yuan after the recent electoral. However, I do not have evidence of this at the moment.
Technical Levels
I am personally a believer in a stronger dollar going forward, this due to Triffin Paradox and the impact of the Euro Dollar Market.
As at the time of writing the 1.2770 level appears to be a potential neckline, providing an extention to 1.3423 levels. However, i would like to see more consolidation to confirm the neckline befpre committing.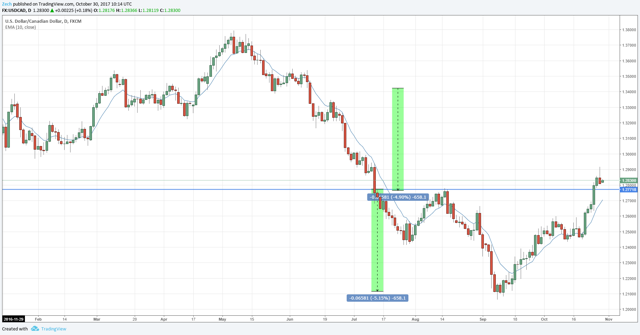 Source: Tradingview
Summary
Regardless of a potential black swan event, the slowing housing market will inevitably affect GDP; the stronger Loonie also does not look favorable for trade. These factors provide evidence for me to target a short-term weaker Loonie.
Disclosure: I/we have no positions in any stocks mentioned, but may initiate a long position in FXC over the next 72 hours.
I wrote this article myself, and it expresses my own opinions. I am not receiving compensation for it (other than from Seeking Alpha). I have no business relationship with any company whose stock is mentioned in this article.