The Complete Cannabis Guide #1: Production Cost
Summary
Cash production cost is an important metric for cannabis industry.
Top cannabis producers report cash cost differently.
Aphria is the lowest cost producer while Aurora has the highest cash cost among top producers.
All amounts in C$ except otherwise noted; market data as of Friday, Jan 5.
We are excited to launch our Complete Guide to The Cannabis Industry series that aims to equip investors with the knowledge they will need to analyze cannabis companies and make informed investment decisions in this sector as Canada is heading for full legalization by July 2018. In this article, we will discuss production cost, a metric cited by many but few understand fully given the non-IFRS nature and different definitions employed by producers. We will examine the top 4 producers but also wanted to point out that most other producers still don't publish cash cost per gram (such as Kronos Group (MJN.TO) and CanniMed (CMED.TO)).
For the cannabis industry, production costs are important, given it is the single largest cost of producing cannabis. Management uses this measure to track production cost trends and assess the sensitivity and tolerance for pricing changes. For investors, it is important to understand which producers have cost advantage in order to help assess competitiveness and profitability. While the Canadian cannabis industry is still relatively new and investors are avidly awaiting full legalization in July 2018, we will try to break down the various cost metrics being reported by the top 4 Canadian producers based on market capitalization. While we can't analyze every cannabis company out there, we hope this article provides a useful and practical framework for investors to analyze any producers you find interesting going forward.
Follow us for more Cannabis industry analysis and investment ideas! Also, for a detailed overview of the Canadian marijuana industry and analysis on the market leader, Canopy Growth (TWMJF), take a look at our recent article "Canopy Growth: Best Way To Play the Cannabis Industry".
Canopy Growth (WEED.TO)
Canopy is the largest publicly traded cannabis company with a market capitalization of C$6.5 billion. Canopy calculates its weighted average cost per gram before harvest, post-harvest and after shipping and fulfilling:
Cost to harvest (from cloning to harvest): includes all the cash operating costs including growing, utilities, nutrients, rent, and allocated overheads.
Post-harvest costs: cash operating costs related to the production of value-added products, including oil and soft gel capsules. Also includes cash costs of trimming, milling, drying, lab and testing and allocated overheads.
Shipping and Fulfilling: cash cost related to delivery, royalties under licensing agreements (i.e. Snoop Dogg), packaging and materials

Source: company reports
During Q2 2018 that ended on September 30, 2017, Canopy reported cost per gram to harvest of $0.72, compared to $0.99 same period last year. As Canopy continues to bring additional capacity online and optimize operations, we would expect cost to continue trending lower over time.
Aurora Cannabis (ACBFF) (ACB.TO)
Aurora is the second largest publicly traded cannabis company with a market capitalization of C$6 billion. Aurora reports cash cost of sales per gram of dried cannabis and also cash cost to produce each gram, which is what we will focus on in this article for comparative purposes. The calculation is as following:
Cash cost of sales: IFRS production costs and removing the effect of changes in fair value of biological assets, non-cash production costs, oil conversion costs, cost of sales from service revenue, and purchases from other Licensed Producers. Notice that Aurora started with reported cost of sales per IFRS and then removed the impact of fair value adjustments and the impact of oil conversion and depreciation costs to arrive at cash cost, similar to other producers
Cash cost to Produce: cash cost of sales less packaging costs.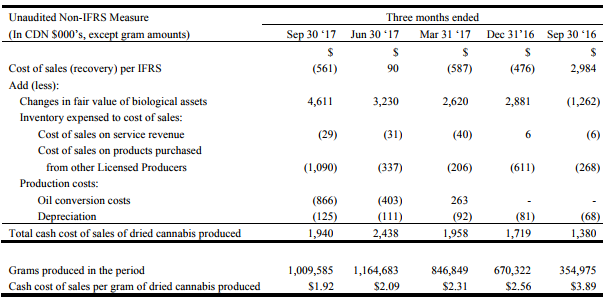 Source: Company reports
Aphria (APHQF) (APH.TO)
Aurora is the third largest publicly traded cannabis company with a market capitalization of C$3 billion. Aphria provides two metrics of cost per gram, "all-in" cost and cash costs per gram. The difference between the two metrics are amortization and packaging costs.
Production Costs (reported): Aphria's production costs include direct cost of materials and labour related to cannabis sold, including growing, cultivation, harvesting, QA, oil processing, packaging, labelling and amortization and PPE.
All-In Cost of Sales: Production costs less cost of accessories, oil conversion costs, and IFRS adjustments to inventory
Cash Cost to Produce: Cost of sales less amortization and packaging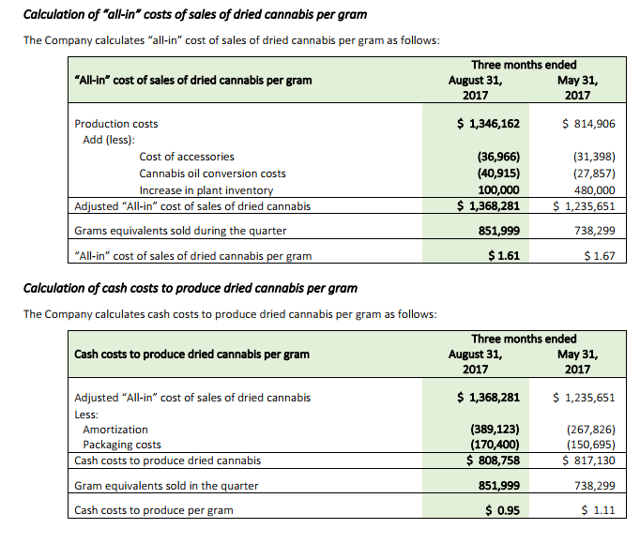 Source: Company reports
MedReleaf is the fourth largest cannabis company in Canada with a market capitalization of C$2.6 billion. MedReleaf calculates its cash cost per gram sold by removing post production costs from reported production costs:
Cash Production Cost: Reported production costs less all non-cash based costs (including amortization and inventory writedowns or impairments) and all post production costs
Post Production Costs: include indirect overhead expenses such as: equipment rentals, payment processing fees, indirect labour expenses, shipping and packaging expenses, cost of accessories sold, quality control expenses, and other order fulfillment costs included in production costs.

Source: Company reports. Note the typo in MedReleaf's disclosure above where "Amortization costs" should read "Production costs"
Compare Different Reporting Standards
Given the non-IFRS nature of cash cost to produce each gram, let's begin with a few observations on consistency and inconsistency across the 4 top producers we have examined:
All 4 companies calculate cost of production based on a cash basis. The calculation excludes non-cash adjustments under IFRS and other accrual expenses, which makes sense given the eccentric requirements under IFRS to record changes in fair value under cost of goods sold.
All 4 companies included cultivation costs related the production of cannabis, including growing, nutrients, utilities etc.
All 4 companies exclude packaging and shipping costs in their calculation of cash cost to produce.
Treatment for the following items differs among the 4 producers:
Oil Conversion Costs: Canopy is the only company that doesn't break out oil conversion costs while the other 3 producers excluded oil conversion costs to arrive at cost of dried cannabis. Canopy lumped oil conversion cost into post harvest costs and without breakdown of the constituents.
Total Grams: Aurora calculates cash cost per gram based on grams produced; others use grams sold.
MedReleaf: MedReleaf has the most different cash cost to produce among the top 4 producers. The company's reported cash costs exclude QA and indirect overhead. It is unclear whether post-harvest processing (trimming, sorting, lab and testing) is excluded, but most likely, yes, since QA is excluded in this case.
Below, we have summarized the key components of each company's reported cash cost to produce. In the case of Canopy, we are referring to its Cost per Gram Before Shipping and Fulfillment.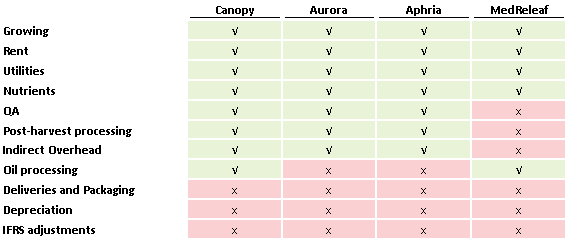 Source: Cornerstone Investments, Company reports
Putting It All Together
After we understand how each of the top 4 Cannabis produces report cash cost to produce dry cannabis, let's stack them up for a comparison. Before we reach any conclusion, let's review the limitations due to differences in how the reported cash cost is calculated.
Oil Processing: Canopy's reported cost before shipping and fulfillment and MedReleaf's reported cost to produce includes cost of oil processing, thus their production costs are overstated relative to Aphria and Aurora. Oil processing costs are not directly related to the cultivation of cannabis plant and represent a post-production value-add process. It is very difficult to adjust Canopy and MedReleaf's reported cash cost to exclude oil processing, given the limited information we have across disclosures from many produces. The disclosures are inadequate as most companies were small enterprises not long ago, and disclosure was not a priority.
An interesting observation is that in the latest quarter, Aphria's reported oil processing costs is $0.05 per gram, while Aurora's oil cost per gram was a whopping $1.42 per gram. Aurora did not disclose any more details around the extremely high oil conversion costs, so this is one of the red flags that we will continue to monitor and hopefully get an answer soon.
All-In Cost: We also calculated an "All-In Cost" that adds back packaging and fulfillment costs. We did not include depreciation and amortization, given that many companies are heavily investing in infrastructure that results in unusually high depreciation. Heavy M&A also results in high intangibles that result in higher amortization. We use all-in cost as a second proxy for overall costs of production and shipping.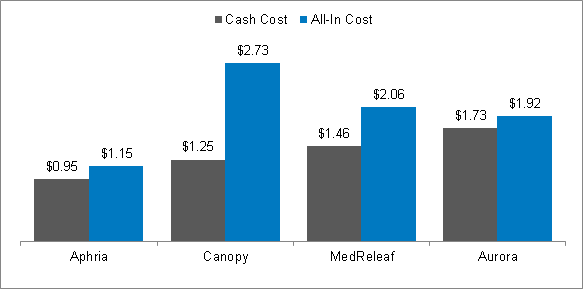 Source: Cornerstone Investments, Company reports
We can make the following observations
Aphria has the lowest cost among the top 4 producers. Aphria's low production cost has become the industry standard, enabled by the adoption of greenhouse. By using greenhouses and natural light instead of indoor artificial light to produce its crop, Aphria benefited from more sunlight hours and improved growing techniques to slash its "all-in cost" as well.
Aurora has the highest cash cost, and its extremely high oil processing costs also stood out from the group. Aurora also differs from other producers by using total grams produced, instead of total grams sold to calculate cash cost. In Q1 2018, Aurora produced 1.0 million grams while only sold 0.9 million grams, thus lowering its reported cash cost because production costs are only recognized in the period sales are recorded.
Canopy has the second lowest cash cost, but its all-in cost is the highest due to high marketing, fulfilling, and royalty payments. Canopy is the industry leader in product branding, marketing, and licensing. For example, it has licensing deals with Snoop Dogg that adds to the all-in cost but forms an important part of Canopy's overall marketing strategy.
Conclusion
We can use cash cost to look into a company's production capabilities and also management style and accounting choices. We found out Aphria has the lowest cost due to its greenhouse adoption; Canopy has a competitive cash cost but spends a lot more money on marketing, licensing, and fulfillment than its peers; Aurora has the highest cash cost even after adopting aggressive accounting by using total grams produced instead of sold.
As producers improve disclosure and reporting ahead of legalization, cash cost of production will become a common metrics increasingly adopted by the industry. However, the cash cost calculation is expected to remain different among producers. We hope this article shed some lights on the major components of cash cost and examples of differences among producers' calculations. As the industry continues to evolve and production profile stabilizes, production cost will become ever more important.
Afterwords
Next up, we will discuss production capacity, another important metric for the cannabis industry. Please leave a comment below for any feedback on this article as we look to continue providing valuable information to investors. Let us know if find this write-up helpful and what other information would you like to see in the future.
Disclosure: I/we have no positions in any stocks mentioned, but may initiate a long position in TWMJF over the next 72 hours. I wrote this article myself, and it expresses my own opinions. I am not receiving compensation for it (other than from Seeking Alpha). I have no business relationship with any company whose stock is mentioned in this article.
Editor's Note: This article discusses one or more securities that do not trade on a major U.S. exchange. Please be aware of the risks associated with these stocks.