Editor's note: Seeking Alpha is proud to welcome Roopa Upadhya as a new contributor. It's easy to become a Seeking Alpha contributor and earn money for your best investment ideas. Active contributors also get free access to the SA PRO archive. Click here to find out more »
Whether it is a sports journalist covering a live game or a financial analyst writing an elaborate article on the current state of financial markets, both enterprises are fraught with considerable rework. Just at the point when you think you have completed your report and retire for the day, you are faced to record a dramatic change in the state of reality which makes everything that you had written up until that point null and void.
Imagine having to trash your entire copy of the game which you were hoping to rush for print soon after the final whistle only for the losing team to make a dramatic comeback, thus ensuring a late night at work! This pretty much sums up my current predicament as I prepare to publish my first article in my area of "expertise" - the financial markets.
As I finish this article, the Dow Jones (DJI) has seen the largest single-day drop in a long time, and it looks like crypto mania is turning somber as well.
It's always nice to have a stock market which is surging and to see your portfolio swell. But as per thermodynamics, an overheated object tends to have an increased performance before it eventually burns out. Entropy is real!
Last week, we saw the Dow Jones crash 665 points; was it an indication of the seizing of an overheated engine? All eyes were on Apple's earnings (NASDAQ:AAPL), and despite its good earnings numbers and EPS of 3.86%, the market came tumbling down the very next day.
Let us look back at what has transpired over the last decade. It nearly took 7 years for the Dow Jones to recover from the slumps of the 2008-09 economic meltdown. At that time, the US had a high interest rate of nearly 4 percent. Central banks across the globe took dramatic measures to bring their economies back on track by slashing interest rates and a whole host of extraordinary fiscal policy measures. This helped sputter the global financial engine back to life. As a consequence, markets across the world, including the Dow Jones, retraced their pre-2007 highs around 2016. This can be seen exactly as the point of "Overheating" in the chart below. The next spike of 7000 points hardly took a year and fueled the growth of the market to an all-time high of 26,616.71.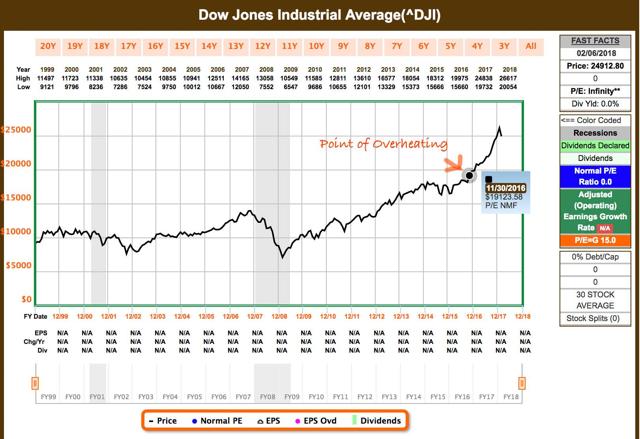 (Source: F.A.S.T. Graphs)
But a counter-argument can be made as to whether the markets are really overheated or retraced back to their pre-2008 levels after almost a decade.
If one sees the markets from this perspective, from a long-term standpoint, a case can be made that the bull phase is just beginning.
If one sees the technological advancement over the last decade since Lehman Brothers marked the catastrophe of the housing bubble, the world has indeed gone through a tectonic shift in advancement. It's hard to imagine that Apple released its first iPhone in 2008 - what seemed like a gadget from Star Wars. Fast forward a decade, looking at the evolution of the iPhone (aka smartphones), the advancement in battery technology, which has positioned the auto industry for a revolution, and finally, the advancement in Artificial Intelligence, which can be compared to when electricity was first invented and everything that transpired after it, we can make a case that we are in a unique place in human civilization where we are witnessing the world change in ways we cannot even imagine. If one translates that to value creation and, subsequently, its impact on the world of capital, financial markets are poised to make strong gains in the next few years.
Of course, no system is without entropy or turbulence, and it certainly is true when we look at the world today. Be it a belligerent country or currency wars, headwinds are always dime a dozen. The question is whether the forward thrust in advancement is greater than the ones opposing it. And this is an argument which, in most cases, does not have an objective answer, and hence, we have to accept the ebbs and flows of market opinion and maneuver the boat of our portfolios constantly.
Disclosure: I/we have no positions in any stocks mentioned, and no plans to initiate any positions within the next 72 hours. I wrote this article myself, and it expresses my own opinions. I am not receiving compensation for it. I have no business relationship with any company whose stock is mentioned in this article.