Back in July, I penned a post for this platform that took a closer look at the notion that because U.S. stocks are riding high while Chinese equities are mired in a bear market, the U.S. is "winning" the trade war.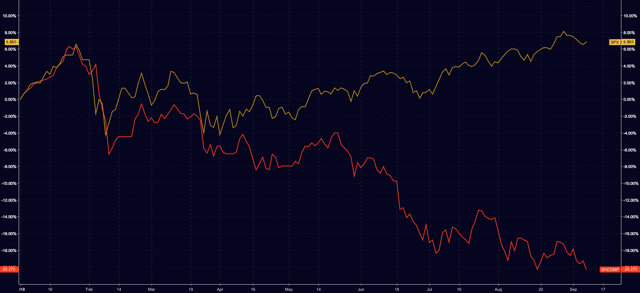 (Heisenberg)
Obviously, that proposition doesn't make a whole lot of sense on its face, because after all, stocks aren't trade. Clearly, the prospect of a protracted trade conflict with the most dynamic economy in the world (America's) isn't great news for China, and the trade frictions have indeed served to undercut sentiment when it comes to Chinese equities. But you can't just point to the S&P (SPY) and the Shanghai Composite, evaluate relative performance, and then make a determination about a trade conflict. That's so simplistic an idea that I'm not sure why anyone takes it seriously.
Even if that's how you wanted to evaluate the situation, the S&P's outperformance this year is hardly confined to mainland shares in China. U.S. stocks have outperformed almost everything and A-shares aren't the only thing that's in a bear market. Emerging market equities (EEM) on whole fell into a bear market last month, European financials are in a bear market, so are European autos, and copper slid into bear market territory in August as well. The trade war is a factor, but it is entirely likely that U.S. stocks would have suffered a similar (if less severe) selloff this year were it not for the fact that the same policies which have supported the dollar in 2018 (i.e., late-cycle fiscal stimulus in the U.S.) have also been a boon to U.S. stocks (e.g., the tax cuts catalyzing record buybacks and bolstering corporate bottom lines).
The combination of a stronger dollar (UUP), a Fed that's inclined to hawkishness, record U.S. profits, record buybacks from U.S. corporates and the possibility that a trade conflict could dent global growth even as stimulus prolongs the expansion stateside, is a recipe for U.S. equity outperformance.
The point, in case it isn't clear enough, is that there are a number of factors that explain the disparity between U.S. stocks and their Chinese counterparts and while all of those factors are in some way, shape or form attributable to the Trump administration's policy mix, you cannot simply point to the chart shown above and label it "winning the trade war".
Equally simplistic (and equally dubious), is the notion that trade deficits in isolation define "winning" and "losing" on trade. No economist takes seriously the idea that a trade deficit entails "losing". That's not an attempt to malign the Trump administration, it's just a statement of fact. Simply put, trade deficits aren't a measure of "victory" and/or "defeat" because for one thing, trade isn't a zero-sum game and more fundamentally, that's just not what trade deficits mean. Again: I'm not deriding anyone by saying that, I'm just stating a demonstrable fact of economics.
And look, it's a good thing you can't couch "winning" and/or "losing" on trade in terms of deficits, because if you could, the U.S. is "losing" badly to China as evidenced by the latest trade data out of Beijing which on Friday evening showed that the country logged a record surplus with America in August. Here's the chart, plotted with export growth: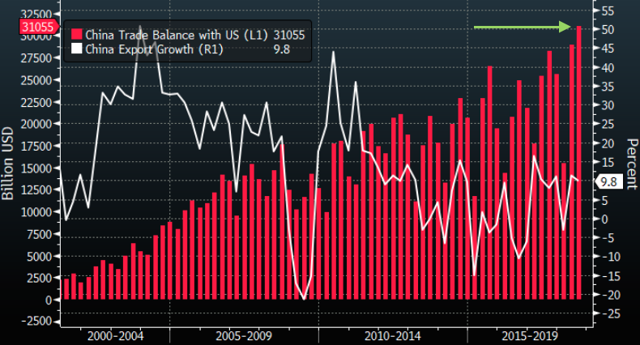 (Bloomberg)
That's only a "problem" if you're convinced that the singular goal of trade policy is to cut deficits. The issue for investors going forward is that the administration has gone out of its way at every possible turn to equate "fair" trade with deficit reduction, which means the latest data depicted in that chart is likely to exacerbate tensions and increase the chances of further escalations in the ongoing dispute between Washington and Beijing.
As you're undoubtedly aware, President Trump on Friday told reporters aboard Air Force One that tariffs on another $267 billion in Chinese goods are "ready to go" following the imposition of expected duties on an additional $200 billion in imports. The comment period on those latter duties expired last Thursday and while we still don't know if they'll be implemented or even what the tariff rate will be (25% or 10%), almost everyone believes the administration will move ahead with the levies.
There is no ambiguity on what China will do in the event those tariffs are implemented. Last month, Beijing said they would apply differentiated tariffs on $60 billion in U.S. goods "as soon as" the USTR makes it official on the $200 billion escalation.
The concern going forward is what that's going to mean for consumer prices in the U.S. A 25% tariff on another $200 billion in Chinese imports will affect the price of finished goods for U.S. consumers, it's just a matter of how much and if the USTR takes steps to try and mitigate the situation. As far as equities go, UBS was out last week suggesting that while U.S. stocks have partially priced in the next escalation, the S&P has not priced in a 25% levy on the list associated with the $200 billion in items that will be hit in the prospective next round. Here are some excerpts from the bank's note, dated September 6:
Our US econ team expects 10% tariffs on $200bn in China imports will be enacted by the end of September, which would reduce Q4 growth to 1.6% q/q. In our view, recent talks with the EU and Mexico help mitigate the downside scenario of the US fighting a trade war on two fronts, at least near-term. However, the prospect of 25% tariffs on the $200bn of China imports is not fully priced. Assuming half the growth hit in our escalation scenario per our US economists new Q4 forecast, earnings would take a ~3% hit if 10% tariffs go through, with US equities down a similar amount. However, some tariff risk is priced with the P/E still 0.4x below levels of mid-March before China trade news (~2%); and more in affected industries. A 25% tariff rate could be construed as an escalation and would have a greater earnings impact and markets would need to price the potential for continuing escalation. Thus, 25% tariffs could lead to a 5%+ type pullback.
Importantly, UBS is not bearish on U.S. stocks - not at all. In fact, the note that excerpt is from is largely centered around a five-point rationale for remaining constructive on U.S. equities. Those interested can read those five points here, but for our purposes, suffice to say the "fundamentals are sound" (so to speak). UBS's point, rather, is simply to say that the market continues to underestimate the probability that the tensions with China are going to be pushed to the brink, with a possible deleterious effect on market sentiment.
UBS's note was published before Trump's Friday comments about a possible further escalation in the trade tensions. As a reminder, slapping duties on another $267 billion in Chinese goods on top of the tariffs on $200 billion in items would take the total amount of taxed imports from China to $500 billion (when you account for the levies applied in two stages to $50 billion in products on July 6 and August 23). That would amount to taxing everything the U.S. imports from China. In other words: The U.S. would be "all-in".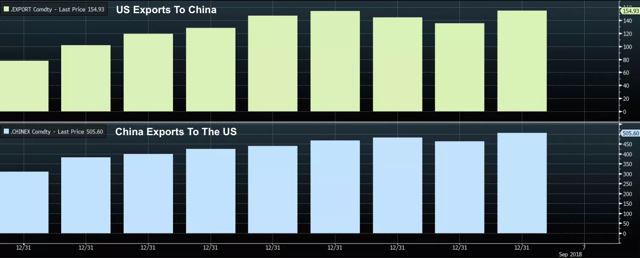 (Bloomberg)
Implicit in that chart is the idea that China's capacity to retaliate with tariffs dead ends at $154 billion in U.S. imports. That means Beijing will need to resort to "alternative" measures to respond starting in the next round.
China has of course already countenanced a dramatic currency depreciation, which, by the time they moved in to slam the brakes on last month, had effectively offset the expected impact on the Chinese economy of the initial tariffs on $50 billion in exports to the U.S. and the expected impact of 10% duties on $200 billion more in goods. If the rate is 25% in the next round and, further, if the Trump administration ups the ante by taxing another $267 billion in Chinese imports, Beijing will either need to allow further currency depreciation or fall back on other options.
To be clear, the PBoC thinks that past a 7-handle on USD/CNY, things could get dicey in terms of capital flight, which is why the central bank took a series of steps to prevent that in August. Those steps are documented in the following annotated chart (they are the four latest annotations):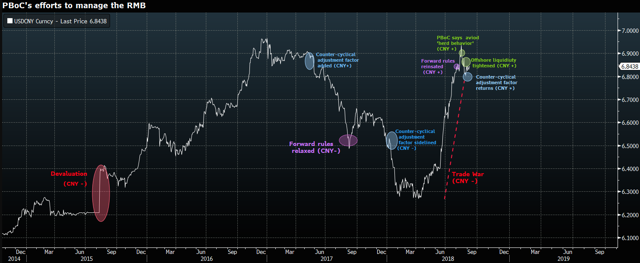 (Bloomberg w/ my notes)
While the yuan will likely remain under pressure thanks both to the escalating trade tensions and the broader turmoil in EM precipitated by a hawkish Fed and the dollar strength that hawkishness engenders, the PBoC is going to lean against it. So again, you're probably going to see China get "creative" from here.
But the most important thing for U.S. investors to understand about what happens going forward, is that consumer prices are likely to rise and that has serious implications for the Fed. Consider the following excerpts and visual from a Goldman note out over the weekend:
President Trump said Friday (September 7) that tariffs on an additional $267 billion of imports from China were "ready to go on short notice." We believe it is more likely than not that the Trump Administration would propose those additional tariffs if China implements the retaliatory tariffs on $60bn of goods. However, the outlook is particularly uncertain because the political implications of imposing tariffs on the remaining $267bn of imports would be much different than earlier tariff rounds. Whereas virtually no consumer goods have been targeted by tariffs so far, we estimate about one-fourth of the $200bn in imports subject to the next round of tariffs are consumption goods and, as shown in Exhibit 3, consumer products make up more than half of the remaining US imports from China, and would affect routine consumer purchases like clothing, shoes, mobile phones, and toys.
See those red bars? That's what I mean when I say it will be mathematically impossible to avoid consumer goods going forward.
Inflation has risen steadily (albeit slowly) in the U.S., and while the Fed has indicated it would be willing to tolerate an overshoot, Friday's jobs report offered fresh evidence that the economy is close to overheating. When you combine that with the prospect of upward pressure on prices from the prospective next rounds of tariffs, you're left to ponder a Fed that's being backed further into a corner when it comes to hiking rates.
The more the Fed hikes (and the more urgency that gets communicated through the statements and press conferences and various Fed speeches), the more dollar strength you're likely to see. The more dollar strength you get, the more pressure on EM.
Eventually, that pressure is going to boomerang back to the U.S. equity market, because there's only so long late-cycle stimulus is going to be able to shield domestic stocks from international turmoil.
This is what's so frustrating for bullish analysts on Wall Street (which, by the way, is a category that includes most equity analysts). Everyone really - really - wants to point to buybacks and record earnings on the way to adopting a constructive outlook on U.S. stocks, at least for the remainder of 2018 and into the first half of next year. Analysts are even willing to look through the possibility that the midterm elections and other domestic political concerns have the potential to upend sentiment.
What they (analysts) cannot do, however, is ignore the possibility that the Fed, pigeonholed by the effects of late-cycle stimulus and the prospect of tariffs pushing up consumer prices, will be forced to keep hiking, leading to persistent dollar strength, ongoing pressure on EM, and an inverted yield curve. Brushing all that aside is a bridge too far even for a group of people (Wall Street equity analysts) who are predisposed to being bullish.
So when it comes to who's "winning" the trade war, I would again emphasize that nobody wins a trade war.
They say that in war, "to the victor go the spoils". Well, considering nobody can "win" a trade war, the end result of this ongoing global spat will be that there are no spoils to divide. Everyone will lose and that includes the U.S. economy and, eventually, U.S. equity investors.
Finally, just as a kind of added bonus for readers, I wanted to highlight the fact that even Deutsche Bank's Binky Chadha (who was for a time Wall Street's biggest bull) is cautious in the near term. With that, I'll leave you with an excerpt and table from his latest note which together shed further light on the balance of risks:
Geopolitical risks remain while corporate news will be limited near term and the buyback black out period is approaching. The list of risks includes those ongoing from trade policy, emerging markets, and Italy. In the near term, we expect noise around the US mid-term elections to increase. With a typical mid-term election outcome entailing a switch to a Democrat majority in the House, talk of potential impeachment is likely to become more frequent. Historically, geopolitical risks have been associated with sharp (-6.4%) short-lived equity selloffs (3 weeks to bottom; 3 to recover), with the subsequent trajectory driven by macro growth and earnings. There is little to distinguish the pullback episodes around the impeachment proceeding against Presidents Clinton and Nixon from other geopolitical risk episodes. In between earnings seasons, in the near term corporate news will be sparse while, as the month progresses, the buyback blackout period begins in the run up to earnings, both of which have been the key drivers of the market uptrend and offsets to the risks.
Disclosure: I/we have no positions in any stocks mentioned, and no plans to initiate any positions within the next 72 hours.
I wrote this article myself, and it expresses my own opinions. I am not receiving compensation for it (other than from Seeking Alpha). I have no business relationship with any company whose stock is mentioned in this article.