New life could be breathed into Ford Motor's (F) shares after the United States and China struck a conciliatory tone at the most recent G20 meeting in Argentina. Ford Motor's shares have dropped precipitously in 2018 as the trade conflict between the two largest economies in the world gradually deteriorated over the summer. Easing tensions between the two countries would be a major positive catalyst for stock prices, especially Ford Motor. Shares remain dirt-cheap, and come with a 6.4 percent yield.
Ford Motor's shares have dropped 23.8 percent this year, largely because of the trade war between the U.S. and China. From a technical perspective, Ford Motor is currently neither overbought nor oversold, based on the Relative Strength Index.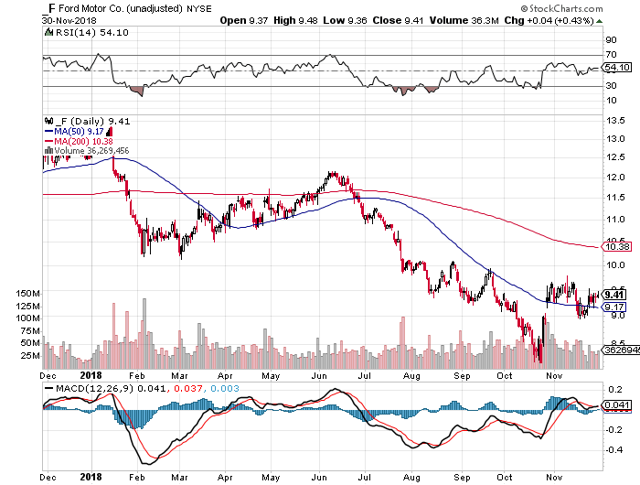 Source: StockCharts
Update About The Trade Conflict
Escalating trade tensions and retaliatory tariffs have been the single biggest negative catalyst for Ford Motor's shares in 2018. In September, the U.S. placed a 10 percent import duty on $200 billion of Chinese goods in order to get China to correct is trade practices. China reacted with tit-for-tat tariffs of its own, placing duties on $60 billion worth of U.S. imports.
Tit-for-tat tariffs have triggered a major correction in the stock market in October, aided by increasing concerns over higher short-term interest rates and surging bond yields. That said, though, in my last article on Ford Motor, titled "Ford Motor: 6.3% Yield And Dirt Cheap", I had this to say about the trade conflict between the United States and China:
Ford Motor's shares will remain volatile going forward, especially with respect to new tariff announcements on the part of either the United States or China. I continue to believe that the trade conflict between the U.S. and China will ultimately be resolved at the negotiating table.
The good news is that U.S. president Trump and China's president Xi Jinping met at the G20 summit in Argentina and essentially agreed to a truce.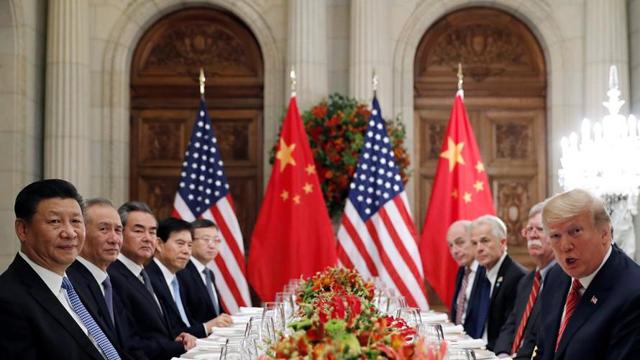 Source: Reuters
Originally, the United States planned to raised import duties on $200 billion worth of Chinese goods from 10 percent to 25 percent, starting Jan. 1, 2019. Both countries have now agreed to a 3-month cease fire, opening up a window in which they have the opportunity to resolve the trade conflict at the negotiating table. It was also agreed that no new tariffs would be imposed during this extension period.
Should the extension not yield a resolution, the 25 percent tax will go into effect after the 3-month period ends.
The resumption of direct trade talks between the U.S. and China is a very positive development, not only for Ford Motor. Dow Futures, for instance, surged 550 points after both countries agreed to stop imposing new taxes on each other, taking a huge burden off of investors.
Valuation
Ford Motor, in my opinion, is already undervalued. Shares currently change hands for just 7.1x next year's estimated profits. General Motors (GM), similarly affected by tariffs on auto imports in China, also remains in the bargain bin as shares are priced at just 6.5x next year's projected earnings. Both auto companies have favorable risk/reward-ratios and could benefit from a melt-up scenario as the year draws to a close.
Risk Factors Investors Need To Consider
As the trade conflict escalated throughout 2018, but especially over the summer, I have suggested that both countries will eventually come together and resolve their conflict at the negotiating table. This seems to be happening right now, which is good news for Ford Motor investors. Ford Motor's shares fell to new multi-year lows on the back of the trade war. As trade tensions ease and trade relations return to normal, Ford Motor could recapture some of those losses. That said, though, should trade talks break down again and the United States and China prove to be unable to reach an agreement with respect to trade practices/tariffs, the stock market could be up for an October-like shake-up yet again.
Your Takeaway
I think the risk of overpaying for Ford Motor at ~7x next year's expected profits is quite contained. In fact, the risk/reward-ratio is rather appealing, considering that the U.S. and China have just taken a major step forward in order to resolve their trade differences. In case both countries drop their import taxes and return to business-as-usual, Ford Motor has considerable rebound potential. Speculative Buy for income and capital appreciation.
If you like to read more of my articles, and like to be kept up to date with the companies I cover, I kindly ask you that you scroll to the top of this page and click 'follow'. I am largely investing in dividend paying stocks, but also venture out occasionally and cover special situations that offer appealing reward-to-risk ratios and have potential for significant capital appreciation. Above all, my immediate investment goal is to achieve financial independence.
Disclosure: I am/we are long F, Gm.
I wrote this article myself, and it expresses my own opinions. I am not receiving compensation for it (other than from Seeking Alpha). I have no business relationship with any company whose stock is mentioned in this article.