Syros Pharmaceuticals (NASDAQ:SYRS) is a clinical-stage pharmaceutical company specializing in cancer drugs based on a gene expression platform. When I last wrote about the stock in late January 2020 the stock price was $7.74 after having closed on January 2, 2020, at $7.13. On Friday, December 25, 2020, it closed at $13.08, having reached a 52-week high of $15.44 on December 22, 2020. That means it roughly doubled in the year. Its most recent spike came after a drug candidate acquisition deal that I will discuss below. While that will be the focus of this article, I will also give an update on the clinical-stage therapy that is about to enter a Phase 3 trial. I believe the bulk of the value in the company is in that potential therapy, SY-1425.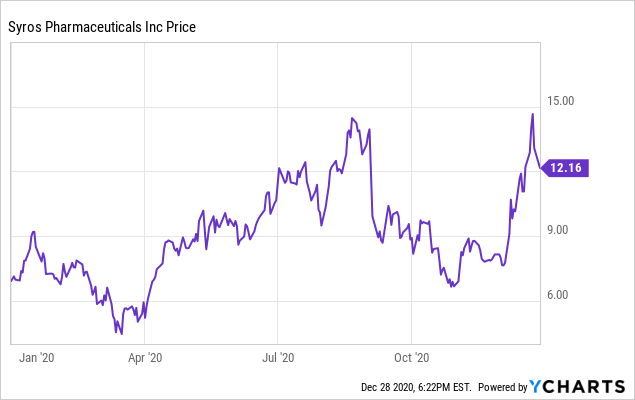 New drug acquired: SY-2101
On December 5, 2020, Syros announced it acquired ORH-2014 from Orsenix, now to be known as SY-2101. Essentially, SY-2101 is an oral formulation of an already approved medicine, Teva's (TEVA) Trisenox, given by infusion that has a high success rate treating patients with a very particular type of acute myeloid leukemia. The active ingredient, Arsenic trioxide, may sound like a primitive treatment compared to antibodies and other newer categories of medicines, but it works well for APL, acute promyelocytic leukemia. Trisenox in 2019 cost $508 per dose or about $30,000 for a sixty-day treatment. APL represents about 10% of AML cases, or about 1,000 new cases annually in the U.S. With the standard treatment of ATRA and Trisenox, the survival rate for APL is high, with about 90% remission.
The math may sound good, $30,000 times 1,000 or $30 million per year in the United States alone, much more if the drug goes global, but the deal does not reflect that. Syros paid just $12 million upfront to Orsenix, which could also receive a $6 million regulatory milestone and commercial milestones of up to $10 million. Then, if approved by the FDA, Orsenix is eligible for milestone payments for indications other than APL, though there is no indication yet what those indications might be. No mention of future royalties is in the press release. These are hardly blockbuster numbers. ORH-2014 was the only clinical stage asset being developed by Orsenix.
Other oral formulations of arsenic trioxide, which is generic, may provide competition. A Phase 1 trial showed similar safety of SY-2101 to the IV version. Syros plans a dose confirmation study in 2021 followed by a Phase 3 study in 2022. If successful it could file in 2024 and see revenue in 2025. The drug has already received Orphan Drug Designation in the U.S. and E.U.
I believe this is a tuck in acquisition to expand Syros's presence in the AML market. It is complementary to SY-1425. It might even be tried eventually in combination with SY-1425. Given Syros's relatively large market capitalization compared to the size of the SY-2101 deal, I think investors should focus more on SY-1425, which I will detail below.
Cash Raise
On December 8, 2020, 3 days after the announcement of the SY-2101 deal, Syros announced the completion of a $90 million financing deal. That was needed to help fund the Orsenix deal, but it also should provide cash for operations well into 2022. Bain Capital Life Sciences led the private placement. It involved issuing over 10 million shares plus warrants exercisable at $11.00. This resulted in substantial dilution as Syros had under 46 million shares outstanding at the end of Q3 2020. Often investors react negatively to dilution, but since this was combined with an acquisition, the overall market reaction was positive.
SY-1425
As expected, on December 5, 2020, Syros announced updated Phase 2 SY-1425 data for AML. The results were positive. SY-1425 is a RARA (retinoic acid receptor alpha) agonist (response strengthener). RARA helps control the transcription of DNA to RNA. Syros discovered that some AML (acute myeloid leukemia) and MDS (myelodysplastic syndromes) have highly specialized regulatory regions of DNA associated with the RARA and IRF8 genes. These lock cells in an immature, undifferentiated and proliferative state that leads to cancer. Syros also developed biomarkers to identify these patients.
In the Phase 2 trial SY-1425, in combination with azacitidine, was tested on two types of AML patients. In newly diagnosed RARA-positive patients the ORR (overall response rate) was 67%. The CR (complete response) rate was 50%. The CRi (complete response but incomplete blood count recovery) rate was 11%. Median duration of response was 10.8 months. As of the October 1 cutoff just 18 of 51 patients were evaluable for clinical response, so rates could change as the data matures.
In the relapsed or refractory patient population (RARA-positive) ORR was not as good, at 19%. Median overall OS was 5.9 months. Keep in mind that response rates in AML for relapsed or refractory patients are typically much worse than for newly diagnosed patients.
In AML, the next step for Syros will be a Phase 2 trial in RARA-positive newly diagnosed AML patients unfit for chemotherapy (AML tends to occur in older patients too frail for chemotherapy). After a safety lead-in it will combine SY-1425 with venetoclax and azacitidine, compared to a control arm of venetoclax and azacitidine alone. It will enroll about 80 patients starting in the second half of 2021.
The Phase 3 trial will be for higher-risk myelodysplastic syndrome, which is often a precursor to AML. About 190 patients with newly diagnosed RARA-positive HR-MDS will be placed in either the active group getting SY-1425 with azacitidine or the placebo group with azacitidine alone. CR rate will be the primary endpoint. The data could support accelerated or full FDA approval. The trial should start in Q1 2021.
SY-5609
SY-5609, an oral CDK7 inhibitor, reported Phase 1 safety, tolerability, pharmacokinetic and pharmacodynamic data in October 2020. More data is expected in mid-2021 from the dose-escalation portion of Phase 1 trial evaluating SY-5609 in patients with breast, colorectal, lung and ovarian cancers, and in patients with solid tumors of any histology that harbors Rb pathway alterations. A second Phase 1 cohort started in June 2020, in combination with fulvestrant, for HR-positive metastatic breast cancer patients who progressed after CDK4/6 inhibitor treatment. Additional monotherapy data is expected to be reported in mid-2021.
Q3 Results
Operating expenses were $23 million in Q3 2020, with income of under $4 million. Given the SY-2101 addition and the gearing up for a Phase 3 SY-1425 trial, I expect the expense rate to ramp into 2021. Cash at the end of the quarter was $93 million. If the Q4 cash burn was about $20 million, with the $90 million cash raise, the balance at the end of 2020 should be between $160 million and $165 million. If the cash burn rate remains under $30 million per quarter, then there should be money to operate into Q2 2022. With good data more money could be raised, which would be necessary to get to possible FDA approvals. There would also be a need for cash for commercialization.
Analysis and Conclusion
As I write Syros Pharmaceuticals' stock remains volatile, but trading around $13.00, giving it a market capitalization of about $735 million. That is fair enough given the SY-1425 data to date and the ability of the Syros Pharmaceuticals platform to generate and validate preclinical candidates. The risks are substantial, despite the apparent Phase 2 validation. In addition to the possibility of a failure of the Phase 3 trial, there is no guarantee that any drug will do well in the marketplace. Despite some new therapies on the market, AML and MDS continue to be deadly blood cancers, so I am cautiously optimistic about the prospects of Syros in the long term. In the short term, watch out for volatility. Or for a good entry price point.